false" @drop.prevent="() => false" @contextmenu.prevent="() => false" alt="" class="landing-hero" loading="eager" decoding="async" width="1804" height="510">
CONTINENTAL
- Tyres at SIP Scootershop
CONTINENTAL - The German traditional manufacturer shines with an almost unbeatable price-performance ratio for scooter tyres of all models and sizes. From classic tyres for the first generation of scooters from the 50s to racing tyres. Tyres for every life and road condition.
Optimal balance between price, power and performance

Engineered in Germany

Stylish classic tyres - also as whitewalls

Technology transfer between motorbike and scooter tyres
CONTINENTAL tyres - A piece of German mobility history
Determination, foresight and a flair for technical developments were the driving forces that moved the Hanoverian banker Moritz Magnus and nine other investors to found the "CONTINENTAL-Caoutchouc- und Gutta-Percha Compagnie" in 1871. Right from the start, the company's name was its programme: the plant juices rubber and gutta-percha still form an important basis for tyre production today. The first pneumatic tyres for bicycles from German production - the Continental Pneumatics - saw the light of day in 1891.
The rising horse, CONTINENTAL's symbol for energy and dynamism, dates from 1876 and goes back to the patent application for a rubber buffer between the horse's hoof and horseshoe, which prevented damage from shocks and dirt trapping the shod horse's foot.
»CONTINENTAL makes essential, very high quality whitewall tyres, like the 'K62', in popular Vespa sizes. Classic tread, timeless look, perfect for those looking for a nice and good tyre for the 50s style Vespa.«
–Nico Gnisci, 7-time DBM Champion
When Hildebrand & Wolfmüller in Landsberg am Lech (!) put the first series-produced petrol motorbike on its wheels in 1894, the challenges to the CONTINENTAL developers grew in order to become an innovation driver in this market segment as well. The pneumatic bicycle tyre of 1891 was followed in 1898 by the production of smooth pneumatic automobile tyres, and in 1904 CONTINENTAL ushered in a new era with the first tread tyre.
In 1928/29, the company took over the "Hannoversche Gummiwerke Excelsior AG" and the "Peters Union AG" in Korbach. Further mergers followed and "CONTINENTAL Gummi-Werke AG" was born, securing a market share of two thirds of German rubber production.
The tireless research and new development led to sensations in racing: for example, the daring two-wheeler pilot Wilhelm Herz broke the 300 km/h mark in 1951 with an NSU Delfin and set a world record. With tyres from CONTINENTAL, of course, which made the brand immortal.
CONTINENTAL technology meets scooter tyres
»Continental appreciates the high level of awareness and the great acceptance of SIP within the scene in Germany and worldwide. Our dealings with SIP employees are open and reliable, and the portfolio is characterised by very good availability of our products.«
–Christian Kleß, Regional Sales Manager Motorcycle Tyres, Business Unit Specialty Tyres, Continental Tires
CONTINENTAL has set a number of milestones for scooters: from semi-slicks, to tyres for street sports, to oldschool tyres for the first scooter models, it's all here. The tyres offer excellent grip, long life, high load capacity as well as excellent and very precise handling. The many exclusive tread designs have also equipped one or the other custom scooter.
The scooter tyres also benefit from the experience gained in the development and production of motorbike tyres. Many of them carry real test-winning genes and offer an optimal balance between price, power and performance. Specific tread cuts stand for very balanced driving characteristics and high mileage, combined with excellent grip on wet and dry roads.
The consistent technology transfer between motorbike and scooter tyres thus makes CONTINENTAL's tyres a particularly high-performance choice.
The most popular CONTINENTAL tyres at SIP Scootershop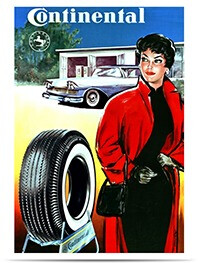 The CONTINENTAL whitewall tyres and the Zippy 3, now known as the K62, have been an integral part of our range since 1998. Due to its open block tread with sipe technology, the K62 is easy to ride even in bad weather.
The LB / LB WW was already used ex works by all well-known German manufacturers five decades ago. The ContiTwist is also available in two sizes as a whitewall tyre and impresses with very good grip in all conditions. A newly developed tyre substructure allows the ContiTwist to be used on high-displacement scooters. Its "brother" is the ContiTwist Race, which was built for extreme conditions and masters them thanks to the special tread compound. The high slick proportion of the tread design reduces abrasion and provides excellent grip.
For a long time CONTINENTAL was the only manufacturer of whitewall tyres that neither turned yellow in the sun nor flaked off. We have also fitted these classics on many of our own Vespas over the last two decades.
Popular CONTINENTAL tyres from our range:
Conclusion: At CONTINENTAL you will find tyres for 50 cc scooters up to 500 cc touring scooters, with optimum grip and for every application, be it racing, custom and tuning, off-road and enduro, normal city traffic or for the classic look.
For even more information about tyres, visit our tyre technology blog.