WELCOME TO THE WORLD OF VESPA!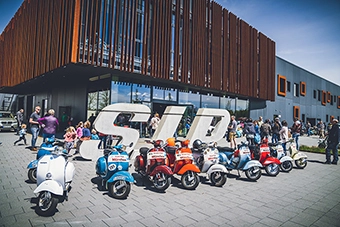 When you think of SIP Scootershop, you probably associate it mainly with spare parts, accessories, tuning and accessories for Vespas, Lambrettas and other two-wheelers. This is of course correct, because our success is based on these products. They are the cornerstones of our range, they form the basis and the core business. However, a visit to our shop in Landsberg am Lech provides an insight into a world that wants to be discovered beyond carburettors, exhaust systems and shock absorbers. Although the Vespa is the sun of our galaxy around which everything revolves, it also shines on other stars that reflect its light brightly. And it is in its glow that our SIP Scootershop Flagship Store shines.
When we started planning the new SIP headquarters in 2014, we quickly realised that we needed a flagship for our products. A kind of "world of experience" where things can be taken in hand. Where visitors can get explanations and advice. A place that invites visitors to browse and linger. A meeting place for mechanics, recreational riders and interested people. The idea of the shop was born. With a direct connection to our offices, warehouse and workshops. The result of all these considerations is today's flagship store, which has had a large selection of articles on its shelves and showcases on around 300 m² since 2016.
PICTURE GALLERY:
PROTECTIVE CLOTHING FOR SCOOTERISTS
Quite deliberately, the technical area takes up very little show space. A few tuning parts are on display in showcases. Speedometers glow softly in their own glow and shock absorbers and exhaust systems hang on the wall. On a Vespa GS on display, many accessories can be examined in use, another is packed with bags as a touring scooter. The highlights, however, are the custom scooters, well-known from many SIP videos and to be experienced here up close.
Most of the space, however, is taken up by clothing, bags and helmets. Items that can be viewed online, but not touched. At first glance, the jackets made of fabric or leather by REVIT and TUCANO URBANO look like casual wear that has nothing to do with two-wheelers. Depending on the season, thicker or thinner jackets are available, but they all have something in common: Only a closer look reveals the cleverly hidden padding, wax-coated surfaces and waterproof zips. If required, many jackets can be retrofitted with back protectors. Fashion combined with safety, style combined with protection. For motorcyclists and scooter riders alike.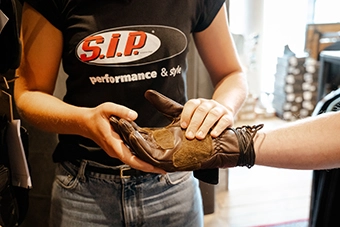 We are particularly proud of our large range of motorbike gloves for men and women. Here too, it only becomes clear at second glance that the products from TUCANO URBANO, FUEL and REVIT not only look damn good and elegant, but also offer effective protection thanks to state-of-the-art materials: Hidden foam pads that harden on impact and absorb up to 40% of the energy.
The biker clothes from the Australian label DEUS EX MACHINA are also really cool: Caps, beanies, T-shirts, hoodies and jumpers with designs that seem to literally explode with creativity. Sydney, Los Angeles, Milan, Landsberg - DEUS infects the globe with its fashion.
Many garments come from Vespa itself and bear the iconic lettering. Just like our own creations from the SIP fashion line: T-shirts, caps, scarves and caps. Or of course our self-designed bags and suitcases, which are essential for every tour and journey.
At SIP-Scootershop, we also take the emerging e-mobility into account. Many different e-scooter models from SEGWAY, IO HAWK, TRITTBRETT, EGRET and GO!MATE can be test ridden. We have more than enough space outside on the company premises. Smart helmets from LIVALL are currently "cutting edge" and offer many clever functions.
HELMETS FOR SCOOTERS AND MOTORBIKES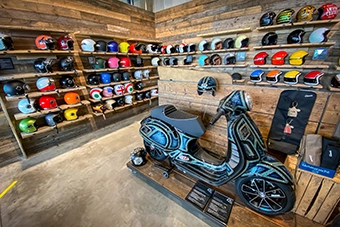 The SIP Flagship Store is rounded off by a large selection of helmets. High-end SHOEI full-face helmets are the Ferraris of headwear and worth every cent of their price. First-class materials combined with ergonomically mounted visors and a low weight make these helmets from Japan coveted objects.
A real eye-catcher are the helmets from Vespa, which are colour-coordinated with their scooter paintwork. So if you want to be tone-in-tone on the road, you can do so with a helmet from the cult manufacturer. This also applies to the chic jet helmets from 70's, BANDIT and DMD. Not forgetting the wide range of helmets for children, available in cheerful paint finishes. Whether jacket, trousers or helmet - everything is certified and meets the necessary ECE standard.
GIFT IDEAS & ACCESSORIES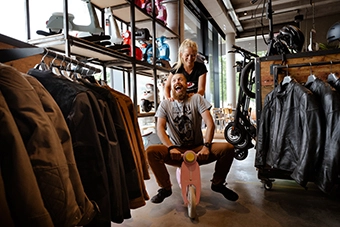 Last but not least, technical books, catalogues, magazines and model literature are available on a table. You are welcome to borrow reading material for a short time. Behind the sales counter are motor oil and other items that are otherwise often "forgotten" when shopping. In another section, there are gift articles and souvenirs such as key rings or bottle openers - of course, all in a stylish look and guaranteed to be of high quality. For kids, there are puzzles or even a mini scooter for their first driving experience. The shelves with the diverse accessories resemble a hidden object picture in which there are always funny, useful and rare gems to discover. As a final suggestion, we would like to mention our newly designed greeting cards, which are available for every occasion: Wedding, birthday or anniversary - a stylish motif around scooters always fits.
ADVICE, SERVICE & EVENTS
Nothing is more valuable than talking to our expert staff about restorations, tuning, repairs and all other aspects related to our passion Vespa. Products can be unpacked and examined on the spot. Advice and tips are free of charge and often lead to lively discussions in which other visitors participate. This is how strangers become acquaintances and customers become guests.
Of course, items can be ordered online and then collected from the store. There are always tools behind the counter that we can lend you to carry out a quick repair or assembly. Do you have a question about your scooter? Come by and we'll take a look at it and give you some useful tips. Even if you want to come along with your whole club - no problem! Just register in advance and someone will have time for you. In general, we are open to every wish and every idea. Just ask us, we will find a solution. A guided tour through the "holy halls" of the SIP Scootershop is also possible, but we should talk about this in advance. Just use the contact form.
As a small thank you, we will give you our SIP passport sticker to document your visit. Or you can ask for our guest book, which you are welcome to write in and sign. We are happy about every entry. The Flagship Store is intended to be a meeting place for all people who are interested in engines, scooters and racing or who would like to discover this passion for themselves.
The "Open Day" at the SIP Scootershop has become an institution and is known beyond the borders of this republic. Once a year, Vespa and two-wheeler enthusiasts meet on our company premises and enjoy the exchange with the community. There is food and drink, music, children's entertainment, many exhibitors and our test stand is open to all. For a whole day, everything revolves around the most beautiful hobby in the world.
The test stand can also be visited once a month on the occasion of the "Vespa Aperitivo". So that you know exactly what your vehicle is capable of.
OPENING HOURS & WEBCAMS
The current opening hours, telephone numbers, directions and live webcams around our SIP Flagship Store can be found on our contact page.
THE ITALIAN BAR "SIPERIA
Attached to the store is the SIPERIA, an Italian café and restaurant that occasionally turns into a bar towards the evening. Pizza, pasta, sweet treats, ice cream, coffee, prosecco and other cold drinks invite you to linger. At lunchtime, employees from the surrounding companies meet scooter riders and SIP staff here. Colourful groups chat, laugh and enjoy the original Italian food.
At siesta time you can relax in a deckchair under large parasols in the shade. There is a lot to see: There are actually always a few two-wheelers parked in front of the shop to admire. Scooter riders from near and far stop in, drink coffee or screw around on their Vespas and Lambrettas. If you want to get away from it all, close your eyes, listen to the murmur of the next table and enjoy the rattle of the two-strokes arriving and departing.
SIPERIA is the ideal place to meet like-minded people. And with a bit of luck, the "Vespa Aperitivo" begins towards evening: a glass of wine can be enjoyed with small appetisers such as focaccia with courgette, rice salad with fennel or grilled vegetables. As the sun sinks into the horizon and its last rays illuminate the large SIP logo, the day comes to an end. SIPERIA is the perfect interface between work and pleasure.
Come by, we look forward to seeing you!
Opening hours SIPERIA:
Mon-Fri: 07.30 a.m. to 6 p.m.
Sat: 09.30 a.m. to 2 p.m.
SIPERIA on Instagram - follow now.