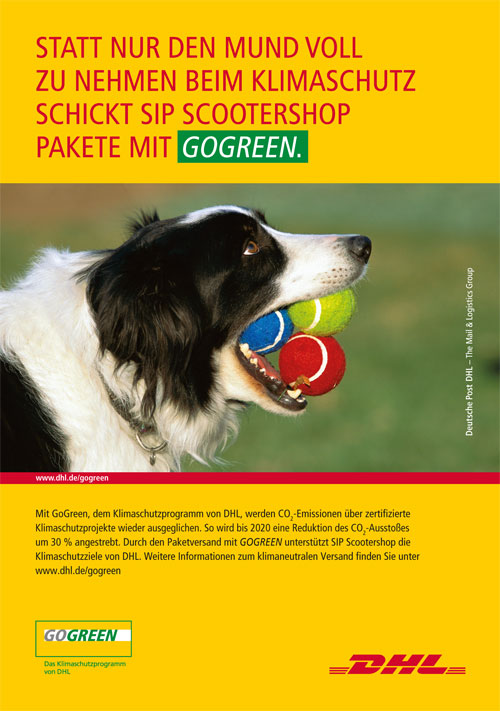 "To be human is to be responsible."

Antoine de Saint-Exupéry
This applies not only to each individual, but also to us as a company. Since 2005, we have therefore been committed to social causes under the motto "SIP Aid: Scooter Riders Help!"and donate to charities such as SOS Children's Villages or Arche Germany for every online order we receive. More about the SIP Aid project.
Responsible treatment of the environment is also an essential part of our corporate philosophy. We know that resources should not only be used, but also protected.
Resource-saving logistics building
When we built our new logistics and administration building in 2016, we significantly undercut the strict, applicable EnEV regulations. A groundwater heat pump uses energy from the ground, underfloor heating in all areas manages with low energy consumption and all glazing and windows in the building are triple glazed. All lighting is state-of-the-art LED technology that automatically adjusts to daylight and is dimmed. We have dispensed with the installation of energy-intensive ventilation or air conditioning, as well as building materials that have to be delivered from far away. Local companies constructed the building with local materials (steel and concrete).
We ship climate-neutral via DHL
And we have been doing so since 2009! In 2017 alone, we were able to offset around 50 tonnes of CO2 through the good 100,000 parcels we shipped with DHL GoGreen.
You can find more information about the DHL climate protection programme here.
Sustainability in many areas
For us, however, environmental protection starts with the little things in everyday (shipping) life. The cardboard boxes and the filling material for the parcels have therefore been made of recycled paper instead of bubble wrap for a long time (overseas air freight is the only area where this cannot be dispensed with to protect the goods and also for weight reasons). We only use shipping envelopes made of recycled paper instead of plastic, as does our invoice paper. In your customer account at www.sip-scootershop.com you can decide for yourself whether you need a printed paper invoice at all or whether the PDF version is sufficient. In general, we are on the way to a paperless office. More and more administrative areas at SIP Scootershop are already 100% digitalised.
Electricity from 100 % hydropower
Not only since Fukushima has nuclear power lost its clean image. Electricity from fossil fuels pollutes our atmosphere with immense CO2 emissions. We have completely switched the electricity requirements of our company building in Landsberg to green electricity from 100 % hydroelectric power. Our regional energy supplier, Lechwerke, has had this electricity from renewable energy certified by TÜV Süd.
Environmental Pact of Bavaria
The Bavarian Environmental Pact is an agreement between the Bavarian State Government and Bavarian industry. It is based on voluntary action, personal responsibility and cooperation. In the Environmental Pact, the Bavarian State Government and Bavarian industry declare their strong conviction that the natural foundations of life can be better protected with the help of voluntary and reliable cooperation between the state and industry than with laws and regulations alone. With the measures we have implemented, we fulfil the requirements and are part of the Bavarian Environmental Pact.
Your opinion counts
Do you have any suggestions for us on how we can behave in an even more environmentally friendly and sustainable way? We are looking forward to your opinion, write to [email protected].