false" @drop.prevent="() => false" @contextmenu.prevent="() => false" alt="" class="landing-hero" loading="eager" decoding="async" width="1804" height="510">
Motorbike helmets and scooter helmets
for Vespa & Lambretta
Your helmet: individual statement and protection
Without a helmet, riding a Vespa, Lambretta or other scooter becomes an incalculable risk. Not to mention rides on a motorbike. There is no crumple zone and serious injuries to the head must be avoided at all costs. A scooter helmet or motorbike helmet is the only alternative for Vespa riders and motorcyclists. Full stop. Since 1976, the German government has also seen it that way and introduced compulsory helmets for drivers and passengers of motorbikes. Two years later, this regulation was also introduced for moped riders - the birth of the moped helmet. Cyclists are still exempt from the law, but a helmet is explicitly recommended. But of course they are also important for the look and often an expression of your personal style: helmets, visors, glasses for motorbikes and scooters and the corresponding accessories.
How to find the right helmet for your scooter or motorbike
The right helmet should be chosen to suit your bike and its use. Do you usually ride your Vespa in good weather? Then a jet helmet without a visor is the right choice. Do you ride your motorbike to work on the motorway every morning? The full-face helmet is practically a must. Enduro riders will prefer a motocross helmet and for a casual ride on a chopper, the jet helmet with visor will probably fit. However, all helmets have one thing in common: the ECE standard 22.05, which we will discuss below. The helmet should be perfectly adapted to your riding habits and your scooter or motorbike.
The right helmets for your scooter, motorbike or bicycle
In the following, we list which helmets for scooters and motorbikes are available at SIP Scootershop. The selection of helmet types is enormous, because every motorcyclist, scooter rider and cyclist has his or her own head and there is no accounting for taste. We hope you enjoy browsing and comparing.
What size should my helmet be?
The best way to measure the circumference of your head is with a tape measure. Place the tape measure about one centimetre above the eyebrows and then bring it together again at the back of the head. Compare the result with this table to find out exactly what size helmet you need for men and women. Wearers of glasses measure the circumference in the same way, but choose the size so that the glasses do not pinch the helmet.
Ladies/Gents
| | | | | | | | | |
| --- | --- | --- | --- | --- | --- | --- | --- | --- |
| Head circumference | 50/51 | 52/53 | 54/55 | 56/57 | 58/59 | 60/61 | 62/63 | 64/65 |
| Helmet size | XXS | XS | S | M | L | XL | XXL | 3XL |
Children
| | | | | |
| --- | --- | --- | --- | --- |
| Head circumference | 49/50 | 51/52 | 53/54 | 55/56 |
| Helmet size | XXXS | XXS | XS | X |
Important rules of thumb for buying a helmet
- The selected helmet should be worn for ten to 15 minutes to check comfort.
- The helmet should fit tightly and not slip down the neck.
- The head should have no slack in the helmet, i.e. when you turn the helmet, the head should "go with it".
- The straps of the fastener should not press against the neck but against the chin.
- When the chin strap is closed, the helmet should not fall into the face.
- If the glasses press against the helmet, a different model should be chosen
- The cheek pads can be a little tighter at the beginning, because they will give in by one to two millimetres over time. The forehead pads, on the other hand, are thinner and do not do this.
The following video clearly summarises all our tips and advice so that you can really find the right helmet for your head.
Things to know about helmets for motorbikes and scooters
The different materials of helmets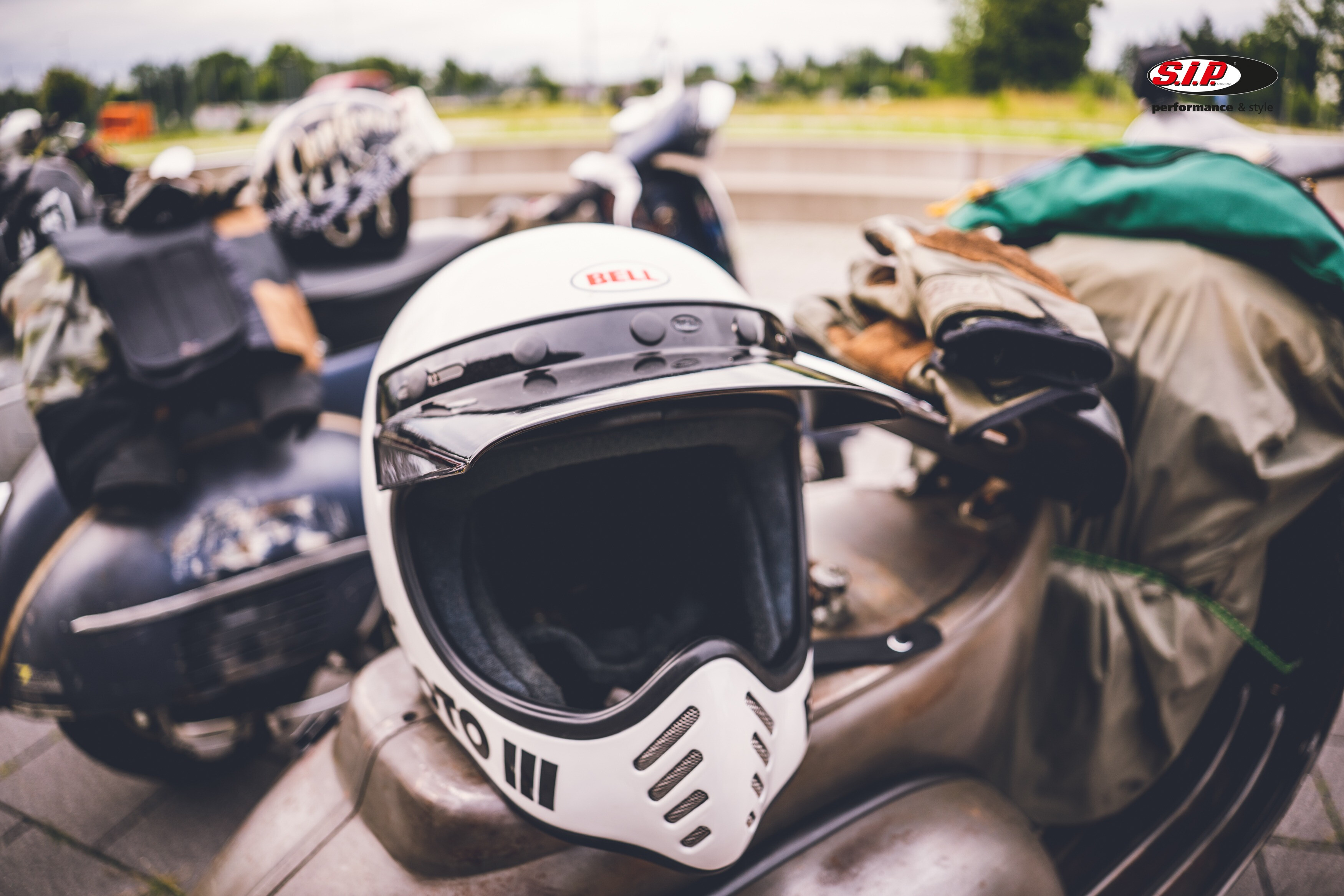 We distinguish between three different materials for helmets: GRP/fibreglass belongs to the group of thermosets and has excellent energy-dissipating properties, protecting the head and spine. The helmet shell consists of several laminated layers, often in combination with carbon, aramid or Kevlar. Helmets made of carbon belong to the high-end models. They impress with a lower weight, a high degree of stability and a service life of around ten years. ABS/Resin is an upgraded polycarbonate. These helmets have a shorter lifespan (less than five years) and cannot be painted. A special feature are the helmets from Shoei, which are characterised by an Advanced Integrated Matrix(AIM). A mixture of different fibreglass and synthetic resin.
Construction of jet helmets, full-face helmets and flip-up helmets
A scooter helmet consists of two different layers that work together to provide the necessary protection. The hard outer shell is made of thermoplastic (ABS) or fibre-reinforced plastic (GRP/carbon). It must withstand the impact, distribute the acting forces evenly and cushion peaks. The inner shell made of polystyrene (EPS) functions as a "shock absorber": the kinetic energy of the impact is transformed by material deformation and thus protects the head. The more the inner shell can deform, the more energy is absorbed. Both layers must therefore be perfectly matched to each other. In the research & development departments, helmet manufacturers work on constantly improving the protective properties. The inner lining is made of artificial leather or cotton.
The different helmet fasteners
The Vespa helmets at SIP Scootershop have either a ratchet, click or double D-ring closure. Racers prefer the double D-ring, as it withstands the most traction and fits perfectly on the chin. The ratchet closure is easy to adjust even when wearing gloves, while the click closure works like a car seatbelt. You should not let the fastener stop you from buying your favourite helmet. You get used to every fastener.
Helmet colours and finishes
There are generally no limits to your creativity when it comes to choosing a helmet colour, but you do have to consider the material. Only carbon, Kevlar and fibreglass are suitable for airbrushing. Caution: after you have painted your own helmet, any warranty claims will be invalidated. If you need professional help, a search on the Internet will help. There are many talented artists who specialise in creating very special paint jobs. Or you can look for a special solution in our shop.
Damage, durability, care and ECE certificate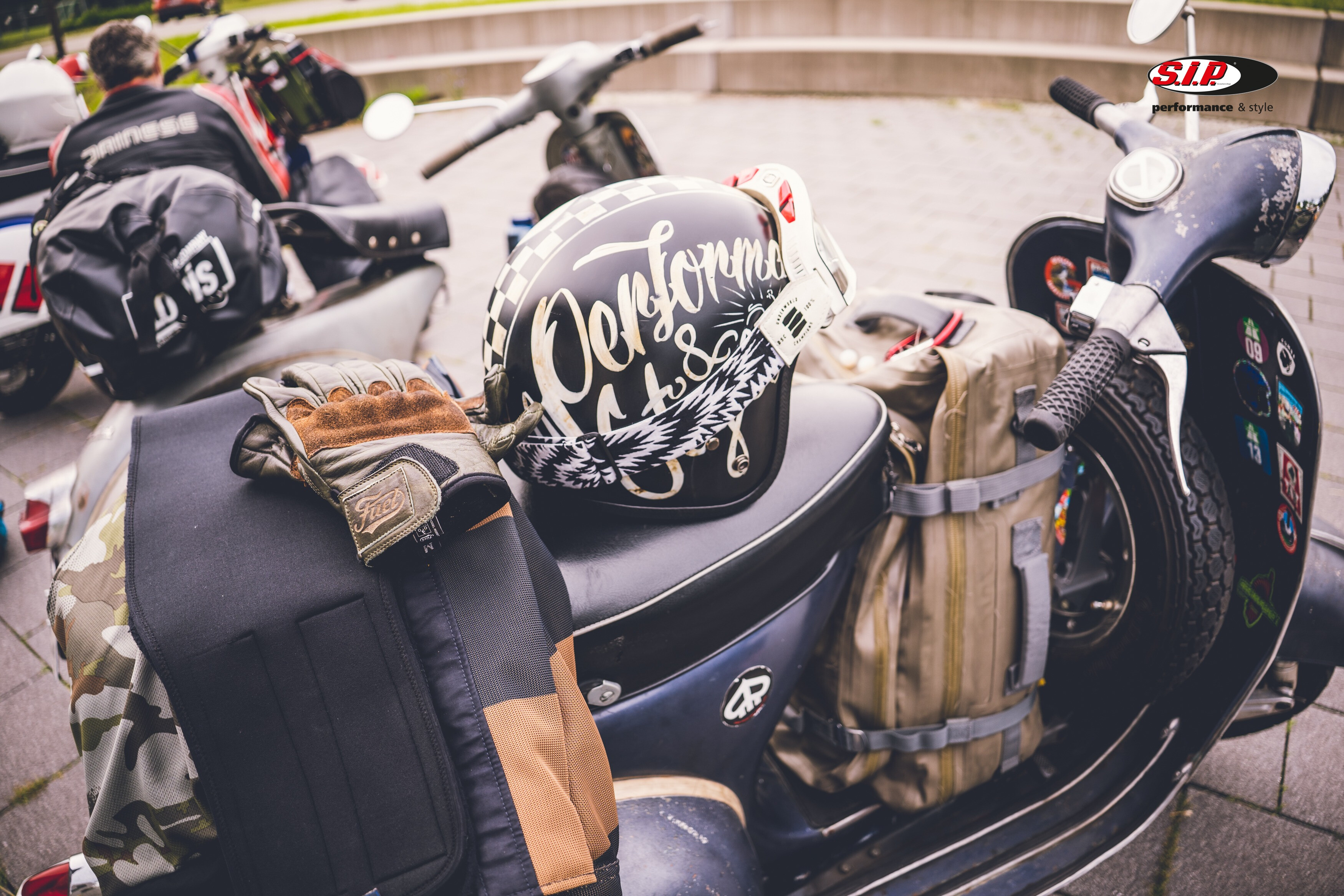 In general, helmets should not be allowed to hit the ground hard. Of course, the impact force is reduced without the head, which weighs about six kilograms. But even if the helmet has not suffered any damage at first glance, microcracks can ensure that the full protective effect is no longer available. If in doubt, it is better to buy a new helmet. After an accident, however, the helmet should definitely be replaced.
The TÜV estimates the useful life of a helmet at five years. However, care, storage and, of course, the kilometres driven play a major role. Ideally, the helmet surface should be cleaned after every ride. Lukewarm water, neutral soap in combination with a lint-free kitchen towel should be left on the surface for two to three minutes to prevent insects from drying. Afterwards, the helmet can be wiped with a microfibre cloth. Wax and polishes, on the other hand, are not suitable for helmet cleaning. The inner lining should be removed and washed regularly.
Riding with a helmet without ECE approval is permitted in German road traffic. However, riders should note that this exemption only applies in Germany. In other European countries, such as Austria, Italy or Switzerland, compliance with ECE standard 22.05 is checked. If travellers wear a helmet without ECE approval, this can result in fines.
Do you have any questions about helmets?
Finding the right helmet is not an easy task, but it can and should be fun. We hope we have been able to help you with some initial advice and recommendations. In our blog on helmet advice, we have summarised everything you need to know to find the right motorbike and scooter helmet. In addition, our customer advisors are available by phone to give you help and advice. Helmets can be tried on and test ridden in our flagship store in Landsberg.