The SIP MATSCHO KARATSCHO is a scooter cross race on our own, lovingly self-built race track, right on the doorstep of the SIP Scootershop headquarters in Landsberg. The 470-metre-long track has many highlights: pendulum, water ditch, washboard, seesaw, jumps, tight bends and a 180-degree steep bend. The Matscho Karatscho #1 celebrated its premiere on 07 October 2022, but it was more or less a test event, because we needed the riders' feedback. After the feedback was enthusiastic and positive, we took the logical decision to make the race a little bigger in 2023. Therefore, we invite all daredevils to the
MATSCHO KARATSCHO #2, 29 July 2023
As you have come to expect from us, there will of course be food and drink, music and colourful activities all around the race. In principle, anyone who is interested can register for the race and we have taken care to divide it into four classes so that the financial outlay remains within reasonable limits.
Class 1: Scooter Classic - "Large Frame" ≥ 125 ccm
(e.g. Vespa Largeframe, Lambretta 1-3 series LI/GP or Heinkel Tourist)
10 inch wheels

Engine capacity from 125 ccm

Drive train swingarm in original position and construction¹

Fork and frame must fit/belong to each other and be of original construction²
Class 2: Classic - "Small Frame" ≤ 125 ccm
(e.g. Vespa Smallframe or Lambretta j-range)
10 inch wheels

Displacement not limited³

Drive-set swingarm in original position and design¹

Fork and frame must fit/belong to each other and be of original construction²
Class 3: Run What Ya Brung
(if it is or was a scooter)
Here automatic scooters of different generations can duel with wild conversions. The basis must be a scooter.

Scooter frame

Max. 13 inch wheels
Class 4: Moped
The vehicle must have been delivered with a pedal drive and a max. maximum speed of 25 km/h

Frame and engine¹ must be from a vehicle of the same type

Tyres must correspond to the original dimensions
¹ Engine cases designed as original replacements are permitted.
² Forks of Piaggio automatic models with single-sided swingarm are permitted.
³ Engine in original condition not more than 125 cc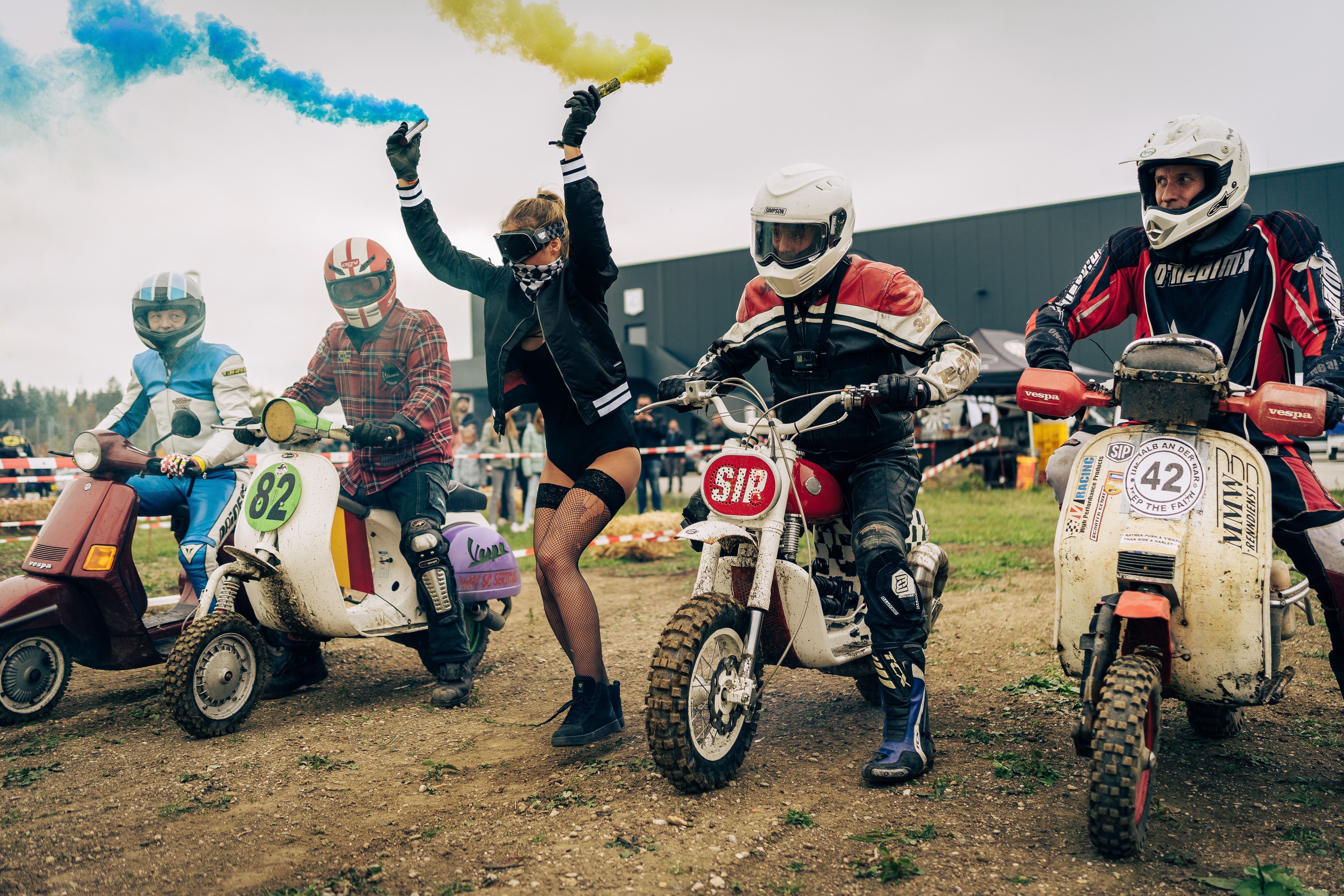 Vehicle safety
Rear view mirrors must be removed

Sharp edges must be covered

Levers must have a ball at the end

Headlight, tail light and indicator lenses must be removed or taped to prevent splintering

Throttle grip and throttle slider must turn back automatically

Brakes and chassis must function properly

It must be possible to switch off the ignition from the outside

The ignition breaker must be accessible and marked
Operating materials / environment
It is important that no operating fluids leak or can leak from the vehicle

Oil, petrol and coolant leaks must be ensured

It is recommended that the oil drain plugs are mechanically secured by wire or other means

The tank must be firmly mounted on the vehicle

The fuel filler neck must be able to be closed tightly

The fuel lines must be secured with hose clamps or hose clips

If the petrol tap is manual, it must be marked (petrol/fuel: OFF)

The exhaust system must not show any leaks and must have a functioning, adequately dimensioned silencer

In the paddock, the vehicle must be parked on an oil- and fuel-tight surface
Driver safety
Drivers must wear a closed helmet (no jet helmets or braincaps)

Protective gloves are compulsory

Sturdy footwear covering the ankles is required

Protectors for knees, elbows, chest and back are mandatory
SCHEDULE MATSCHO KARATSCHO 2023

Friday, 28.07.2023

16-18 hrs: Technical scrutineering

Saturday, 29.07.2023

9-9:45 a.m.: Technical scrutineering

10-11 a.m.: Free practice

11:15 a.m.: Qualifying Class 1

11:30 a.m.: Qualifying Class 2

11:45 a.m.: Qualifying Class 3

12:00 hrs: Qualifying Class 4

12:30 hrs: Race 1 Class 1

12:50 hrs: Race 1 Class 2

13:10 hrs: Race 1 Class 3

13:30 hrs: Race 1 Class 4

13:50 hrs: Race 2 Class 1

14:10 hrs: Race 2 Class 2

14:30: Race 2 Class 3

14:50 hrs: Run 2 Class 4

15:30-16:30: Endurance Race
Registration
To register for the race, please purchase a registration for the respective class from our shop:
Maximum 15 participants per class.
Any questions? Write to: [email protected]
Entry fee
Entry fee: 55 Euro incl.
Participation in the race, one class each and Endurance run

"Matscho Karatscho" T-Shirt

25 Euro voucher code for SIP Scootershop (min. order value 250 Euro, valid 12 weeks)

Voucher for 1x pizza and 1x drink in SIPERIA. Valid on Friday evening (28.7.23) and Saturday (29.7.23) until 4pm.
"Dirty Dinner" Saturday evening: 15 euros
1x pasta or pizza + 2 drinks of your choice
Preliminary list of participants
| | | |
| --- | --- | --- |
| | Name | Scooter |
| Class 1 | Christoph Häussner | Vespa LF |
| | Robert Straub | Vespa PX125 |
| | Markus Stein | Vespa PX |
| | Nicolas Hunter | Vespa PX |
| | Michael Zeitner | Vespa LF |
| | Andy Bode | Vespa PX |
| | Arnold Kastenhuber | Vespa XC 1 |
| | Florian Stefan | |
| | Dirk Becker | |
| | Max Sinnhuber | Vespa PX |
| | Michael Berger | Vespa PX 80 |
| | Christian Lutz | Vespa PX |
| Class 2 | Paul Sinnhuber | Vespa PK |
| | Valentino Randazzo | Vespa PK |
| | Thomas Haas | Vespa PK 50 XL |
| | Claus Krüger | Vespa PK 50 |
| | Johannes Köhl | |
| Class 3 | Max Heigl | |
| | Marco Scholz | |
| Class 4 | Marc Breu | Puch X30 |
| | Mike Rothenbühler | Tomos A35 moped |
| | Sebastian Krüger | Prima 5 S Moped Hercules |
| | Valentin Mannel | |
PROGRAMME
Friday, 28.07.2023
Friday should be the arrival day for most riders. From 4-6pm we will open the technical scrutineering and registration. Our "Siperia" will stay open longer on this day. From 18:30 you can eat and drink there. Each rider will receive a voucher for a pizza and a drink (water, beer or soft drink) with the registration. This can be redeemed on Friday evening or on Saturday in the Siperia.
Saturday, 29.07.2023
We will open registration for latecomers in the morning before the circuit opens for free practice at 10am. During the event, the SIP flagship store and the "Siperia" will be open. In addition, plenty of food and drink will be provided with other stalls. The day on the SIP grounds will end with the award ceremony.
In the evening, riders and companions can meet for a "dirty dinner" at the "Trattoria Italiana" in Landsberg East. Here we will end the day on a relaxed note. We have come up with a special offer and ask you to book in advance with the registration forms so that we can reserve enough places.
Sunday, 30.07.2023
Sunday is departure day. Wake up, have breakfast and head home fit. If you have some time left, we recommend a hearty breakfast in the beautiful town centre of Landsberg. The morning can be particularly enjoyed at the Lech. E.g. in the "LIKKA" with a view of the weir or a little quieter in the "Herkomer Café" at the Mutterturm.
ACCOMMODATION & INFO
Camping
We offer the possibility of camping directly on site. Motorhomes and camping buses can be parked in the paddock, for tents there is a section on the meadow. On Friday and Saturday, during opening hours, the sanitary facilities in the SIP building can be used. After the race, the staff showers will be available for the riders. Around the clock "Dixi" toilets will be set up in the paddock. On Saturday breakfast can be taken in the "Siperia", only the food on Sunday morning has to be provided by each camper himself.
Overnight stay in a hotel
In Landsberg there are many accommodation options to choose from. We recommend the hotel "Vienna House Easy", because it is located in the direct vicinity of SIP and the race track. Apart from that, there are plenty of other hotels, inns and holiday flats in the Lechstadt. You can find the complete overview with booking options here.
Please note that the Matscho Karatscho 2023 takes place during the holiday season and Landsberg is a tourist attraction, so you should book your accommodation as early as possible.
Transfer city centre - SIP Scootershop
The SIP Scootershop building and the race venue are located in an industrial area. Fortunately, Landsberg is not very big and the distance to the small but very nice Landsberg city centre and old town with its hotels, restaurants and pubs is not far. The sober walk takes about 20 minutes. It is somewhat more comfortable to take a taxi, which can be reached by calling 08191 70101. During the day, bus line 30 connects the industrial area with Landsberg's old town.
"Dirty Dinner", Saturday evening
As the name suggests, we don't want to have a gala dinner with fine threads and unctuous speeches. But we would be happy to sit down with the riders and their teams on Saturday evening and talk about the race. After all, no race has been (almost) won as many times as it has been debriefed. Then, over a drink and good Italian food, everyone is a winner. The ideal place for this is the "Trattoria Italiana" (Münchener Str. 1, 86899 Landsberg am Lech) opposite the Bayertor, a Landsberg landmark.
We have a special offer for riders and supporters: for 15,- Euro you can buy a voucher for 1x pasta or pizza and 2 drinks. You can choose the pasta or pizza dish from the regular menu (not the menu of the day). You can find the menu here on pages 9 to 11. The drinks for which the voucher is valid can be found on pages 16 and 17. Of course, everyone can drink and consume whatever fits in their satchel in addition to the voucher.
The event starts at 8.30 pm at Münchner Straße 1. After the meal we can finish the evening with 2-3 more drinks or continue into the city centre (about two minutes' walk downhill).
We ask for pre-registration so that we can better estimate the space required. Riders can use the registration form to make a reservation. Mechanics, technicians, mental coaches or boyfriend/girlfriend please use the additional registration form that will be sent to the rider upon registration.