false" @drop.prevent="() => false" @contextmenu.prevent="() => false" alt="" class="landing-hero" loading="eager" decoding="async" width="1804" height="510">
Crankshafts at SIP Scootershop
- Overview
The crankshaft is the heart of an engine. Briefly explained, the crankshaft converts the movements of the piston into the rotating drive impulse via the conrod. Especially when tuning, this component is therefore subjected to enormous forces. If you drive along a country road at a constant 4,000 rpm for three hours, your crankshaft will rotate 720,000 times! That's quite a few revolutions in a scooter's lifetime. So it makes no sense to save on the crankshaft, but first you should limit the flood of crankshafts by choosing the right vehicle category.

When searching for the right crankshaft, you can first select the "category" at the top, for example "Classic Vespa". Then you can enter the exact "vehicle type" in the field below and all the crankshafts that come into question will be displayed.
The different crankshaft types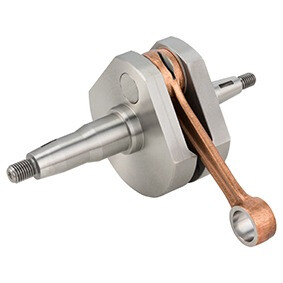 Standard crankshaft
Standard crankshafts are copies of the originals. However, some models have been improved, e.g. a gudgeon pin bearing for lower friction torque instead of a bronze bush or a polished forged connecting rod. The transition to racing crankshafts is sometimes fluid.
Racing crankshafts
By racing crankshafts we basically mean all crankshafts that deviate from the pure standard specifications. So:
different crank web shape

more stroke

longer or higher quality conrod

Clutch/pole wheel stub not intended for the original parts

optimised inlet geometry due to shape and cut-out
For the classic Vespa models, the range is so large that we still divide them into Disc valves and Diaphragm shafts and diaphragm shafts.
Special racing crankshafts
Special crankshafts require special crankcases. They do not fit into the original crankcases.
Our top brands for crankshafts
Depending on the vehicle class, the manufacturers are represented differently. Here are the most important ones:
MAZZUCCHELLI: Good and cheap standard and racing crankshafts. Made in Italy.
SIP SPARE PARTS: Special small series for Vespa Oldtimer and Lambretta models in top quality.
SIP PERFORMANCE: Developed by the brightest minds at SIP and produced in a high-tech tuning forge in Italy.
PIAGGIO: Wide range of Modern Vespa standard crankshafts.
MALOSSI: Top tuning racing crankshafts for Scooter, Maxiscooter and Modern Vespa. As MHR in the HighEnd version.
POLINIback to the Roots! Active again in the crankshaft market for Vespas since a few years.
PINASCO: Beautiful shafts for classic Vespas.
Customers ask - SIP answers
"Can I change my crankshaft myself?"
Sure. It's not very complicated. If you are unsure, take a hand book or look at our tutorial videos. Once you've got to the crankshaft, keep this in mind:
Do not hit the crankshaft with a hammer or knock it out with a hammer (hardwood or special tool)

When changing the bearings, heat the crankcase well (hairdryer)

Do not fold down the sealing lip of the oil seals during installation and pay attention to the direction of installation

Fasten the flywheel with the correct torque

The gudgeon pin clip must be seated securely in the groove
Good luck!