false" @drop.prevent="() => false" @contextmenu.prevent="() => false" alt="" class="landing-hero" loading="eager" decoding="async" width="1804" height="510">
MMW
- High End Tuning for Classic Scooters
MMW - Owners of classic Vespas and Lambrettas swear by the high-quality parts from MMW. From screws to fan rings to complete engine housings - mastermind Harald Grillhiesl builds first-class parts from high-quality materials.
Made in Germany

Genuine innovations

Clever solutions

Designed by legend Harald Grillhiesl
MMW - Tuning parts from a legend from Bavaria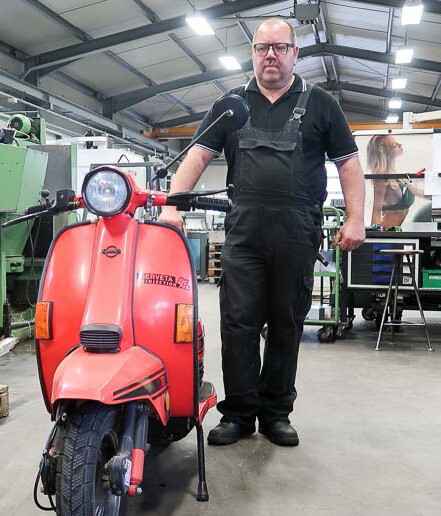 The abbreviation MMW stands for "Mangold Maschinen- und Werkzeugbau". The company was founded in 1985 by Johann Mangold in Aichach, Bavaria, and with his growing CNC machinery he produced individual parts and small series for two- and four-wheelers. In 2008, the senior went into well-earned retirement and his daughter Barbara Mangold took over the helm of the company. Since 2013, MMW has been located in a larger building in Kühbach. Many parts are manufactured according to customer specifications and wishes.
The technical operations manager Harald Grillhiesl manufactures scooter parts with passion and is a real luminary in the scene. Under his pseudonym "Gravedigger", he gives helpful tips in the German Scooter Forum and delights with his dry humour. He regularly presents his own developments to the motorcyclists, which enhance existing products, for example from Smart Carb, Polini or Malossi. A good example are the fan rings and carburettor covers. Harald also uses his CNC milling machines to build parts completely to customer specifications or he makes sensible modifications to existing parts. Whatever the case, the products from Kühbach impress with excellent quality, the best materials and are often clever solutions to problems that only Harald has identified.
MMW at SIP Scootershop
"Harald is a legend.
"-André Jueterbock, SIP Product Manager
No matter who you ask at SIP Scootershop, their eyes start to light up when the talk turns to Harald and MMW. "Simply awesome shit," say the guys from sales. And our product managers rave about the Ultrastrong and Superstrong disc brakes and clutches. They love the fan rings, cylinder heads, carburettor covers and clutch baskets. So just take a look at all the great stuff from MMW and let yourself be infected by the enthusiasm at SIP Scootershop. You will be amazed.
Conclusion: When Harald from MMW launches new parts, the scooter scene holds its breath.