false" @drop.prevent="() => false" @contextmenu.prevent="() => false" alt class="landing-hero" loading="eager" decoding="async" width="1804" height="510">
JL EXHAUSTS
- Handmade exhaust systems for scooters
JL EXHAUSTS - Handmade Vespa and Lambretta exhaust systems in stainless steel. These are the trademarks of JL EXHAUSTS. A large part of the SIP racing exhaust systems such as the SIP Performance, Mustang, Viper or DSE are manufactured at the tuning forge JL in the Czech Republic.cms_
Handmade top quality

Exhaust systems for high-end tuning

Tested and proven in racing
JL EXHAUSTS: Racing in the DNA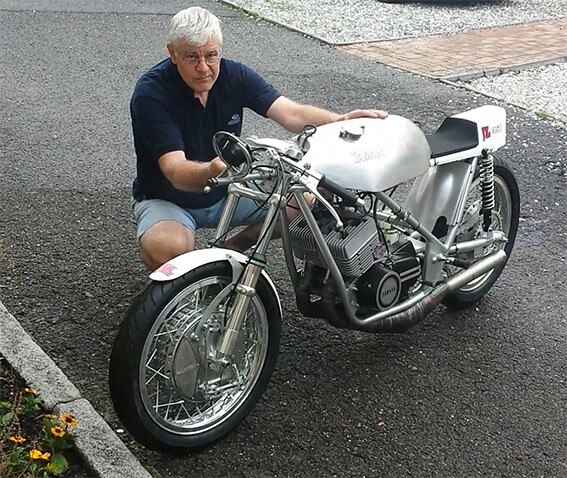 Jim "JL" Lomas started exhaust manufacturing in Wymondam, Norfolk, UK in 1979. The first products were built for racing, e.g. for the Yamaha TZ250 and TZ350. In the early 80's many top British racing teams used JL products, including Padgetts, Zip Karts and Steve Webster.
1988 had been the first season to supply exhaust systems for Superkart racing. In that first season JL finished first and second in the British 250cc Superkart Championship. From 1989 to 1992, JL's exhausts won every major Superkart 250 championship around the world, including the UK, Sweden, South Africa, Australia, Europe and the World Championship.
Jim Lomas himself was also active on the track: his first vehicle was a Honda CB 720, with which he successfully participated in various competitions. The highlight of his active racing career was without doubt winning the British Grand Prix in 1969!
At present, JL EXHAUSTS produces exhaust systems for 2-stroke motorbikes, classic Vespa, Lambretta and motocross vehicles, which convince not only through technical innovations but also through their high-quality workmanship. In 1993, the company headquarters in Great Britain were moved to the Czech Republic.cms_ There, the exhaust systems are still handmade under the critical eye of the master craftsman. In 2015, Jim's son Oliver took over the company, continuing the family legacy and driving the future of two-stroke machines.
JL EXHAUSTS and SIP Scootershop
We have been working closely with Jim since 1998. The joint expertise directly benefits our customers, who can always look forward to innovative parts (the SIP performance systems are just one example). Jim's son Oliver - actually a professional motocross rider - took over responsibility for JL EXHAUSTS in 2016. So our future together looks really promising, as a real friendship has developed over the years.
Just take a look at the entire range of exhaust systems from JL EXHAUSTS and decide for yourself which hot part is the right one for your scooter and the race track.
Conclusion: the Englishmen JL EXHAUSTS have racing in their blood and know exactly how to get the power to the track with an exhaust.