World record attempt: Vespa pulls airplane
Günter Schachermayr has done it again! The daredevil Vespa stunt rider from Austria regularly sets records. On water, on land and in the air. He already drove vertically down a chimney and completed a bungee jump with his Vespa. On March 20, he took on an airplane. The Cessna airplane weighs over a ton and was to be towed at least 99 meters at the Gschwandt airfield on a Vespa that only rides on the rear wheel. Did Günter Schachermayr manage this task? Will there be another entry in the "Guinness Book of Records" with his name? So that you don't chew your fingernails off with anticipation: Yes! He has done it.
At seven in the morning, Günter Schachermayr took to the starting line. Under the expert eye of flight instructor Heinz Breuer, the 44-year-old family man put on a special harness and tied a seven-meter-long Teufelberg fiber rope to it. First, he had to get the plane moving under his own power, then jump on his single-wheeled Vespa and pull it to the finish line while balancing on the rear wheel. It's a good thing he's gotten his back and spine body in top shape over the past few years, because this stunt would require a lot of strength. The first five attempts failed ... the nerves of all involved were stretched to breaking point, as was the fiber rope.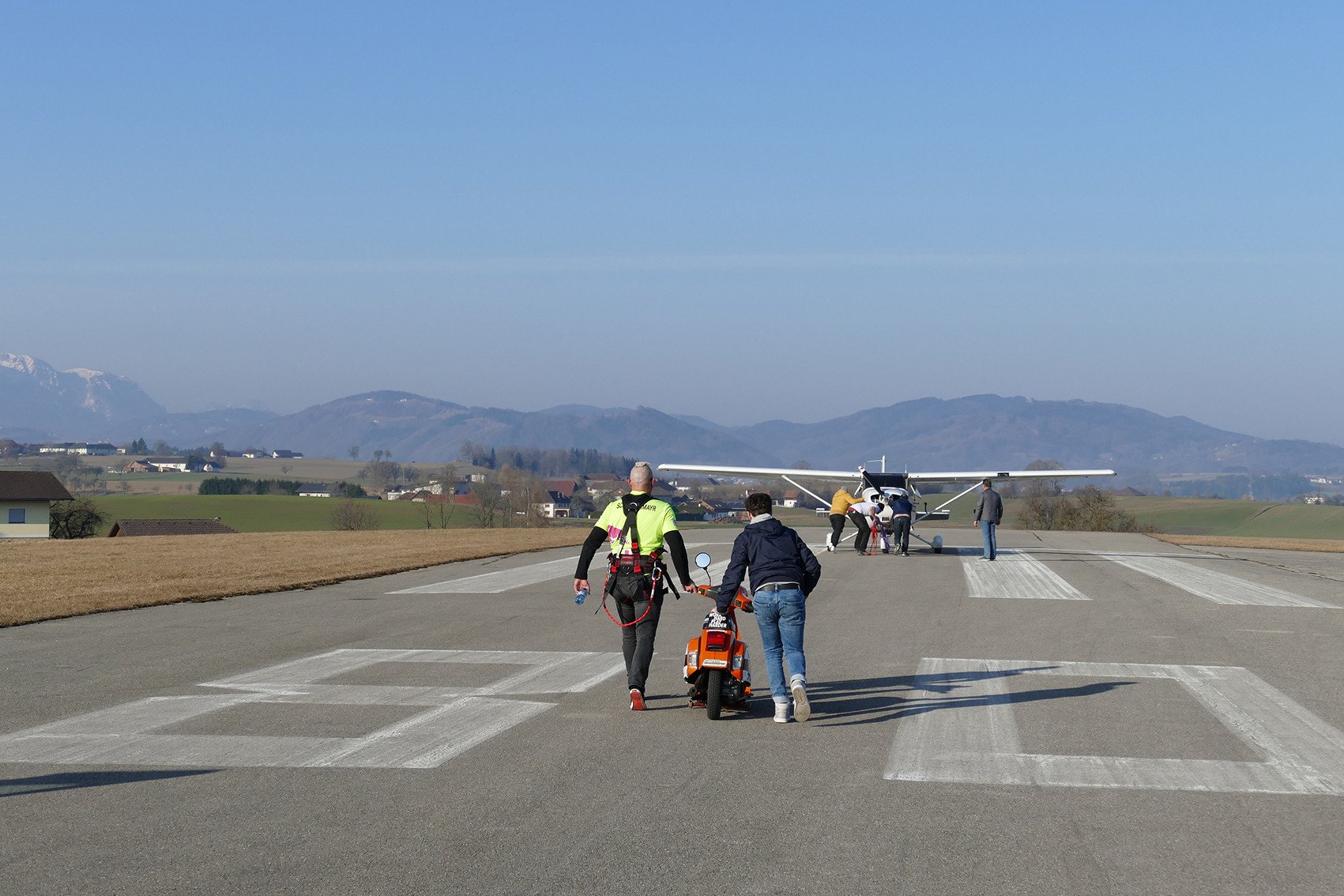 On the sixth attempt, Günter finally found the optimal position on his Vespa and pulled up: 80, 90, 100 ... 125 fabulous meters! An accurate measurement by GPS confirmed this incredible world record of the Austrian. Another great success in a long list of exceptional achievements. The "Evel Knievel" from Steyr may now confidently call himself "Vespa Superman Of The Word". All too soon there will be no one on this planet who will pull off similar stunts on a Vespa without a front wheel. But if Günter should ever need a front wheel - SIP Scootershop has plenty of them.