World record: 27 stunts on two Vespas
The 44-year-old Austrian Günter Schachermayr never ceases to amaze us. A few weeks ago, he pulled a Cessna aircraft, with full body effort and on the rear wheel of a Vespa, 125 meters over the Gschwandt airfield. Of course, this phenomenal performance was worth a report for us. No sooner have we digested this breakneck sensation than Günter is back on the road again and is really letting it rip on the Formula 1 racetrack Red Bull Ring at Spielberg.
A whopping 10,700 spectators held their breath for exactly eleven minutes and 14 seconds. That's how long Günter Schachermayr needed to perform a total of 27 acrobatic stunts in which he risked life and limb in a death-defying manner. While the show began rather cheerfully, with the "Daredevil from Steyr" presenting the largest crash helmet in the world, Günter's tricks became the epitome of high stunt art on a two-wheeler and unicycle as the performance progressed. The breakneck gymnastic exercises with and on two different Vespas culminated in a "no handed wheelie" followed by a free standing ride on the iconic classic. Perfectly tuned music and expert moderation provided the right soundtrack.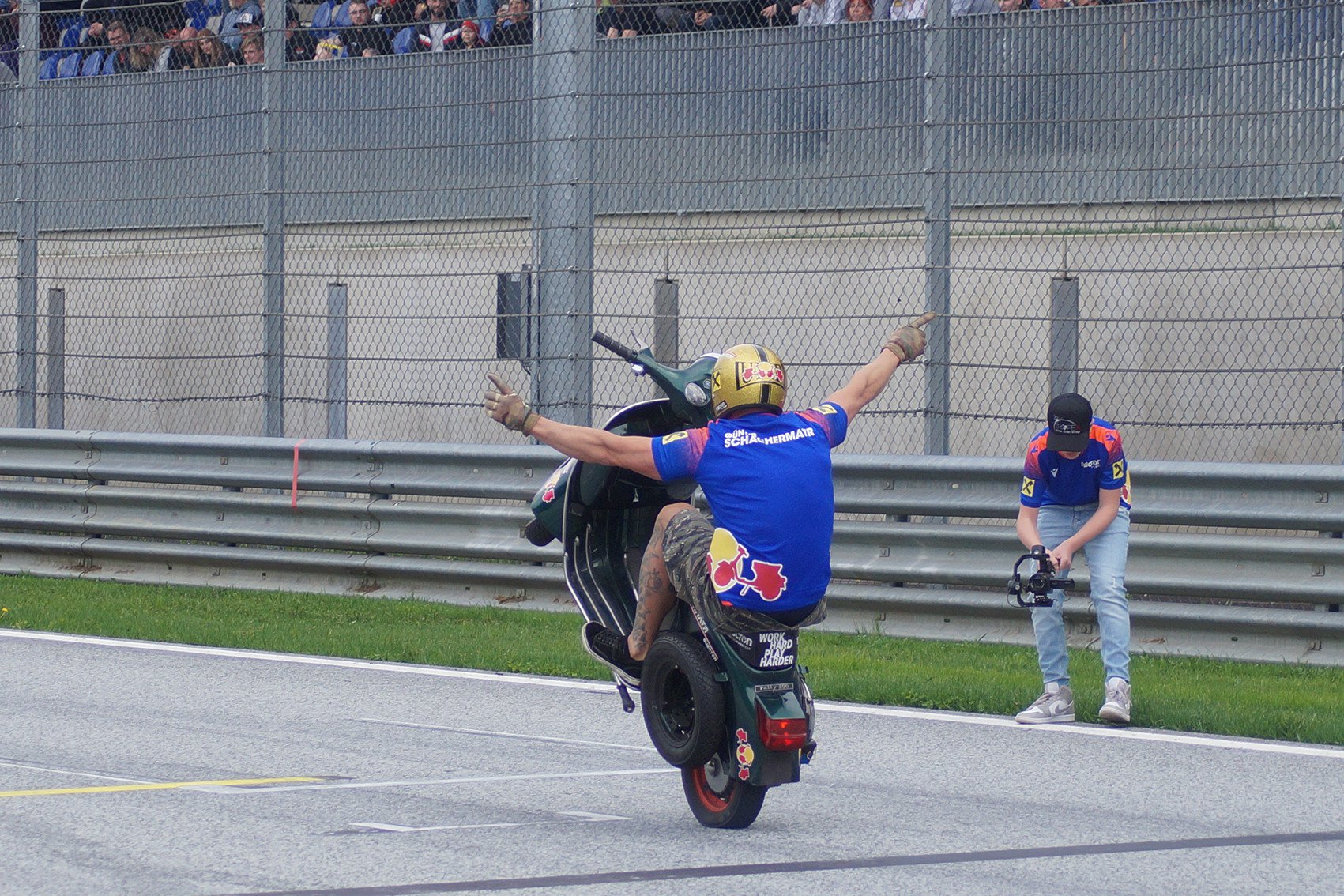 Seven years of training on the Vespa
The extreme athlete, who has been keeping the world on its toes for years, was in seventh scooter heaven after the show: "As soon as I kicked off my Vespa, I had goose bumps. The enthusiastic spectators drove me to peak performance. I had been preparing for this historic moment for seven years. Just an awesome, indescribable feeling!" But the Vespa Rally 200 (8.3 hp) and the Vespa PK 112 (3.2 hp) also had to cope with the almost unbelievable demands on the track. For the finale, Günter finally even ignited a series of smoke grenades mounted on his Vespa and turned the Formula 1 race track into a smoking witch's cauldron. That might have been possible with an exhaust system from SIP. ;)