In 2018, this custom project was launched together with Butcher's Garage from St. Petersburg. At the time, Alex Mazan wrote:
We here at BUTCHER GARAGE have been SIP Scootershop customers from the very beginning. It's no secret that in Russia it's often not easy to get all kinds of things - but when it comes to Vespa parts, SIP Scootershop makes life very easy for us. We call the almost 1,000-page SIP catalogue "the bible" in our workshop, only half in jest. Because of this long and close collaboration, it has always been our wish to work together on a custom project. We particularly like "scrambler" conversions, which are also a big trend in the motorbike sector. Every motorbike manufacturer now has a scrambler model in its portfolio.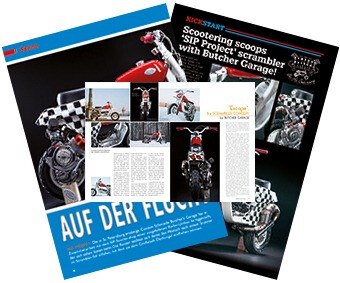 We started to check whether such a conversion could be feasible with a classic Vespa. There have been many Vespa-based projects made for cross-country or desert racing. But in our opinion, they were mostly rather poorly functioning conversions that could only impress visually. We decided to combine actual off-road characteristics with urban design and develop an excellent model to escape from the urban jungle - the idea for the ESC "ESCAPE" project was born!
The search for design solutions lay mainly in the motorbike construction of the 60s to 70s: a saddle in the style of the early BSA motorbikes and the tank of the Husqvarna 70, which matched the PX frame surprisingly well, were a start. Being able to build without restrictions or specifications is a great advantage in any job, and the only condition from the SIP guys was to use some of their own beautiful products for the project. The people from Metal DIY helped us a lot with the frame construction, together we determined the geometry of the future bike, the wheelbase, the steering column angle, the ground clearance and the height of the saddle and welded the body parts of the new project.
The head tube, for example, comes from a pit bike. The rear suspension was elaborately implemented on two SIP Performance shock absorbers, which works excellently in driving. Due to the lever of the transmission force in the horizontal plane, based on the pendulum swing arm of the PX steering column, it was possible to build a system with a central damping position. The transmission of the shock absorber not only had a good effect on the stroke length and balance, but also on the design, filling the space under the tank and making room for the wide rear wheel with a dimension of 130/90-10. For the front wheel we used a 12-inch spoke rim and a custom hub, specially made for use with the Galfer brake disc.