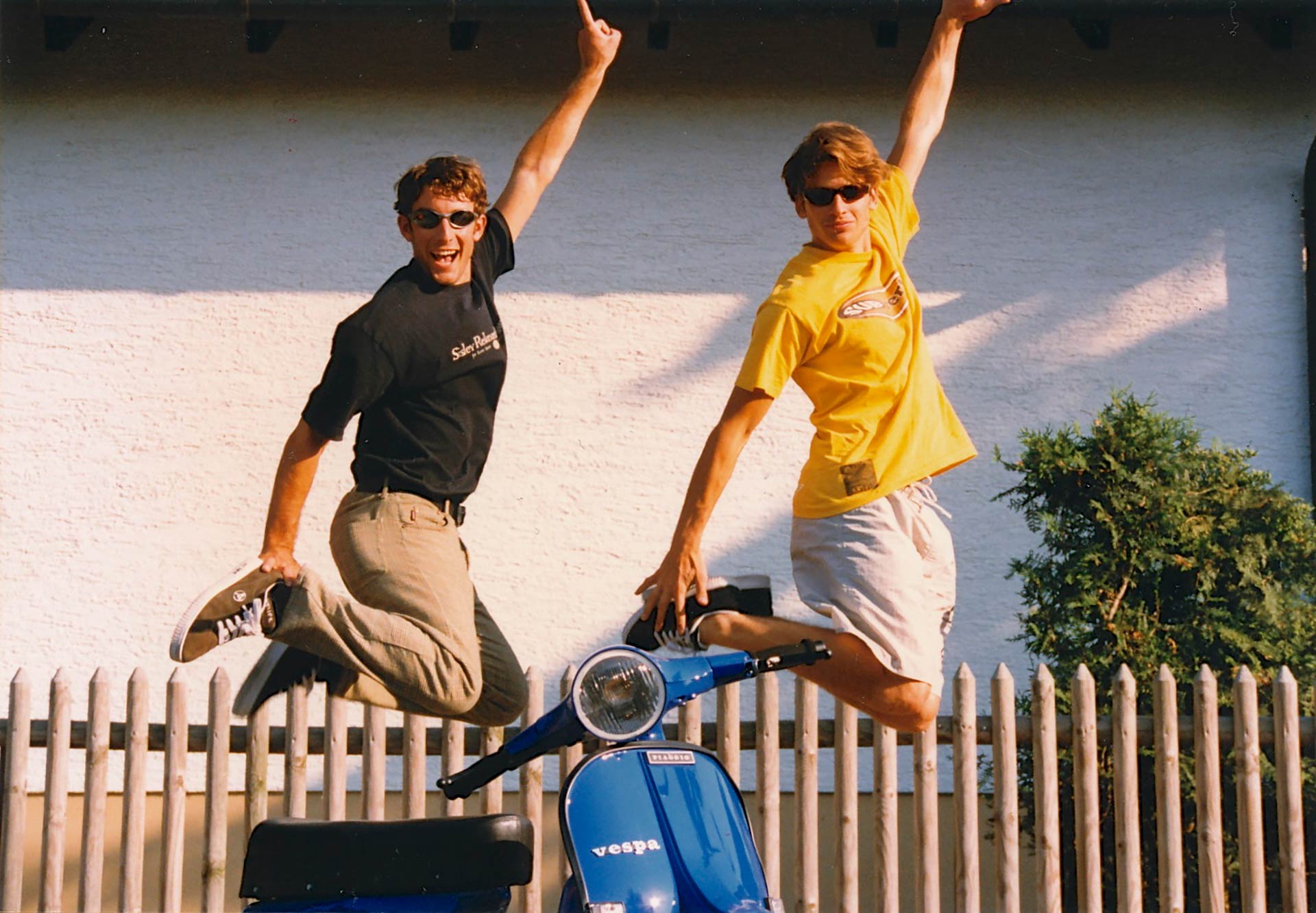 DEAR SCOOTER RIDERS!
It's been a quarter of a century since we founded SIP Scootershop in a garage. The first goods were stored between Alex's father's beehives. For lack of staff, we took the parcels to the post office ourselves by Vespa. Those were the days ...
A lot has happened in the past two and a half decades: We have made many right and some wrong decisions. We met people who became our friends. We have been able to look at the subject of "motor scooters" from the most diverse angles. There were exhausting moments when we sat in front of the keyboard at two o'clock in the night in the cold former barracks in Erpftinger Straße with jackets and gloves and thought up descriptive texts for the next catalogue. There were moments of great happiness, for example on road trips with friends and co-workers, when we arrived at the sea after 1000 km of driving, with road dirt in our faces, and toasted with an ice-cold beer. We laughed, pondered, celebrated and mourned together. This chronicle tells of these stories, shows milestones in SIP's history and reports on the big and small things that have made us the company we are today. In the future, too, we would like to achieve the balancing act that has been important to us over the past 25 years: on the one hand, to be an efficient, modern company and, on the other hand, to be an authentic, honest family business. We would like to take this opportunity to thank all our employees for their commitment and passion. We would also like to thank all our customers for their trust and loyalty to our brand over the years. Without you, there would be no SIP Scootershop.
We hope to welcome and meet as many of you as possible at our events in the coming years. Here's to the next 25 years!
Have fun with the SIP Chronicle 1994-2019 and wish you an accident-free scooter season
Ralf & Alex
SIP Scootershop
Landsberg in autumn 2019
For all those who come to us in person with their scooter, there is the SIP passport sticker in the style of an Alpine pass badge. Ask for it at the counter with your helmet under your arm! In addition to the Open Day, there will be a Dealer Day for selected trade customers for the first time. A whole SIP collection of clothing for scooter riders will be launched: T-shirts, hoodies, socks. The first After Work Aperitivo takes place in the SIPERIA, from now on always once a month on Thursdays from 5 pm. Under the name TACHO KARACHO, the first DBM acceleration race will take place directly in front of our building. In the Italian Scooter Championship TROFEO MALOSSI, SIP is the first foreign racing team ever to win the Northern Championship.
2020
2017
In 2017, the 2nd SIP Open Day will already take place at the new location in Marie-Curie-Str. 4 in Landsberg.
SIP introduces the SIP PRIMO shipping option for customers in Germany and Austria. The principle is simple: pay a one-time annual fee of 20 euros and order free of shipping costs for twelve months. In addition, every shipment is sent as SIP express delivery, and there is a one-off gift of 1 litre of oil as a welcome present.
In March, the big move into the new building goes surprisingly smoothly with many night shifts and a great team. SIP Scootershop now has more than four times as much space as at the old location and a 300 sqm flagship store with an Italian bar / pizzeria called SIPERIA. Modern logistics, the large warehouse, modern light-flooded workplaces make the company fit for the future. A Grand Opening inaugurates the building for the public in May, 1,400 visitors, friends and customers come.
2019
2015
The planning has been going on for two years, the ground-breaking ceremony was held in May and the topping-out ceremony for the new logistics and administration building, about 1 km away from the old location in Graf-Zeppelin-Straße in Landsberg, took place in September. The steadily increasing need for space, especially for goods but also for the now almost 100 employees, made the complete new building urgently necessary. With the architect's office Ott from Augsburg, SIP once again found a competent planner for industrial and commercial construction.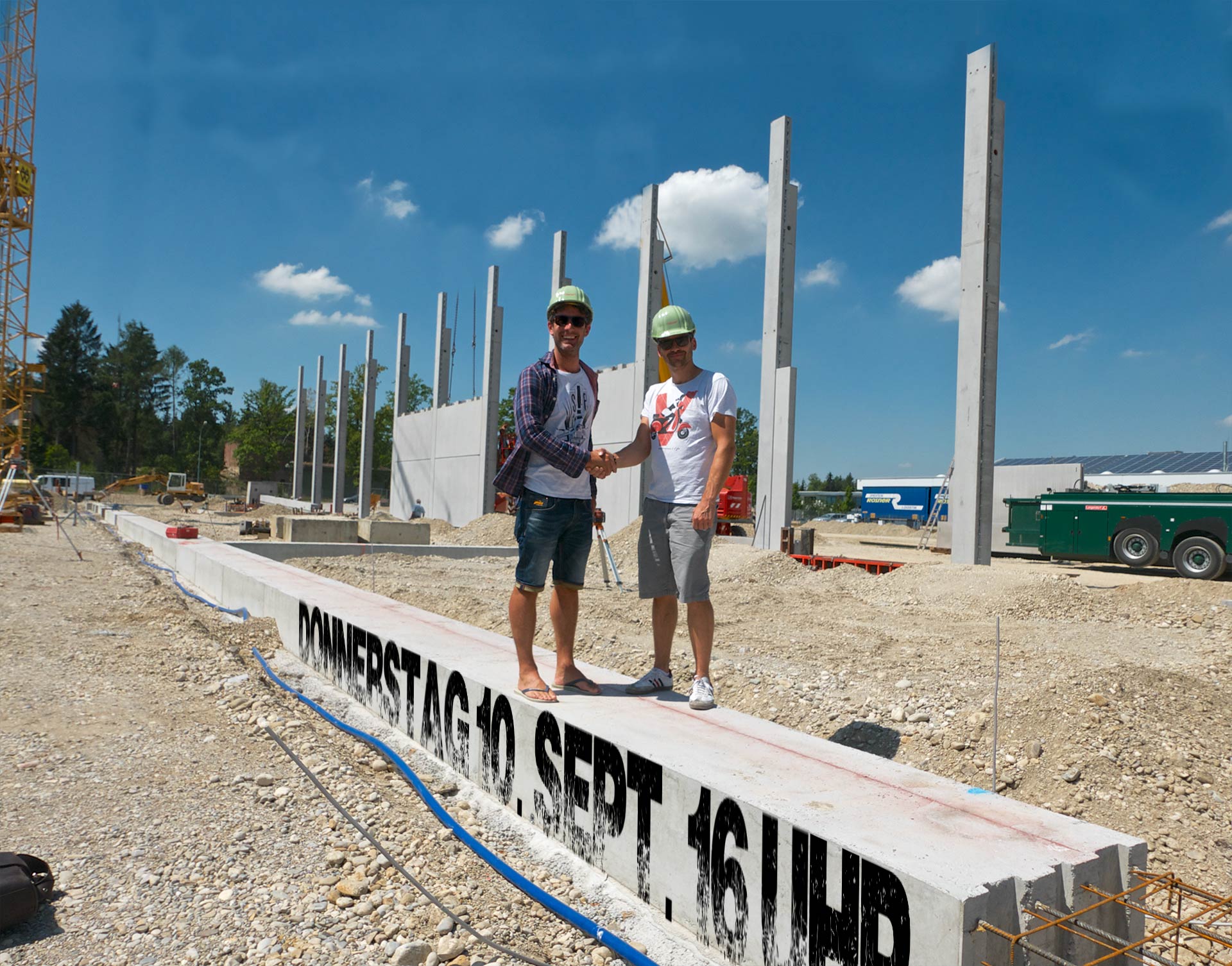 2014
20 years of SIP Scootershop, who would have thought that when Alex and Ralf built out Ralf's parents' basement room to start their first attempts at selling scooter parts there and at various scooter meetings? SIP exhibits for the first time at INTERMOT in Cologne, directly opposite the PIAGGIO stand. In the same year, SIP was verified as a manufacturer by the Kraftfahrtbundesamt (German Federal Motor Transport Authority), which opened up the possibility of developing products with ABE or parts certificates.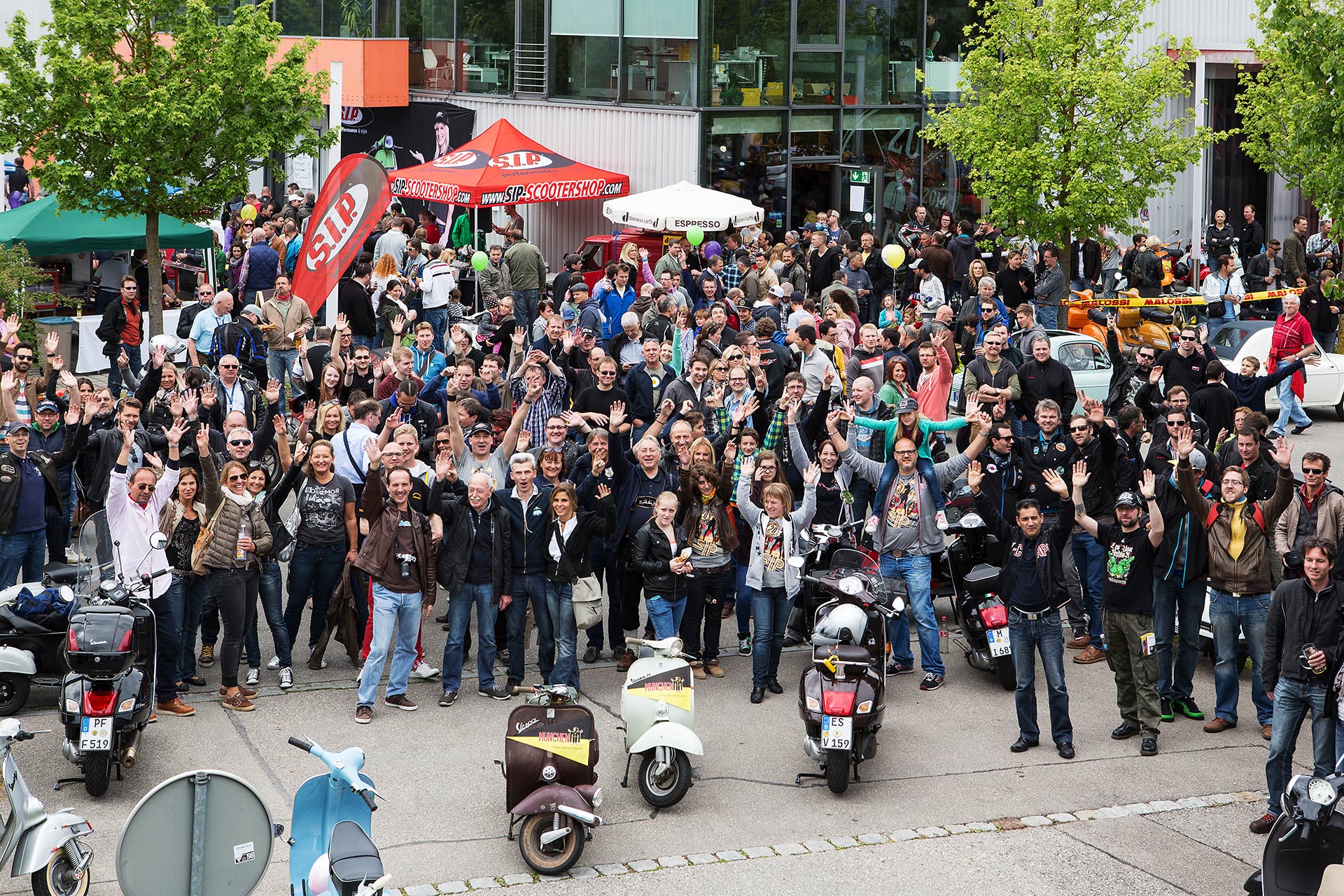 2013
In addition to the new customer magazine Curve, which will be published for the first time in summer 2013, SIP Scootershop is also working hard in the area of events. While the SIP team welcomed around 1,500 international guests to the Motorscooter Customshow in Landsberg in spring, the visit to the EICMA (for the first time as an exhibitor) successfully rounded off the year. In summer 2013, the SIP shop in Landsberg gets a completely new interior with lots of old wood and even more love.
2012
The team worked on it for one and a half years. In 2012 it finally arrived: the SIP Scootershop Classic catalogue. 940 pages packed with products, technology, pictures... the 'SIP bible' appears in German and English - and because it was so good, an own-products, Lambretta and Modern Vespa catalogue follows in the following months. The SIP Classic Catalogue is awarded "Catalogue of the Year" at NEOCOM 2016.Here you can download the 2012 Classic Catalogue as a PDF file..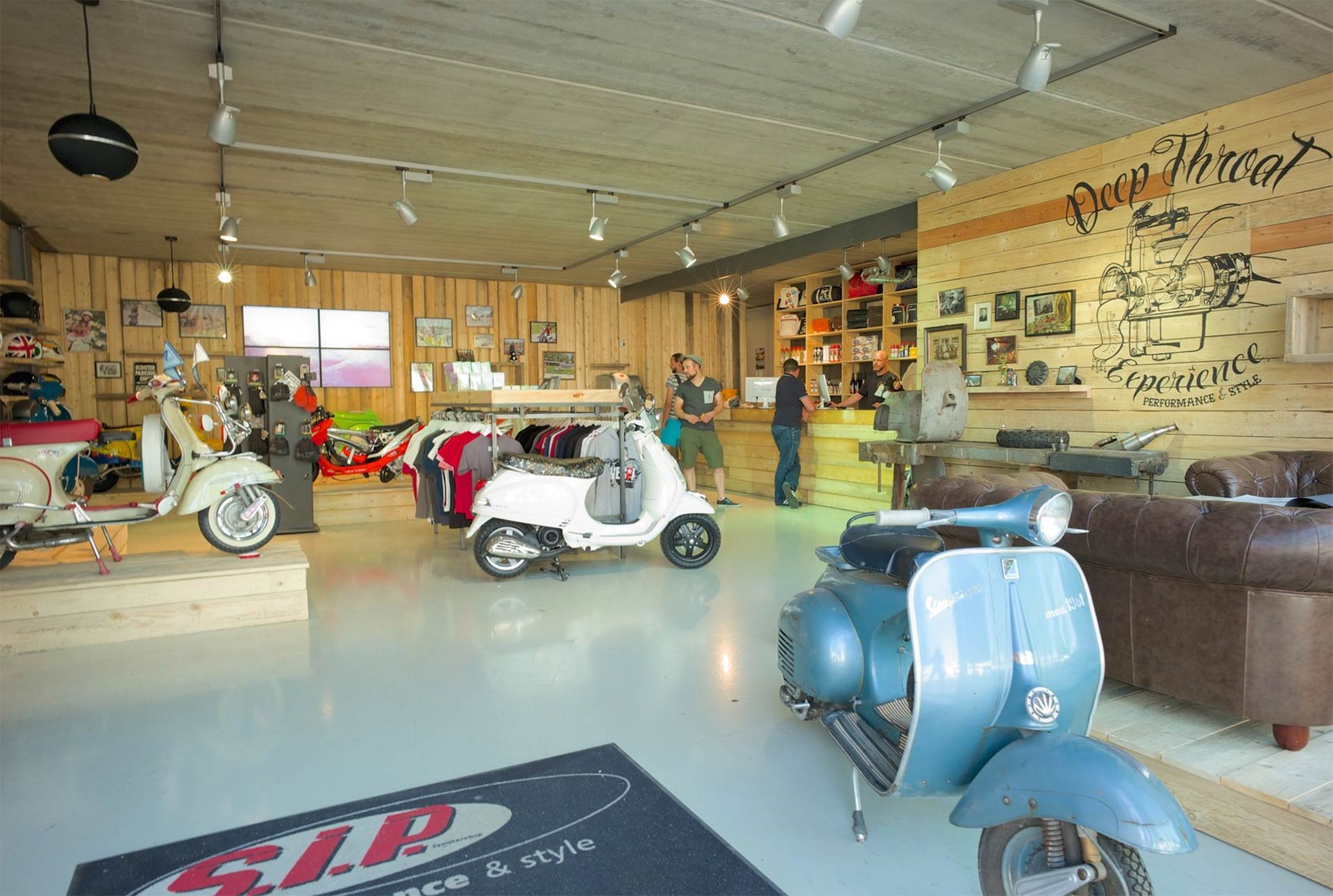 SIP stellt den ersten digitalen Tacho -/ Drehzahlmesser für Vespa PX vor, es folgen viele weitere Modelle und mehr Funktionen.
2011
The coming years are marked by increasing internationalisation. After the USA and Asia, SIP boss Ralf travels to Russia. On a Vespa mission, of course. Other team members are also keen to travel and go on a scooter tour together for a week every summer. To Italy, France, Croatia, Sardinia, Spain, Austria. Switzerland ... only to come home with the same realisation every time: No matter where you go, the love of Vespa and Lambretta unites people all over the world. To take this into account, the SIP webshop goes online in 10 languages in 2011.
2010
The topic of scooter cross is also topical in 2010, with teams forming in the SIP Team to build scooters suitable for off-road use. Demons of Scootercross takes place at the motocross track near Landsberg, a real battle of material....
2008
There is a SIP TV video of the Rollerkö Augsburg rolling on from 2008 - enjoy!
2007
2007 brings an expansion of 600sqm high-bay warehouse up to a height of 10m. This means that 2,500sqm of storage space and more than 400sqm of offices and shop are now available. At the same time, the merchandise management system is converted to a new system developed in-house. Together with modern logistics, this has created a significantly higher package throughput since spring 2007, thus ensuring short delivery times. At this time, the now 50 SIP employees send up to 400 parcels per day. With Kathrin Brand, SIP Scootershop trains the best wholesale and export merchant in Bavaria in 2007.
2006
Bavarian television broadcasts a report on SIP Scootershop as part of the business magazine PROFILE.
2009
In 2009, Landsberg not only celebrates the 15th anniversary of the company, but also looks to the future, because a close cooperation with one of the most important suppliers of high-quality accessories and tuning is planned for the following year: SIP Scootershop is to exclusively take over the MALOSSI import for Germany. In the same year, things will be more down-to-earth at the Scooter Cross Landsberg. The SIP team ventured off-road for the first time and organised a Scooter Cross race in Landsberg.
In the same year, there is a small stand at the Amerivespa in Los Gatos, California.
2004
SIP Scootershop celebrates its 10th anniversary! 1994-2004. The first decade after the founding of the company is already done....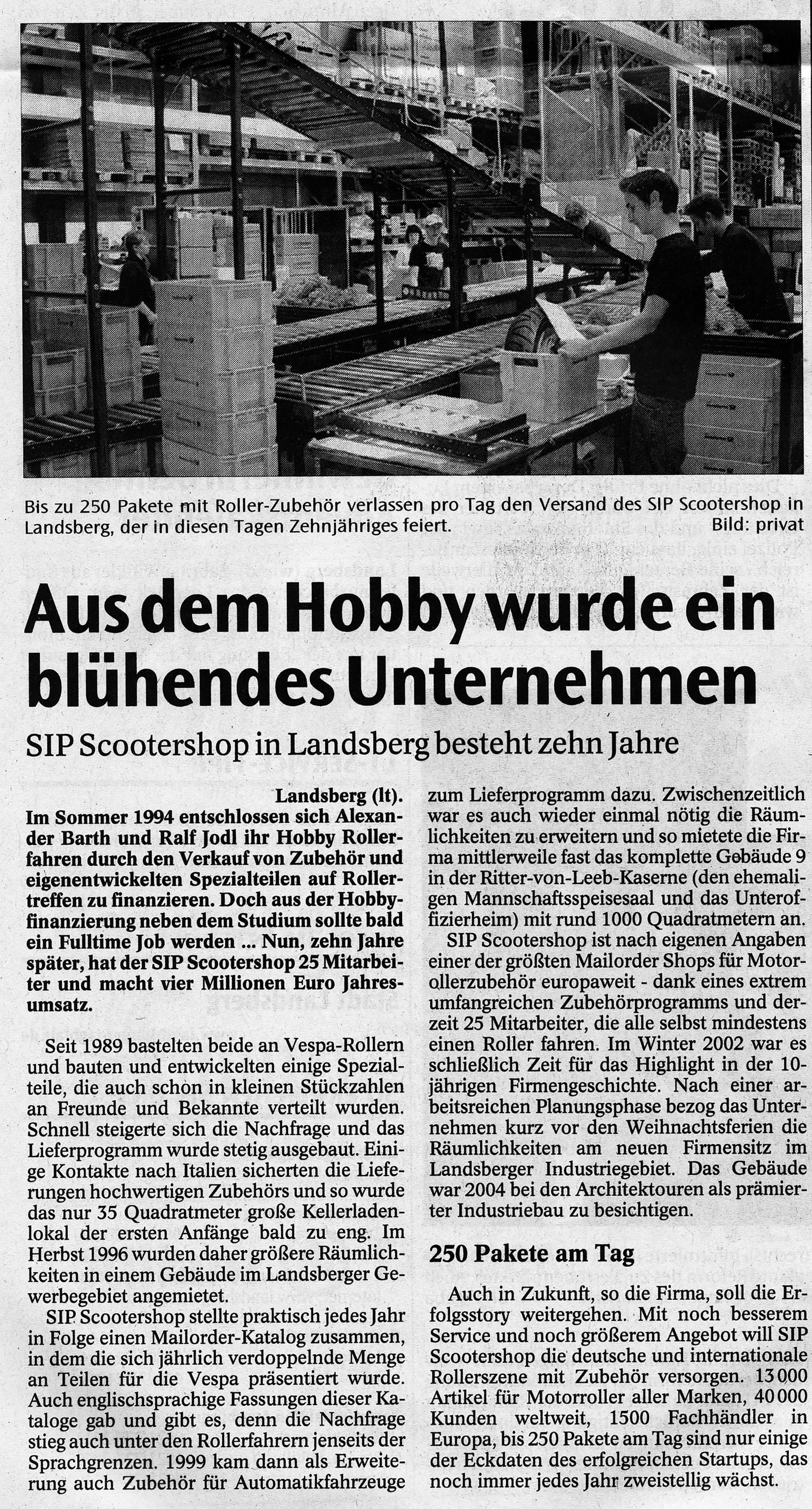 2003
2003 a new Classic Vespa accessories catalogue is created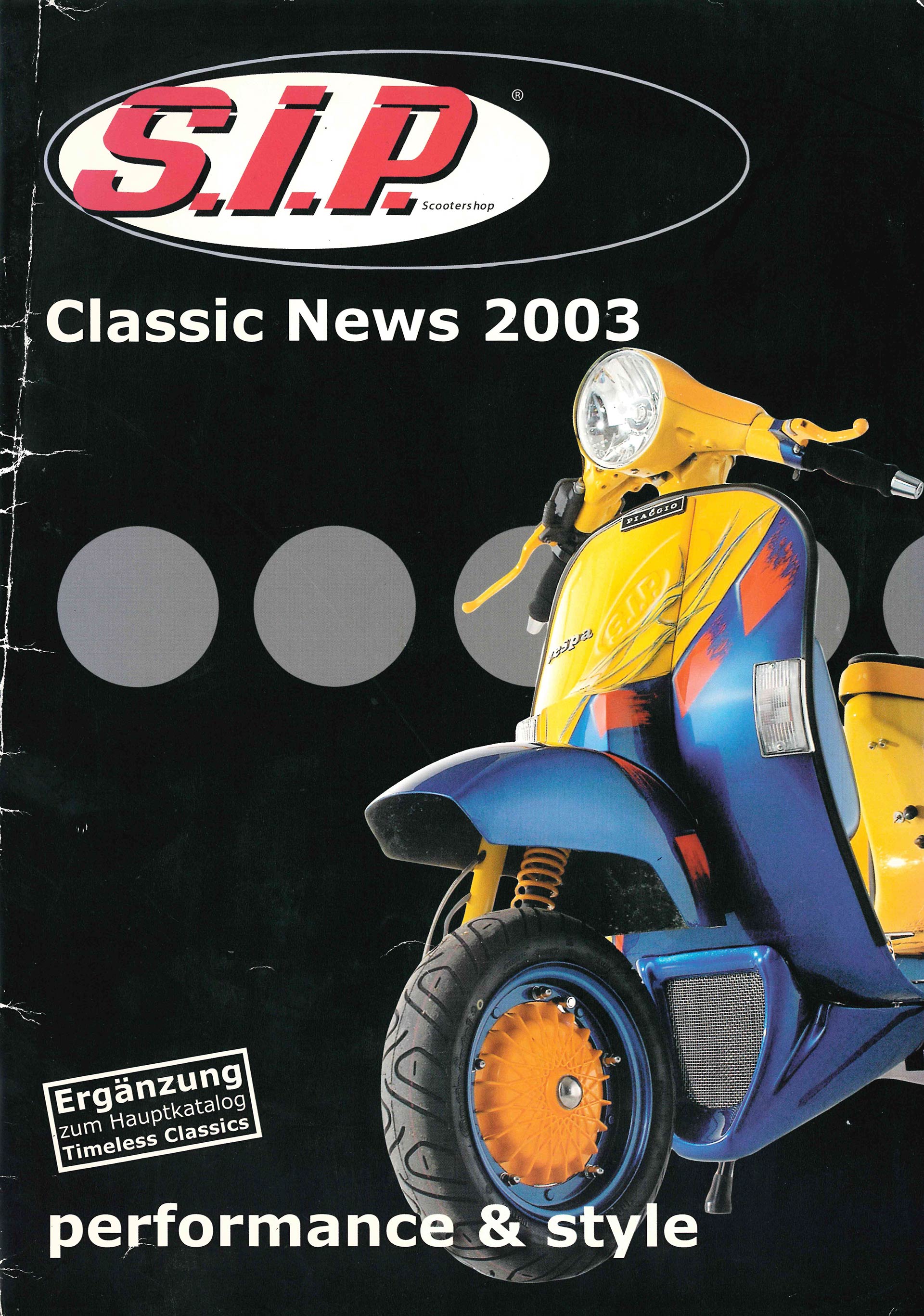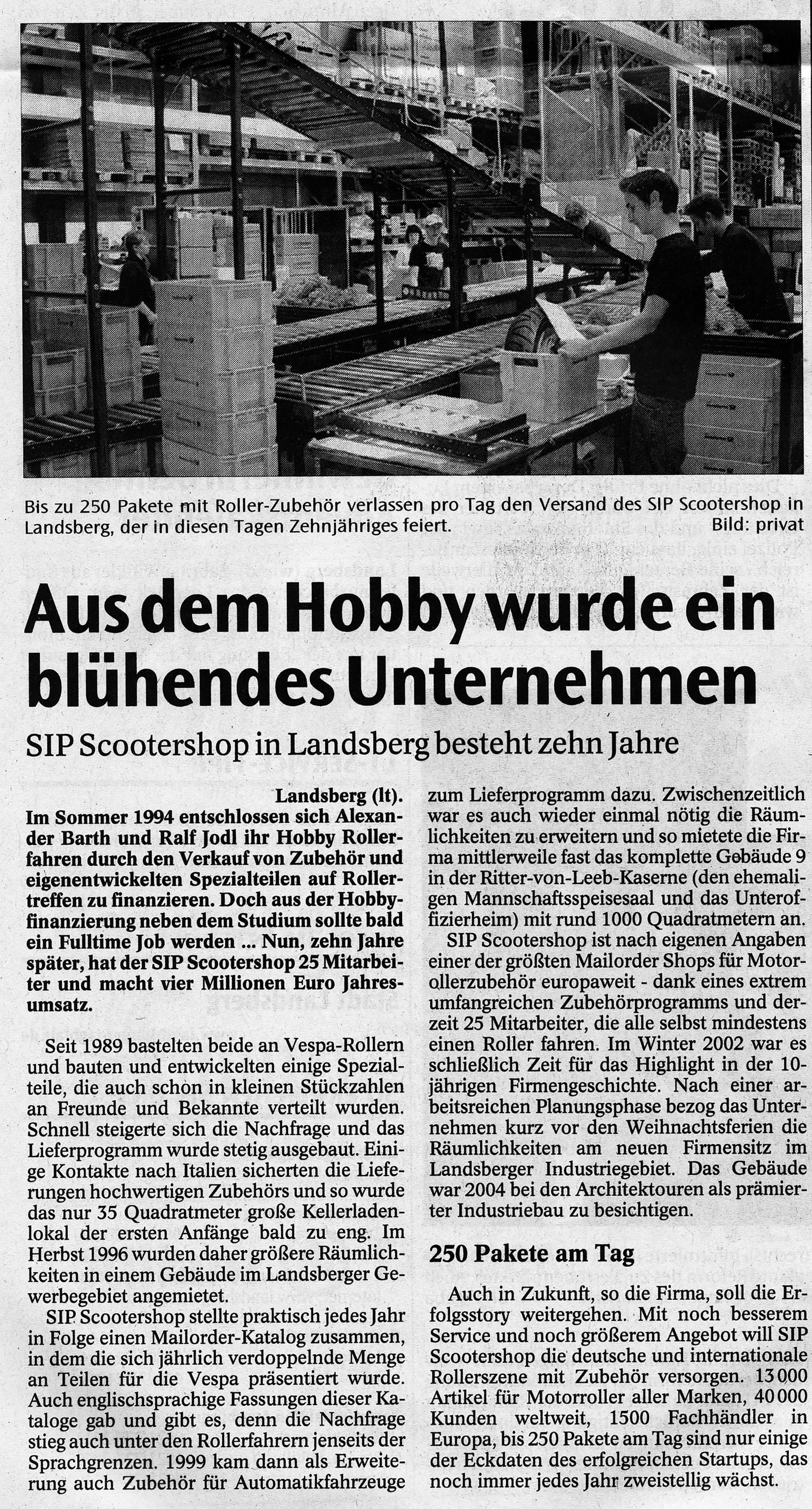 2002
In 2002, it was time for a new chapter in the SIP story. The premises in the former barracks are bursting at the seams. So various external storage facilities are rented and an old Ape TM from the 60s dutifully transports everything back and forth. This is great fun and pleases the neighbours, but in the long run it costs too much time. A new building with enough space for a large warehouse, offices and shop is needed. After an intensive planning phase, the company was finally able to move into its new headquarters in Landsberg's industrial area shortly before the Christmas holidays. The commercial building receives architectural awards and is featured in several magazines.
2021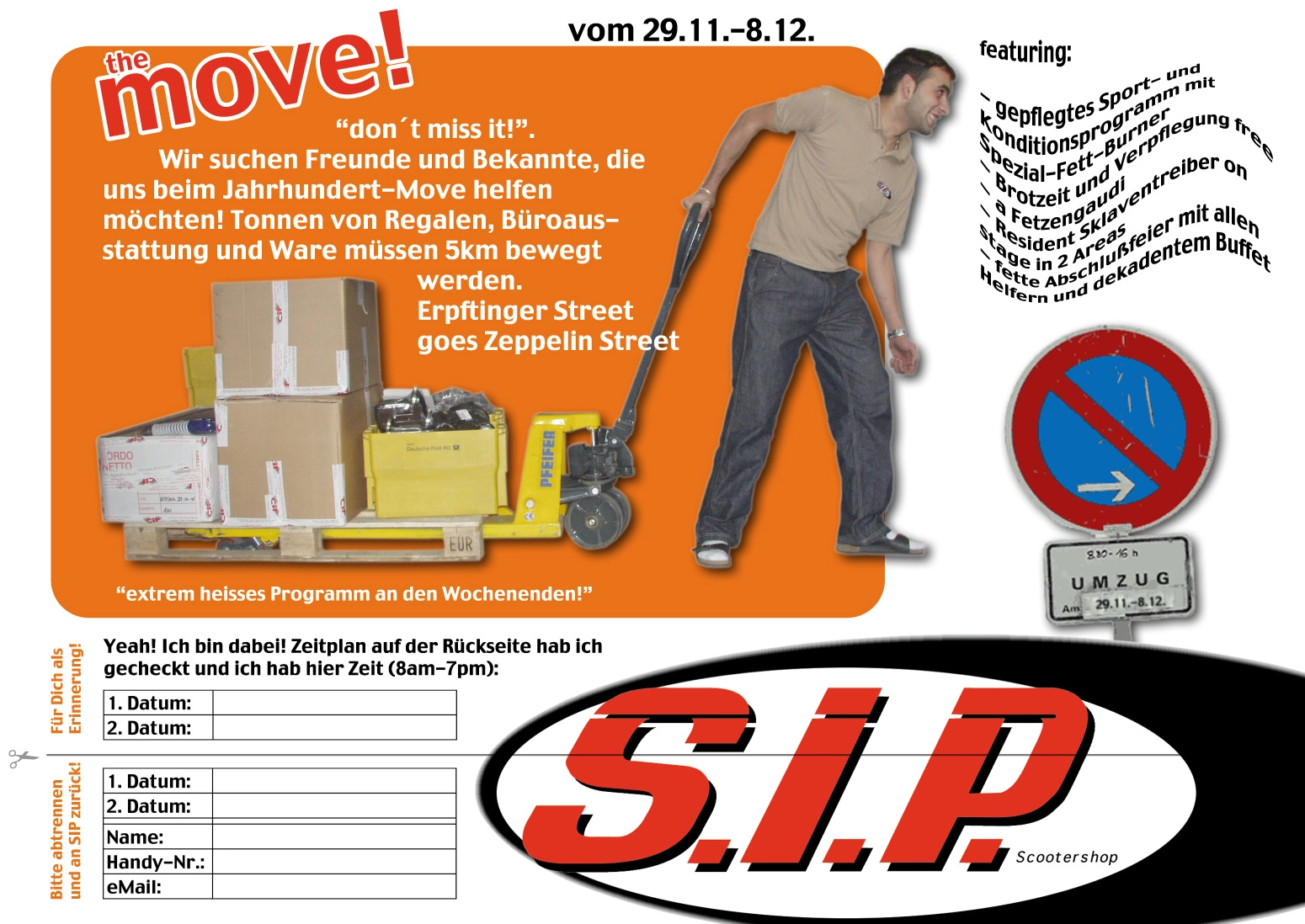 2001
In 2001, the new SIP Scootershop website goes online with a much improved webshop.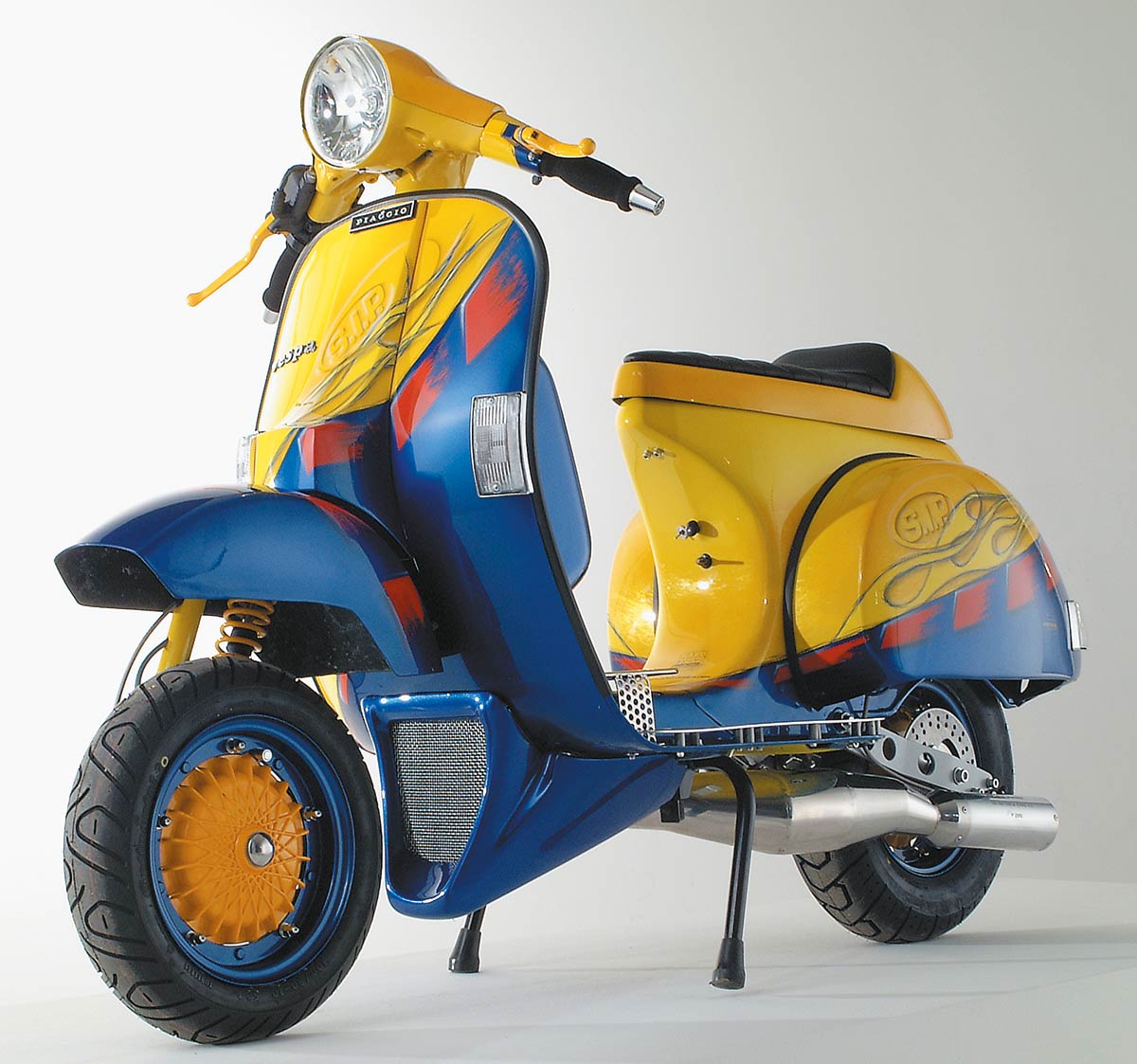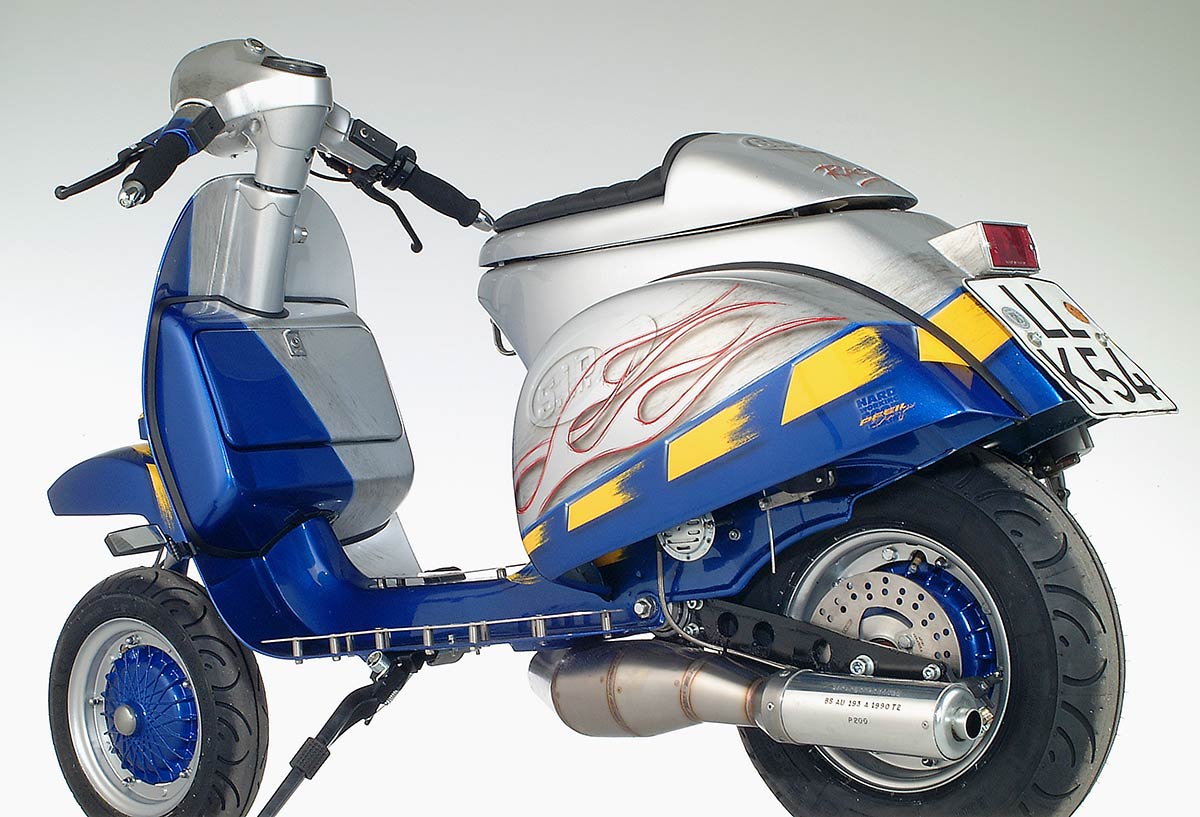 2000
Thanks to an ever-expanding product range and 15 motivated, scooter-enthusiastic employees, SIP Scootershop GmbH is already entering the 2000s as one of the largest mail-order shops for scooter accessories.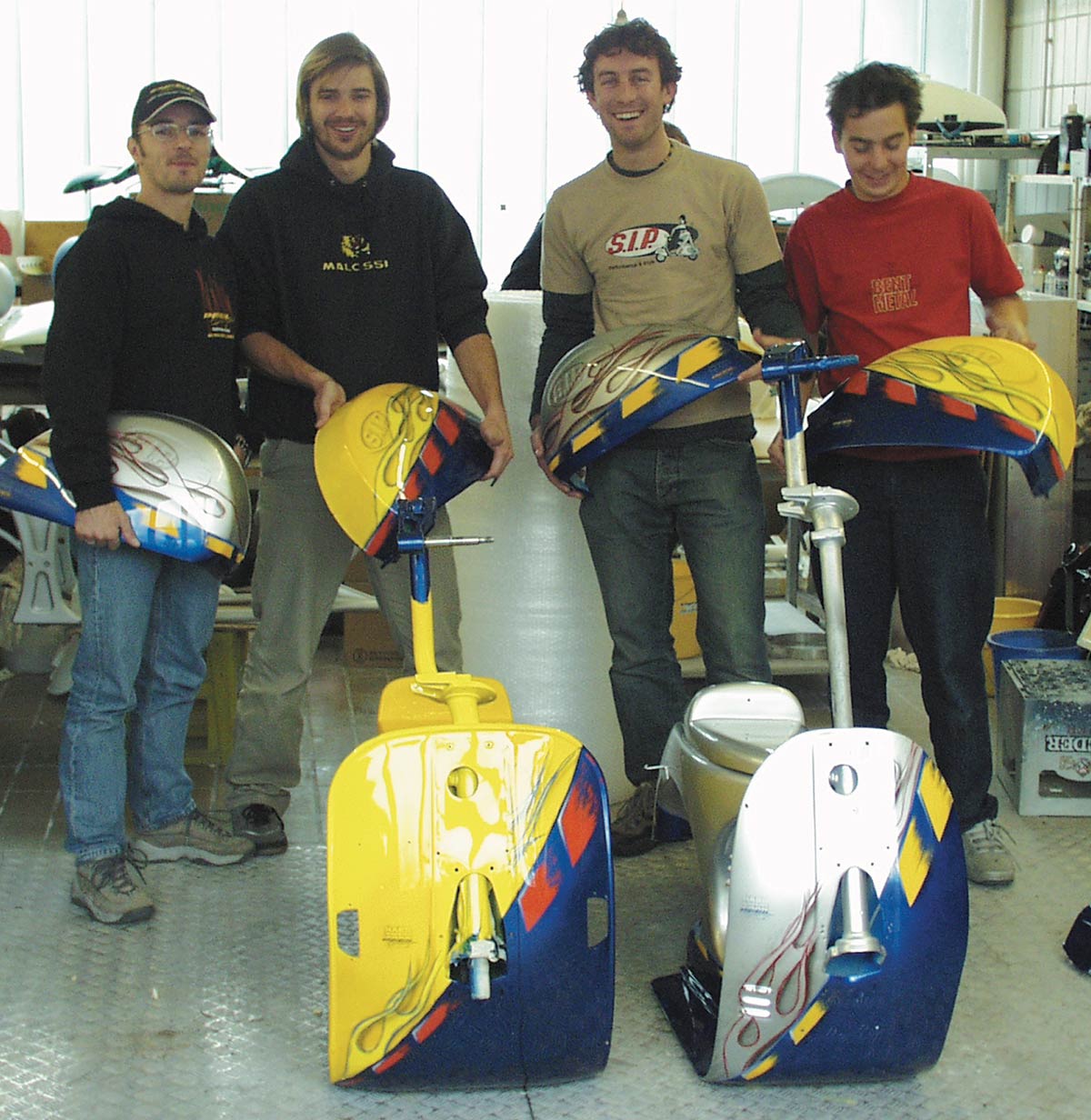 1999
1998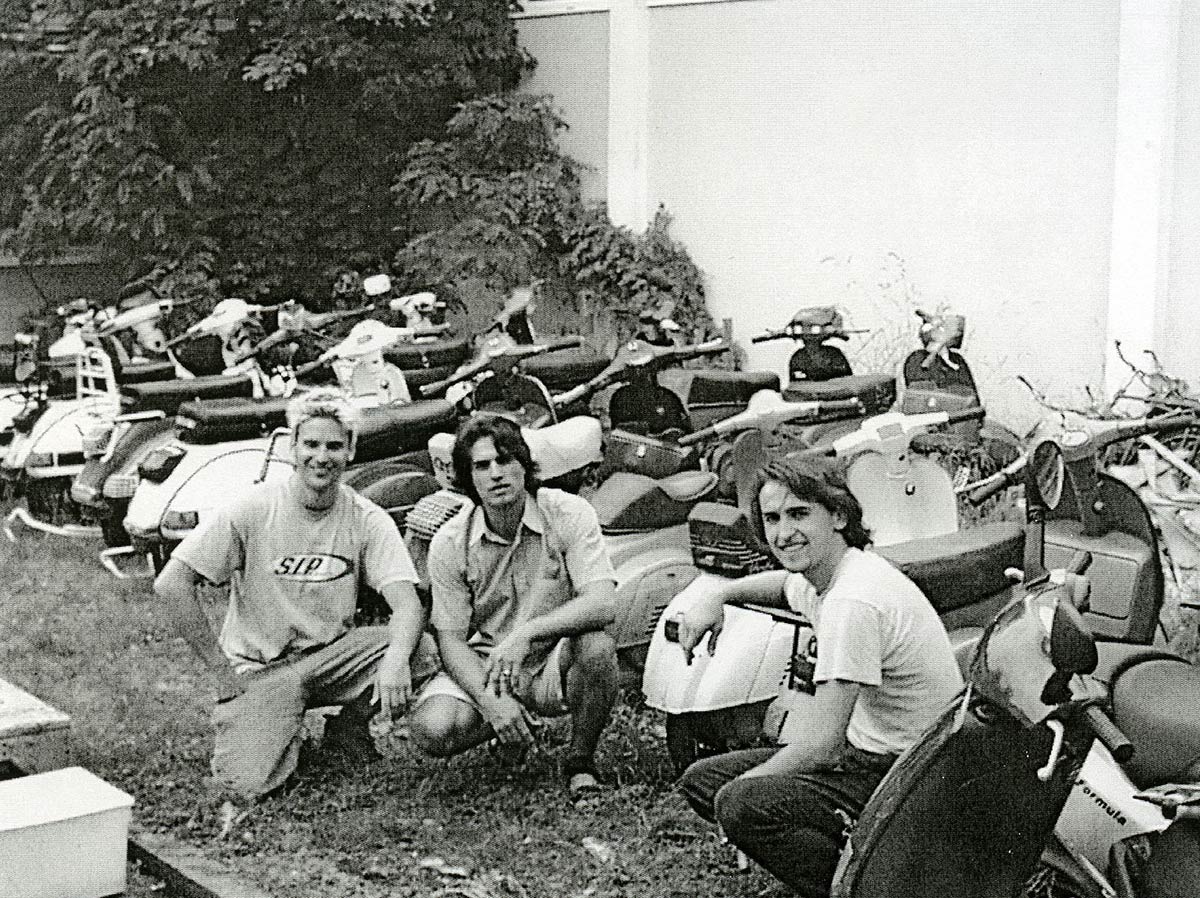 In 1998, the first SIP Scootershop website was created, already in German and English and with a first webshop that was connected to our MS-DOS merchandise management system via ASCII data record export. Even then: live stock for several thousand articles.
At that time, SIP Scootershop also sold used Vespa scooters that we regularly brought back from Italy. Not only did many scooters come north over the Brenner Pass, but friendships also developed that have lasted to this day, e.g. with Cao from 70s Helmets or Mamo, industrial designer for Lamborghini, who also designed one or two of his own products for us.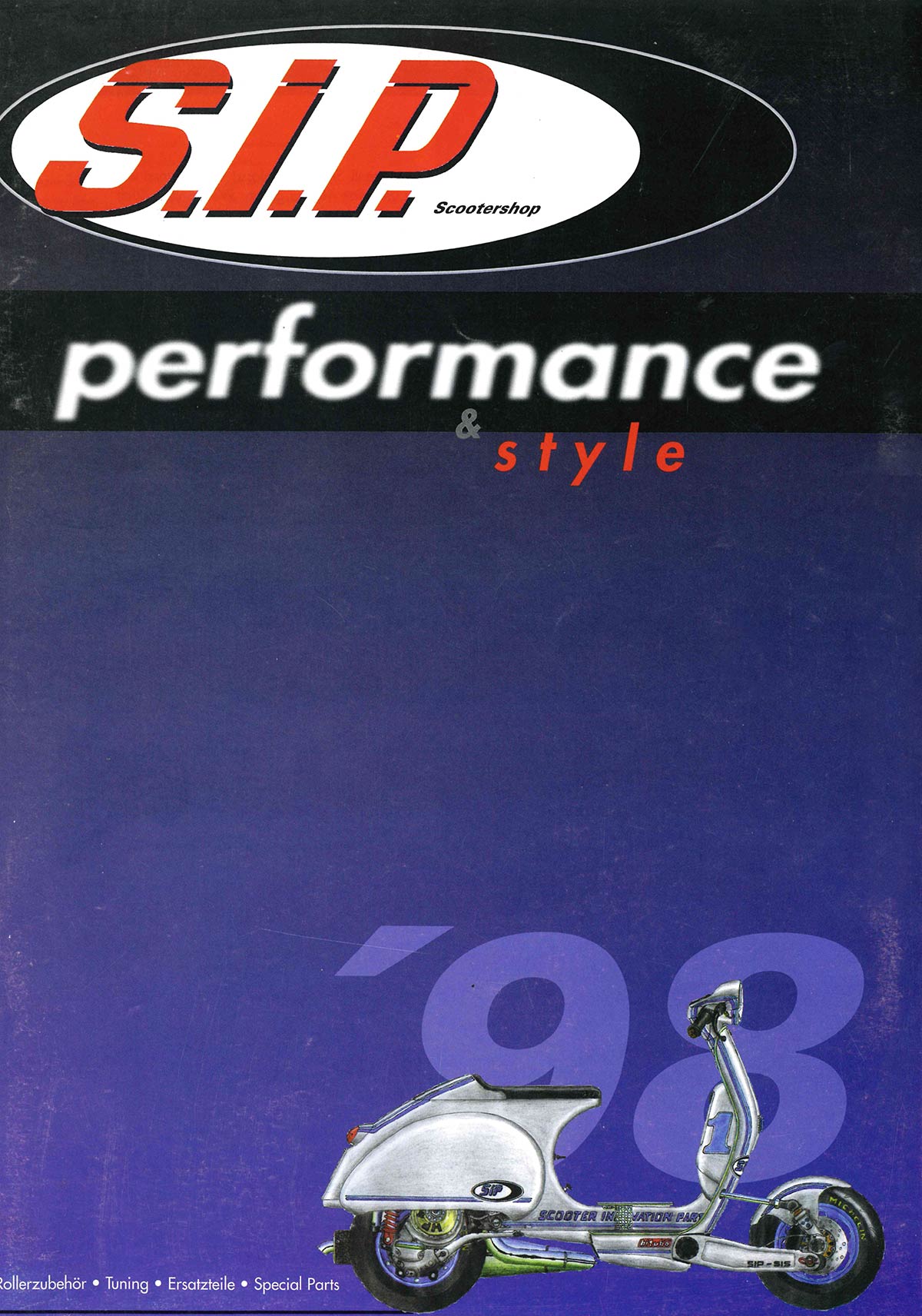 1997
1996
In 1996, larger premises were rented in the former non-commissioned officers' quarters of the disbanded Ritter-von-Leeb barracks in Landsberg. Every year, the start-up SIP Scootershop compiles a German and English (because demand is also increasing beyond the language borders) mail-order catalogue to present its product range of around 2,000 articles. The SIP catalogue from 1996 you can browse through online here.
1995
1994 - the founding year