false" @drop.prevent="() => false" @contextmenu.prevent="() => false" alt class="landing-hero" loading="eager" decoding="async" width="1804" height="510">
Trousers
- at SIP Scootershop
For many years, riders of scooters or motorbikes did not have much choice when it came to trousers: either the trousers were made of leather or textile. And there were few, not particularly visually appealing, motorbike jeans. Women could hardly find any suitable and safe trousers. But a lot has changed in this area in recent years. Those who find leather trousers too heavy and uncomfortable or textile trousers too unattractive can now resort to motorbike jeans. They have by far the best look and offer excellent protection.
Always remember: scooter and motorbike riders have no crumple zone. Of course, the leather suit is the ultimate for many motorcyclists and offers the best protection. However, you can also be safely protected in classic denim style, because we have jeans for men and women in our range that have passed all CE tests and still offer a stylish urban look. For example, if you ride to work on a two-wheeler and don't want to take a change of clothes with you, you can fall back on the jeans in our range.
Aren't normal jeans enough on a scooter or motorbike?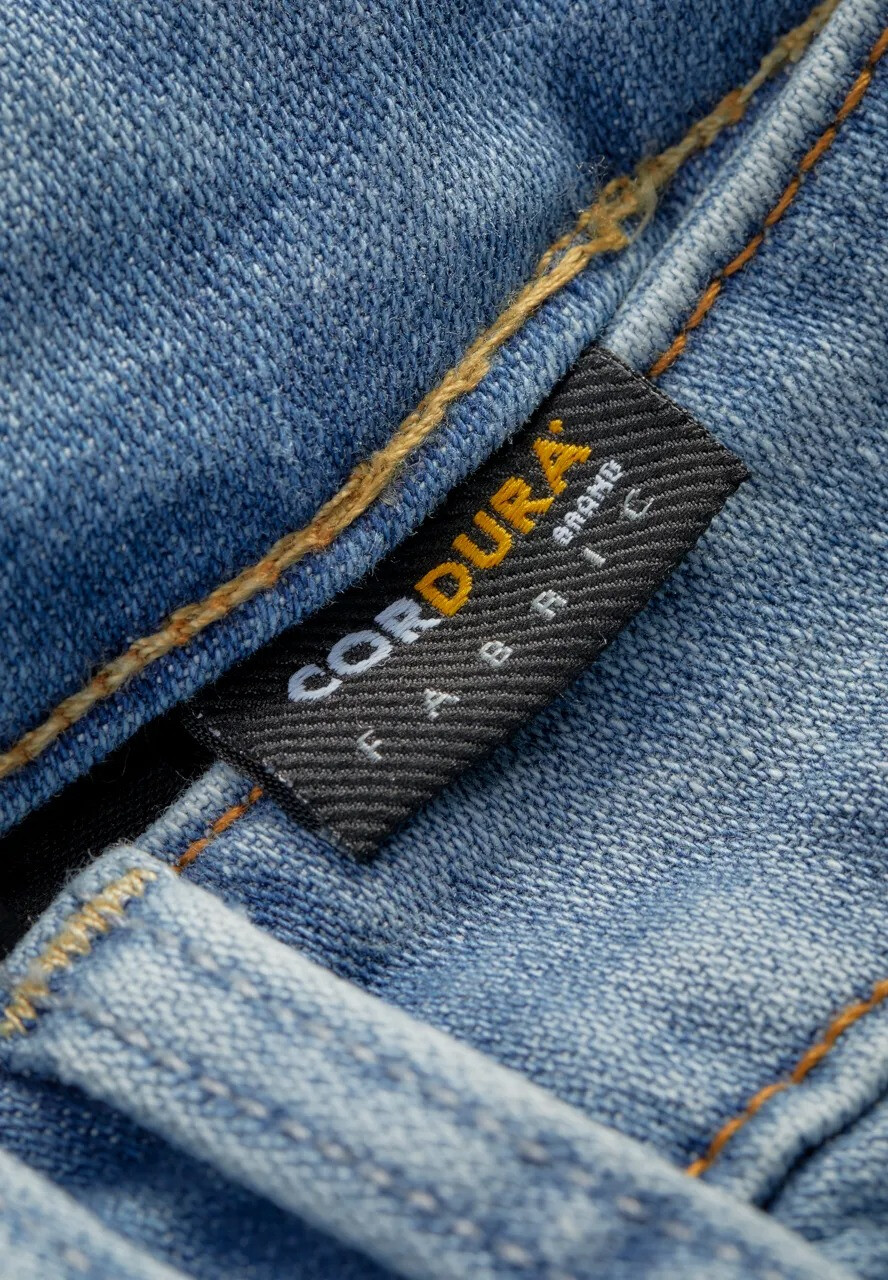 Basically, normal jeans are an absolute no-go on a motorbike or scooter, because in the event of a fall they will not survive the slide over the hard asphalt. It lacks tear resistance, it is not heat resistant and it does not have the pockets for the important protectors. The popular Levis jeans won't protect you on inner-city rides either. Motorbike jeans may look like fashionable trousers, but they are made of Cordura, Kevlar, Aramid or Dynemaa, just to name a few tear-resistant fabrics.
What makes motorbike jeans different from regular jeans?
These special jeans are not only suitable for everyday use, but offer exactly what is important: protection by protectors against bruises and injuries caused by abrasion. The special materials, as mentioned above made of synthetic fibres and cotton, will also easily take a slide on asphalt. From the outside, the protectors on the hips and knees are not visible at all, but they absorb the impact energy and prevent unpleasant bruising. In addition, many of these jeans are water-repellent and breathable.
The technical level of motorbike jeans has improved steadily in recent years. Leather may still be the number one tear-resistant fabric, but jeans can rival textile trousers in terms of safety. And when it comes to looks, motorbike jeans are right up there anyway.
What fits are there for jeans?
They still exist, the motorbike jeans that flapped around the legs like a sail in the wind. But the alternatives we offer are very different these days. Make sure the legs are long enough, because no one should be riding with a bare ankle, shin or calf. And the trousers should never be too tight, because they shouldn't be a pain on tours, for example. We present a few styles:
Skinny Fit
Skinny fit jeans fit the wearer's figure and are cut tightly. They fit very tightly up to the ankle and hug the thighs and calves. There is also no taper or bulge in the leg area. On top of that, they offer a figure hugging fit once they are pulled on.
Tapered Fit
Tapered jeans feel comfortable around the waist and thighs, while tapering from the knee and narrowing towards the ankle. They offer a fashionable look without being too tight.
Regular Fit
Most of us wear jeans in a "regular" fit, modelled on the iconic blue jeans. These timelessly styled jeans sit lightly on the thighs without being too tight. From the thighs down, they have a straight cut.
Loose fit
These jeans are not particularly tight at any point, but are slightly wider all around. Don't confuse them with baggy jeans, because their fit is designed for maximum comfort. Thanks to the combination of a loose waist and a straight leg, these jeans are easy to wear both on the bike and in your free time.
Slim Fit
Slim fit jeans have the least amount of fabric in the back and the openings at the thigh are narrower than regular fit jeans. They are designed to have a body-hugging fit that ensures the legs are accentuated without feeling too tight. A figure-hugging, stretchy pair of jeans that will make you look just as good on the bike as off it.
Important rule of thumb: The motorbike jeans must fit well when you are sitting on your scooter or motorbike. You are welcome to visit our flagship store and try out which jeans are most comfortable on your bike. Only if the jeans fit perfectly will they protect you from injury.
The protection classes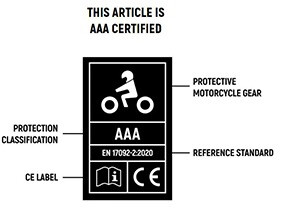 The EN 17092 standard defines the requirements for material and construction of clothing for scooters or motorbikes. Ergonomics during the ride on the two-wheeler are also taken into account in the assessment. Class AAA has the highest level of protection, while class A has the lowest. Classes B and C are considered additional protection.
Class AAA (EN 17092-2): A typical example is the classic leather suit, which is also suitable for racing on the track. It offers particularly high abrasion protection, but the ergonomics are occasionally suboptimal. We currently offer jeans that are absolutely comfortable and safe and also receive the AAA certificate.
Class AA (EN 17092-3): Touring riders in particular resort to this garment. The material is optimally constructed to withstand weather and weather conditions, and the protection against abrasion is also relatively high. The ergonomics are also improved in contrast to the AAA class.
Class A (EN 17092-4): For almost complete mobility and best suited for short rides in leisure time or city traffic.
What do I have to consider with protectors and seams?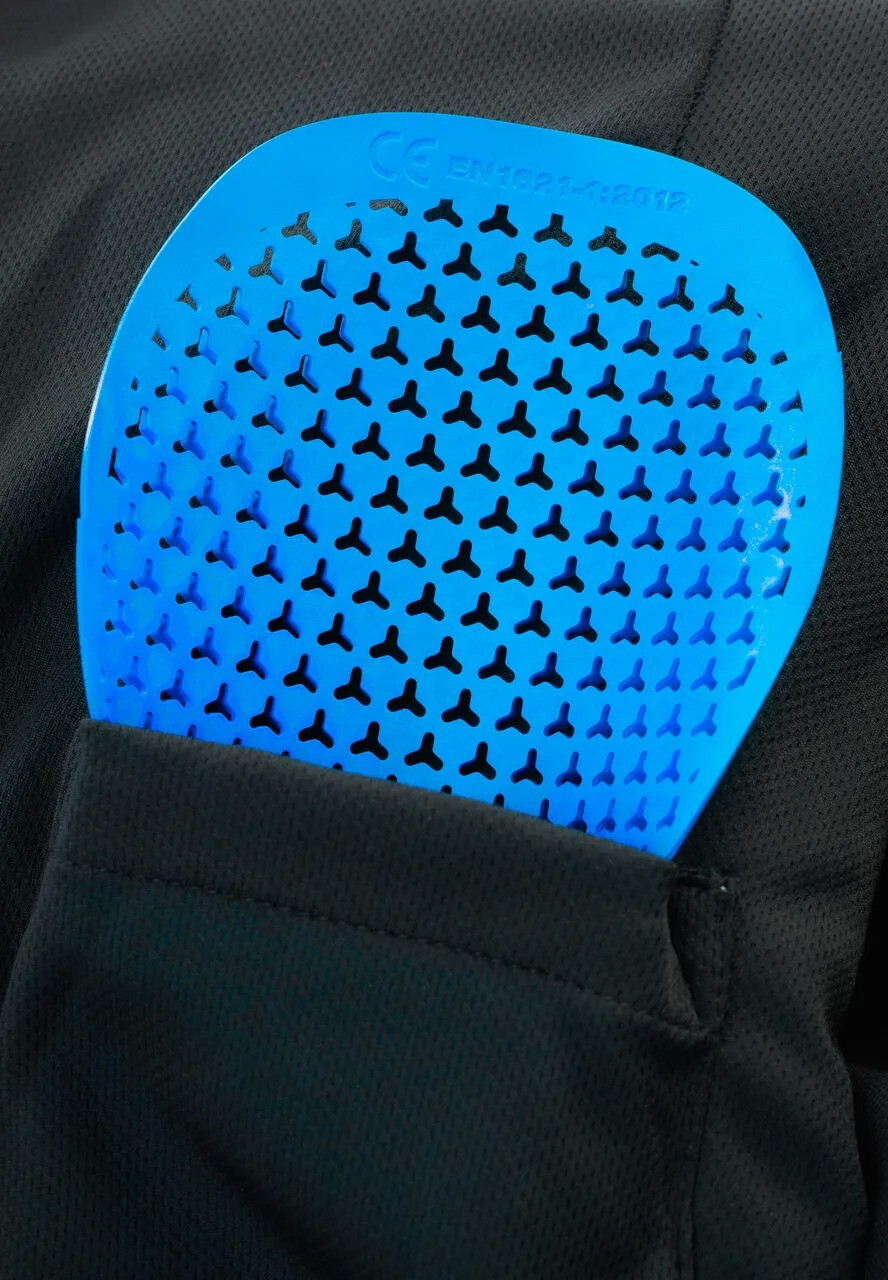 The jeans from Rev'it and John Doe are usually equipped with protectors ex works that can boast a certification of up to AAA. It is important that the protectors are height-adjustable, for example in the knee area, so that they can be optimally positioned. They only need one layer of fabric, which makes them very functional and light. This is particularly advantageous on warm days.
Rule of thumb: The protectors must sit close to the body. As soon as you can move the protectors yourself, you should tighten them. Be sure to check the tightness of the protectors when you sit on your bike. Your motorbike jeans may need a different fit.
The seams also play an important role in safety. Rev'it! uses a visible and invisible hem. In the event of a fall, the outer layer of fabric will hold together even if the visible seam has already worn through. As a bonus, special reflectors are attached to the hem cuff to make the rider more visible in the dark.
Hip protectors
Not all jeans come with CE-approved protectors, but they can easily be retrofitted. With the so-called "SEESMART concept", two-wheelers enjoy maximum flexibility.
Safeway belts
These belts from Rev'it! are ideal for scooter and motorbike tours. A zip on the belt connects the jeans to the jacket and thus the back is permanently covered and protected. Safety and comfort go hand in hand.
Conclusion: Pay close attention to the protection level of the motorbike jeans and don't buy the cheapest products. Are the seams well made? Do the protectors fit tightly and securely? Is the material as tear-resistant as you want it to be? If you buy good quality right from the start in the world of motorbike jeans, you will save a lot of money in the long run.