false" @drop.prevent="() => false" @contextmenu.prevent="() => false" alt="" class="landing-hero" loading="eager" decoding="async" width="1804" height="510">
Clutches for Vespa Largeframe
- at SIP Scootershop
Nothing is more annoying than a slipping or slipping clutch. No matter how much torque or speed an engine has, if the clutch does not transfer it to the rear wheel via the gearbox, all the power is useless. The demands on clutches are manifold. Touring drivers demand many thousands of kilometres from their clutches in a few days. Performance fans often achieve around 40 hp with 210cc engines. The clutch should have a good slip point, be easy to operate and last a long time. To meet all requirements, we have a wide range of clutches, baskets and linings. Here is an overview:
Which diameter: 92, 108 or 115 mm?
For couplings, we specify the outer diameter of the basket or the discs/linings and the inner diameter. The following diameters are available:
92/85 mm
Used in the old 125 models: Vespa 98/125 V1-15T/ V30-33T/ VM1-2T/VU1T/VN1T -> 06000. Here the clutch plates are internally toothed.
108/96 mm
Used on all 125-150cc models, except GS: Vespa 125 VN1T 06001 -->/VNA/VNB/GT/GTR/TS/Super/150 VL1-3/VB1/VD/VGL1/VBA/VBB/VGLA-B/GL/Sprint/V/Super/PX80-150/PE/Lusso up to '94. On the older models the clutch plates are internally toothed, on the newer ones the clutch plates. The clutch gears are available with 20, 21 and 22 teeth. Clutches can be interchanged if the matching washer is used. Clutch facings can be interchanged in the same design. This clutch has six springs.
115/108 mm
Used in the top class: Vespa 150 GS/160 GS/180 SS/ Rally/PX `95->/T5/Cosa. The clutch is available with 6 (GS/Rally 180) and 7 springs. In the latest PX and Cosa models the "Cosa 2" clutch was installed. This top model has eight springs. The design differs from its predecessors. Best power transmission with easy handling. All 115 clutches are available with 20, 21, 22 and 23 teeth. With a matching primary sprocket and minor modifications to the clutch cover and motor housing, these clutches can also be used in the classic 125-150cc.
Which gear?
For the 108 mm and 115 mm clutches, there is a wide variation of clutch gears in addition to the standard sizes. Most gears can be interchanged. Only a few combinations require a matching primary gear. This makes it quick and easy to adjust the gear ratio. Tuning cylinders in the 125/150 class, for example, often require a longer gear ratio (21-23Z). A table in the technical section helps to keep an overview.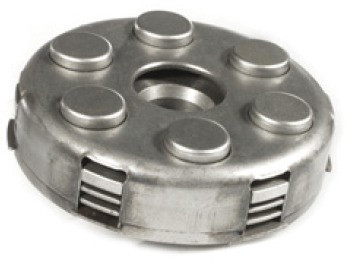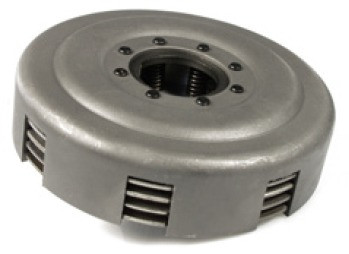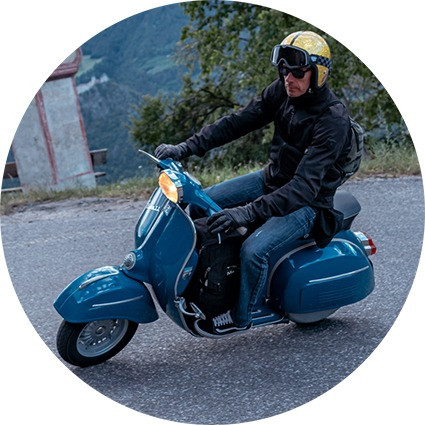 Sport, Race or High End?
The clutches differ as follows: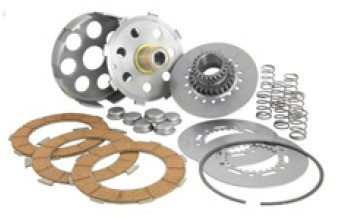 Standard
1:1 replacement for standard motors, usually clutches with three cork linings.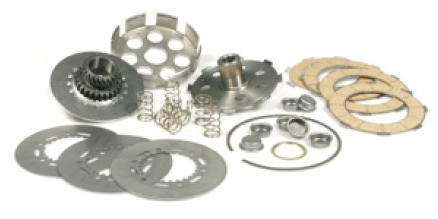 Sport
In order to transmit more power, more friction is needed in the clutch. Stronger springs lead to more contact pressure, more linings to a larger friction surface. Therefore, four cork linings and reinforced springs are the order of the day here.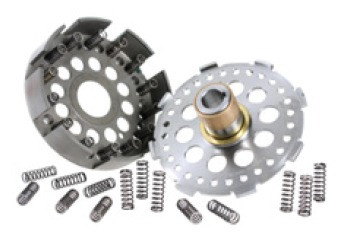 Race
This is for all those who have more steam and for whom the sport clutches slip. They are available as carbon linings with even better grip or with 5-6 clutch linings. In the high-end range, all other components are usually also reworked or give way to new designs. These top-quality components work flawlessly even at 40 hp.
How do I find the right clutch for my Largeframe Vespa?
You are already in the section for Vespa Largeframe. Now you can also select your vehicle type to narrow down the selection even more, for example "Vespa 160 GS/180 SS". Now you will be shown exactly the clutch parts that fit your scooter.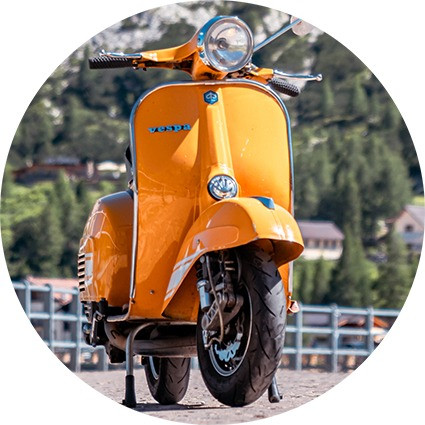 The best manufacturers for large frame clutches





sada
SIP PERFORMANCE: In order to improve the quality of the Cosa 2 clutch, we have decided to produce some new parts. This clutch is installed in all our touring and racing engines.
DRT: We have a long friendship with the genius from Treviso, Italy. His clutch and gearbox highlights are a feast for the eyes and available in all price classes.
FERODOThanks to their experience in racing, the Brits can supply high-quality and reliable clutches for every requirement and every large frame.
SIP BFA: In cooperation with the specialists from Italy, we produce first-class clutches.
CRIMAZChristian Mazelli is a Vespa-crazy tinkerer and designer who has been producing beautiful detailed solutions in very good quality for large frames for years.
Customers ask - SIP answers
"Are the clutches ready for installation?"
Yes. However, we recommend that you disassemble each assembled clutch again and soak the linings in gear oil. Then you are 100% sure that they are not too dry.