false" @drop.prevent="() => false" @contextmenu.prevent="() => false" alt="" class="landing-hero" loading="eager" decoding="async" width="1804" height="510">
Tuning Introduction
for Classic Vespa at SIP Scootershop
Without tuning, you can hardly get the classic Vespa up the mountain or over the passes to Italy. With a non-tuned engine, the pulse remains in sleep mode. Tuning is one of the last adventures of civilisation and the escape from our so regulated everyday life. Here we want to breathe life into this theory. Tuning a classic Vespa is easy and affordable. In most cases it is also very reliable. A big trend is to give oldies a subtle roadtuning. This makes the old ladies suitable for everyday use and long distances. What good is the nicest restoration or the best original condition if you don't dare to drive beyond the town sign with the original engine?
Classic Vespa: Enormous performance possible
It is also fascinating to see the enormous performance that can now be elicited from wide-, small- and large-frame engines. These product developments are spurred on by the numerous lap, sprint and endurance races that take place throughout Europe. The online communities are also veritable pools of developers in which an open exchange is cultivated. Currently, over 40 hp is not uncommon for smallframes. The 50 hp mark has also been cracked for 200s, and that without laughing gas.
There are different ways to get more power out of your engines, but usually it's about more displacement. In combination with cylinders, carburettor, clutches, gearbox and exhaust, you can achieve amazing increases. Here we rely on our great experience, which is reflected in the product series SIP Performance and the products of the renowned tuning forges from Italy: Malossi, Polini, Quattrini and Pinasco. In addition, some very noble tuning specialists have appeared on the scene in recent years and are causing a sensation. First and foremost BFA, Egig and VMC.
ImportantWe also strongly recommend that every tuning step is carried out with:
Check carburettor tuning and increase main jet at least

Check ignition timing, usually give less pre-ignition

Use new spark plug and

Run in new cylinders!
This is necessary to optimally transfer the increased power to the road. If the parts are to be used in road traffic, consultation with the local TÜV office is necessary for most parts in Germany.
How do I find the right tuning for my classic Vespa?
You can now narrow down your search further. At the moment you are in the area for all classic Vespas. You can also select the exact vehicle type above, for example "Vespa 160 GS/180 SS" and you will only be shown parts for these models. By selecting the filter, for example "Cylinder", you can further refine the selection.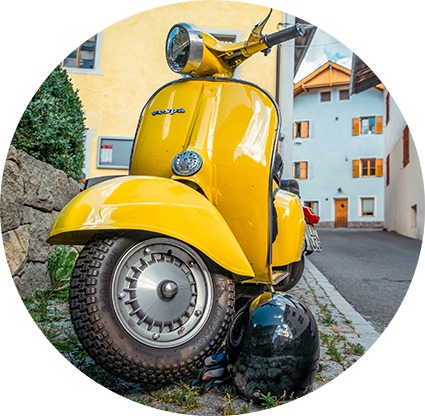 How can I tune my classic Vespa at all?
Racing cylinder
For the classic Vespa, it is the most effective way to increase performance. Plug & Play is possible on many scooters, but sometimes the channels in the engine housing have to be adjusted. Carburettor and ignition must be readjusted in any case.
Racing exhaust
Installation is easy and there is a wide variety in our range. Torque and revs can be increased with a racing exhaust, but larger jets and ignition tuning are necessary. SIP ROAD exhausts are inconspicuous and often high-torque. Meanwhile, the power delivery is enormous. The SPORT and RACE exhaust systems are more conspicuous on the Vespa or Lambretta, have a richer sound, a cool look and usually have their own muffler.
Carburettor
Larger exhaust systems often need a larger carburettor. In the Lageframe range, for example, there are SSI carburettors that fit inconspicuously under the cover. Carburettors with a diaphragm, rotary slide or intake manifold result in a very strong power delivery and provide the perfect supply to the engine.
Crankshafts
Cylinders with a larger stroke sometimes require special crankshafts: Long-stroke, diaphragm, racing or bell shafts. Basically, we distinguish between standard and racing shafts. The best of these are balanced and have a forged connecting rod. The latest crankshafts from SIP Performance even have splined clutch stubs to allow better adaptation to the clutch.
Clutches, ignitions
Everything is possible, some things are necessary - the decisive factor is what the tuning is intended to achieve. Do you just want to ride faster up a hill or to the next lake? Or do you want to win the next cross or quarter mile race? The more power you want to achieve, the more parts you will need.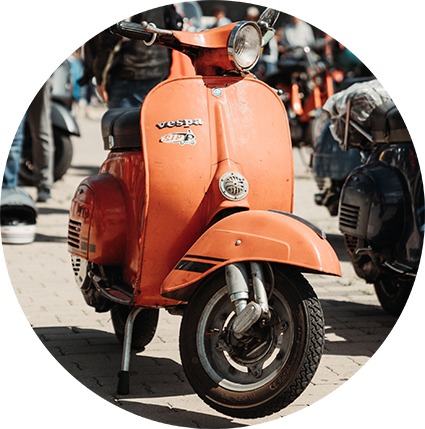 The different models at Klassik Vespa
Vespa 50-125/PV/ET3/PK/XL
Up to 115 cc you can still manage with the original crankshaft and can tune with Plug & Play. With a larger carburettor and a racing exhaust, you can achieve good results with the small frames. From 125 cc upwards, you can build anything from reliable ROAD-tuned Wasps to powerful engines with more than 40 hp. It's simply crazy what's possible, because especially from Italy there are always new innovations for tuning.
Vespa 98/125/150 /GS -'56
Until a few years ago, these wideframe models were hardly noticed by the tuning scene. But now there are racing cylinders, exhaust systems, ignitions and crankshafts for these old aunts. This means that even with these inherently slow and weak scooters of the first generation, trips of over 2,000 kilometres can be made. And riding in pairs need no longer be feared either.
Vespa 125/150/Rally '57-
The largeframes from the 60s and 70s of the last century can be effectively tuned with cylinders and exhaust systems. This improves the range of use and reliability of these Vespas. Often the engines and housings of the late PX are also installed in these models. The tuners from the SIP team love the ROAD-tuned versions of this class and have put them through their paces on trips to Corsica and across the Alps and found them to be good.
Vespa PX/T5/Cosa
The possibilities offered by the PX and T5 engines are enormous. The latest generation of frontiersmen get up to 50 hp out of these engine blocks. But even simple tuning with a SIP ROAD exhaust and a cylinder from Malossi or Quattrini can give the 200 class 20 hp and make it suitable for touring. But the variety of cylinders in the 125 and 150 cc range also offers strength and reliability that are astonishing. In this class, very effective tuning is possible with little financial outlay. All components, such as crankshafts, clutches and gearboxes exceed the quality of the original parts and do not cause any problems, even under heavy load. No matter whether quarter mile, 24-hour or lap race - everything is possible!
Vespa 160 GS/180 SS
If you want to keep the original engine block, you can get a proper tuning with ignitions, exhaust systems and crankshafts.
Motovespa 125/150/160
Tuning for these classes is difficult because the variety of models is very large and sometimes confusing. These Vespas are best suited for conversion to a PX engine.
LML 125-200 4T
There is currently no tuning for these 4-stroke engines from the Indian manufacturer LML.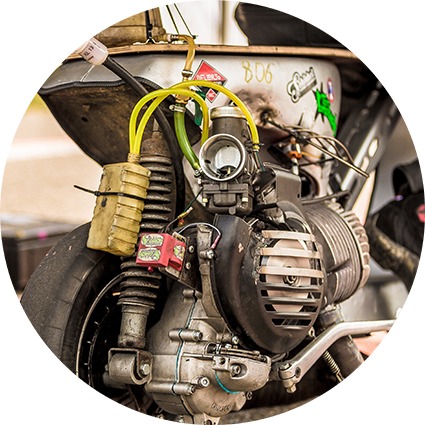 The different tuning classes
ROAD Tuning
This class is intended for the normal everyday rider who does not demand top performance, but wants to achieve more power on a durable basis with relatively little effort. Faster acceleration, more powerful on hills, higher top speed. The tuning is inconspicuous in the first stages and in some cases even permissible in road traffic in the exhaust area. The noise level is kept within limits. In other words: increased performance with high suitability for everyday use. The right thing for a tour of Italy or for a ride with the Holden.
SPORT Tuning
The next category builds on ROAD tuning. Much of it is compatible. The target group is the performance-hungry everyday rider as well as those who don't want to breathe in two-stroke smoke from the rider in front of them, even during spontaneous acceleration races. Strong acceleration, top speeds beyond 120 km/h and yet high durability are the hallmarks of this class.
RACE Tuning
The top class in the scooter sector. All performance fetishists get their money's worth here. For everyone for whom the normal is not enough and who is looking for the performance limit. Tuning experience and the necessary small change are required here. The parts can be found in most racing engines, whether quartermile, lap race or dyno battle.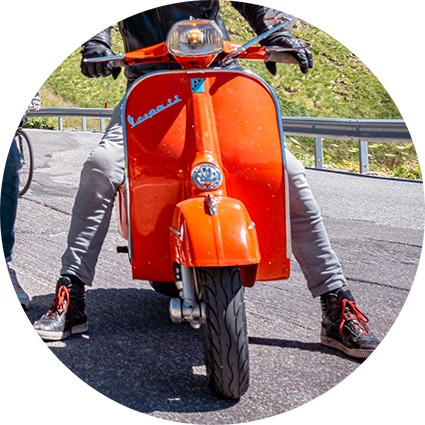 The best manufacturers for tuning with Classic Vespa



SIP PerformanceSIP ROAD exhaust systems are among the most popular racing exhausts for Vespas. With the clutches and crankshafts they set standards in the market for classic scooters.
MalossiThe power from Bologna, Italy. Top tuning for scooters and maxi scooters, but they also carry nice parts for classic Vespas.
Pinasco: Always good for an innovation, especially for classic Vespas and here for the T5 and Wideframes.
QuattriniThe tuning cylinders for classic Vespas are second to none.
Customers ask - SIP answers
"Why tune at all?"
Even the layman with two left hands can tune his Vespa or Lambretta these days and enjoy it when the pimped engine starts for the first time. The original engines are often too weak in the chest and, especially with a pillion passenger, the ride quickly becomes a crawl. Should longer tours or even a round-the-world trip therefore remain dreams? Do you have to spend your entire annual holiday on a trip to Italy? No, because tuning provides a remedy and besides, it is always more fun to overtake your buddy than to be overtaken.