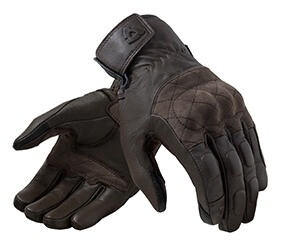 Gloves are of elementary importance for scooter and motorbike riders and can confidently be described as the minimum equipment. Just as no one leaves the house without shoes, the two-wheeler should not be ridden without this protection for the hands. No driving instructor in Germany lets his students mount a motorbike without gloves. Gloves are often the first contact with the road surface in the event of a fall. Bracing yourself with your hands is a natural reflex and unavoidable. But gloves also protect against small stones and other materials that can be thrown up. And last but not least, they protect the hands from cold, wet and draughts. Gloves give you the security you need to keep your bike under control in the truest sense of the word. We have a large selection of gloves in our range, because the demands are different. In the following, we take a look at material, fit and protection.
How are motorbike gloves different from other gloves?
Motorbike gloves are characterised, among other things, by their special protectors in various places. Unlike normal gloves, for example, there are reinforcements on the knuckles or edges of the hand, and some products are also pre-curved because they have to fit around the handlebars without restricting the hand's freedom of movement uncomfortably. Most gloves for scooters and motorbikes have an integrated ventilation system so that the fingers do not start to sweat or even cool down while riding. And the difference to "normal" gloves is enormous: reinforced, double seams and protectors go through a scrupulous CE test before they are even allowed on the market. In France, for example, it is compulsory to wear a CE-approved glove on a two-wheeler. If you don't, you have to pay a fine.