false" @drop.prevent="() => false" @contextmenu.prevent="() => false" alt class="landing-hero" loading="eager" decoding="async" width="1804" height="510">
SIP BFA
- The power plant for the Vespa Largeframes
SIP BFA - The oldest wisdom of internal combustion engine design: There is no substitute for engine capacity, except even more engine capacity! SIP BFA has taken this principle to the extreme and offers an engine for the Vespa Largeframe models with 306 cc capacity. No stone has been left unturned. Engine housing, cylinder, crankshaft - everything has been newly developed and adapted to the necessities of a 306 cc high-end engine. The result takes Vespa tuning to a new level. Power, torque and range are more comparable to a motocross bike than a scooter.
High End Tuning at its best

Exclusively at SIP Scootershop

For Vespa Largeframe

Made in Italy
SIP BFA - The start of a tuning legend
The BFA 306 engine and the individual parts of the set are among the most exclusive engines available for classic switch scooters. This does not only refer to the price, but the quality of materials and workmanship are on the highest level. Above all, however, the driving performance that is possible with these components represents the absolute pinnacle. And all this on the space of the original engine of the Vespa Largeframe models.
Years ago, Ale and Fabio from Parma, Italy, contacted us. They told us that they were working on a 306 cc engine for the PX. At that time still under the name BSG. Nevertheless, we were amazed when the first 306 cc parts arrived in spring 2018. Here at SIP, we're used to a lot, with parts and ideas arriving from the worldwide scene on a weekly basis. But the 306 cc parts have led to a flurry of activity internally here that was reminiscent of Christmas presents. This housing together with the crankshaft and cylinder awaken the wildest tuner's dreams. High performance combined with durability are tangible here.
After Jesco from SIP had built a sprint scooter for the Tacho Karacho 2018 race, it quickly became clear: dreams become real. Within a few days, the engine was assembled and another two to three hours were invested in tuning. First result: 52 hp at the rear wheel, frightening torque, super smooth running. "Other engines have that too," some people say. True, but not many. And few have the necessary tuning experience. Here, enormous performance is achieved almost with plug & play. We also believe that with this setup it is possible to build an engine suitable for touring, but with 40 hp and more.
With the 25th anniversary SIP Custom project, the bar was raised. The idea was to create a scooter that could deliver its maximum performance in sprint races on the road. With a lot of technology and in the guise of a high-class custom. "Something Special" was born. 71.4 hp at the rear wheel, first places in the DBM race Aachen 2019 were the pleasing results.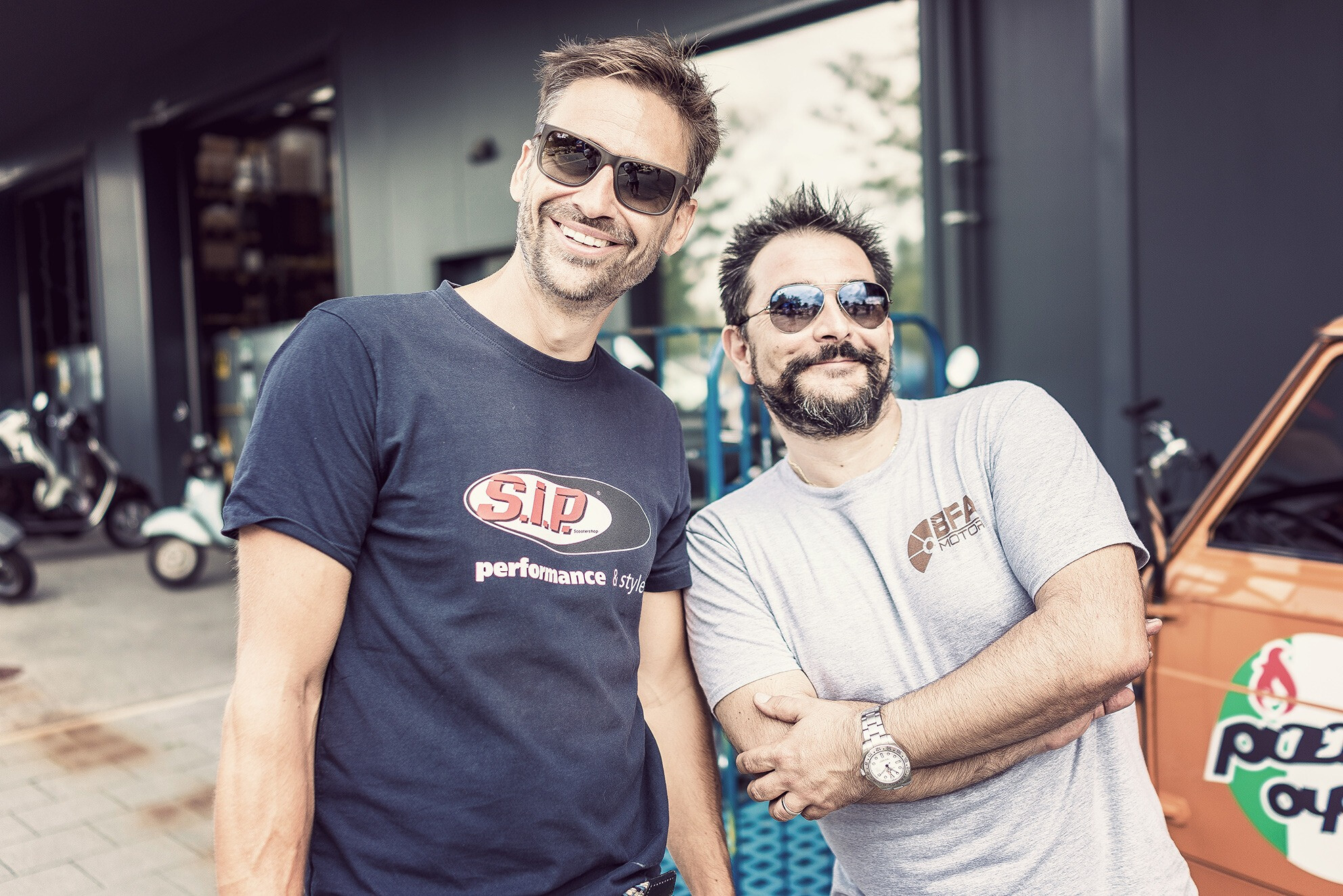 SIP BFA - From Parma to Landsberg
In 2018, Ale and Fabio approached us again and said, "Our true passion is smallframe." They were also planning family and career changes. The 306 cc project was picking up so much speed that they could no longer handle it alone. Under no circumstances should this marvel disappear on the shelves like so many other BFA Lambretta or Smallframe projects. That's why SIP took over the 306 project from BFA and has continued to market it under the name "SIP BFA" ever since.
The range has now been enlarged and the engine cases have been extended by a 225 version with 60 mm stroke, a version for "normal" 177 and MALOSSI 220 MHR. In addition, the housings are available without overflowers, in order to be able to play with other foreign cylinders. The components are manufactured at the same small, fine Italian precision forges as before. The production is small and complicated. However, due to larger purchase quantities, we get better conditions and can pass these on to you.
Tuning with SIP BFA is currently the ultimate and only recommended for experienced mechanics. If you feel called to do so, check out these products:
And in our 92-page "SIP BFA Tuning catalogue" we explain everything about tuning with BFA parts. Have a look at it!
Conclusion: The noblest way to put a wolf in sheep's clothing. The 306 is not for normal tuning beginners. But what is normal? Is Vespa tuning normal?