false" @drop.prevent="() => false" @contextmenu.prevent="() => false" alt class="landing-hero" loading="eager" decoding="async" width="1804" height="510">
JOHN DOE
- Protective clothing in perfection
John Doe - Functional high-tech clothing with a style all of its own. The company from Flörsheim in Hesse is run by enthusiastic two-wheelers and you can see that in their products. Whether it's a jacket, a scarf or gloves - at John Do e everything is the result of great experience and unbridled passion.

All products CE certified


Comfort and aesthetics


High-quality protective clothing
John Doe - every seam fits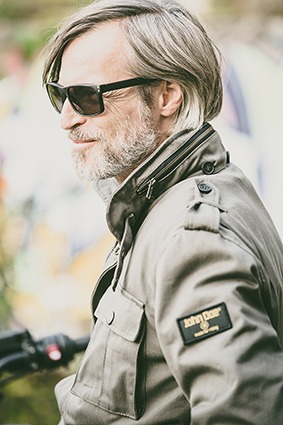 John Do e has been developing high-quality functional and protective clothing since 2001. The products are designed for two-wheelers, but look more like streetwear and casual. But looking good alone is not enough and the clothing is very comfortable to wear. It stands out from the usual motorbike clothing because of its aesthetics. All components, such as seams, pockets or fabrics, are tested under the highest loads. Only then is CE certification applied for and the pieces get on the road. John Doe is always about innovation and new technologies. Their experience and passion make them true specialists in exceptional protective clothing.
Their developments include XTM-Fiber, for example: wearing comfort combines with the best possible protection. The fabric has a high stretch content and adapts to every movement. The clothing is of course water-repellent and breathable. Various blended fibres have a temperature-balancing effect and transport moisture to the outside. Many products can be reinforced with protectors. Trousers, jackets and shirts can thus provide even more effective protection in the event of an impact.
All John Doe products are CE-certified and tested according to current standards. The multi-stage test procedures guarantee the best results for abrasion, tear and seam strength. Perfect ergonomics and fit ensure that the protectors sit in the right places and do not slip.
John Doe at SIP Scootershop
We have been convinced of John Doe for some time now, because the clothing not only looks great, but also offers perfect protection. We are enthusiastic about the constant further developments of the Hessians, because there is no standing still at John Doe. No wonder, with so much competence in the matter of two-wheelers and speed.
Some examples from the John Doe range at SIP Scootershop: