false" @drop.prevent="() => false" @contextmenu.prevent="() => false" alt class="landing-hero" loading="eager" decoding="async" width="1804" height="510">
EGIG Performance
- High End Tuning for Vespa from South Tyrol
EGIG - With parts from EGIG Performance, the tuning fan has arrived in the land of extremes. Whoever thought that the end of the line had been reached with the 306 cc cylinder from SIP-BFA will get squinty eyes at the sight of the 407 cc from EGIG. But that also applies to the exhaust systems, clutches and other parts made by Erich "Egig" Oberpertinger for smallframe Vespas.
Tuning in the extreme range

Everything from one source

Best materials
From cook to tuning guru
Erich is actually a trained cook and worked in the renowned family business in Klausen, South Tyrol. He only screwed on scooters in his spare time, but soon realised that many parts in the trade were insufficient or defective. In 2018, he finally changed his career and turned his hobby into a profession. The one-man show EGIG Performance was launched.
"Riding a Vespa is a way of life," Erich says enthusiastically. "It's freedom. You sit on your scooter and just enjoy it. But for me, wrenching is just as important. I switch off while doing it. I go to the workshop early in the morning and suddenly it's six o'clock in the evening. If the girlfriend didn't slow me down, I'd probably be at work until late at night. My hobby is my job, but that has advantages and disadvantages, because sometimes I might do too much. That's the catch. But it's better that way than being annoyed with the office every day. If you like doing it, it's easier to get away with it."
And this love for scooters is also in all the parts he makes. We were able to experience this first-hand at the Open Day at SIP Scootershop in 2022, when he tickled a whopping 77.9 hp out of his Vespa on our test bench. If you want to do the same, you should take a look at the products from EGIG Performance.
"Since I've been working with SIP, we've really grown again and I think both sides benefit from it. Even Jesco is happy with my products and I generally get very, very few complaints. I think in two years one part has been sent back."

–Erich, EGIG Performance
"What Erich has achieved with EGIG is impressive. Whatever he touches, he does it very, very well."

–Jesco Schmidt, SIP Scootershop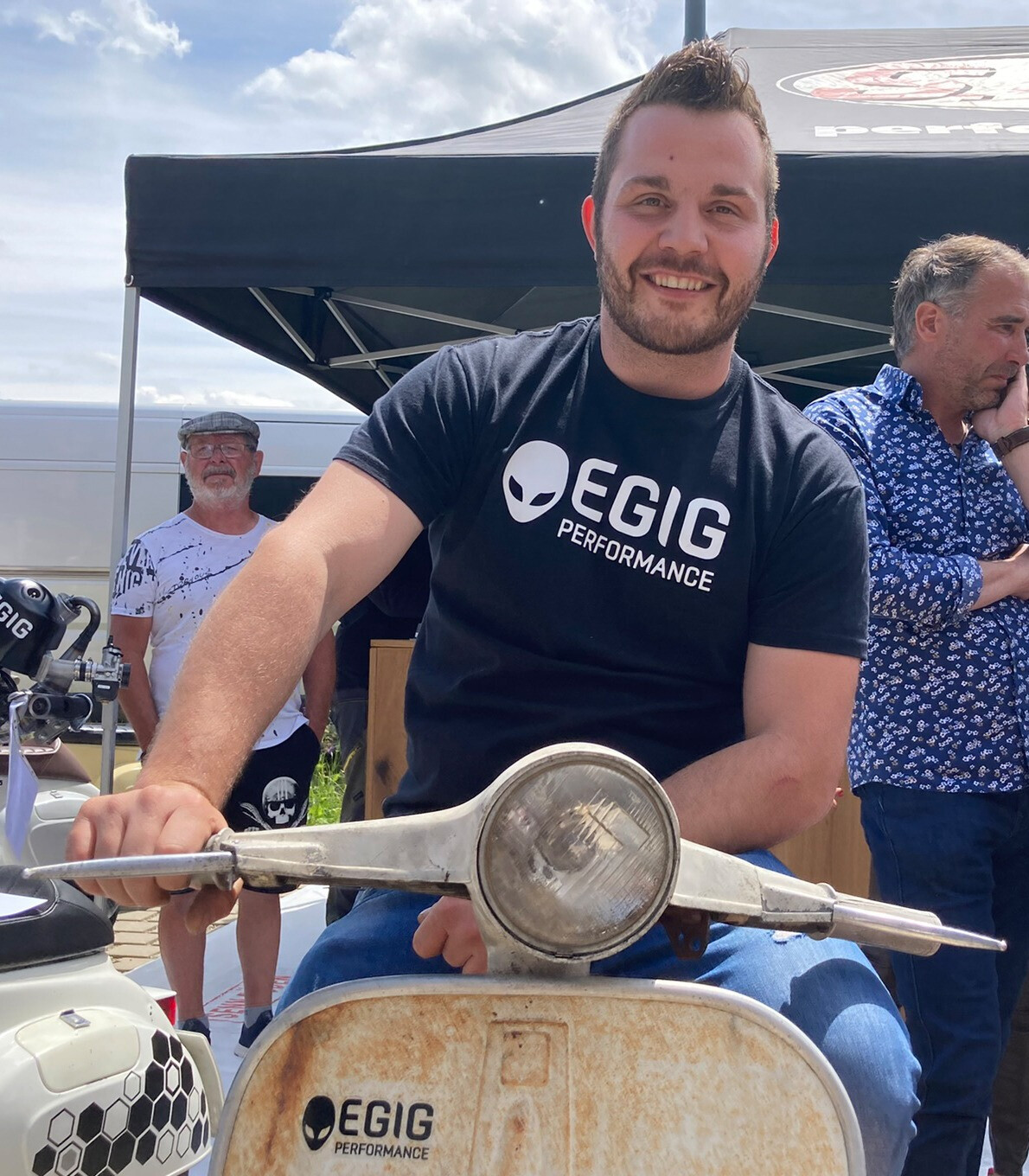 EGIG Performance at SIP Scootershop
The screwdrivers, tuners and product managers at SIP Scootershop are enthusiastic about Erich's parts and praise the high quality. If you want to try your hand at high-end tuning, there's really no getting around these things. Did we mention the 407 cc cylinders? Oh yes, we did. But there's more, of course.
Conclusion: What EGIG Performance from South Tyrol brings to the market is tuning for gourmets.