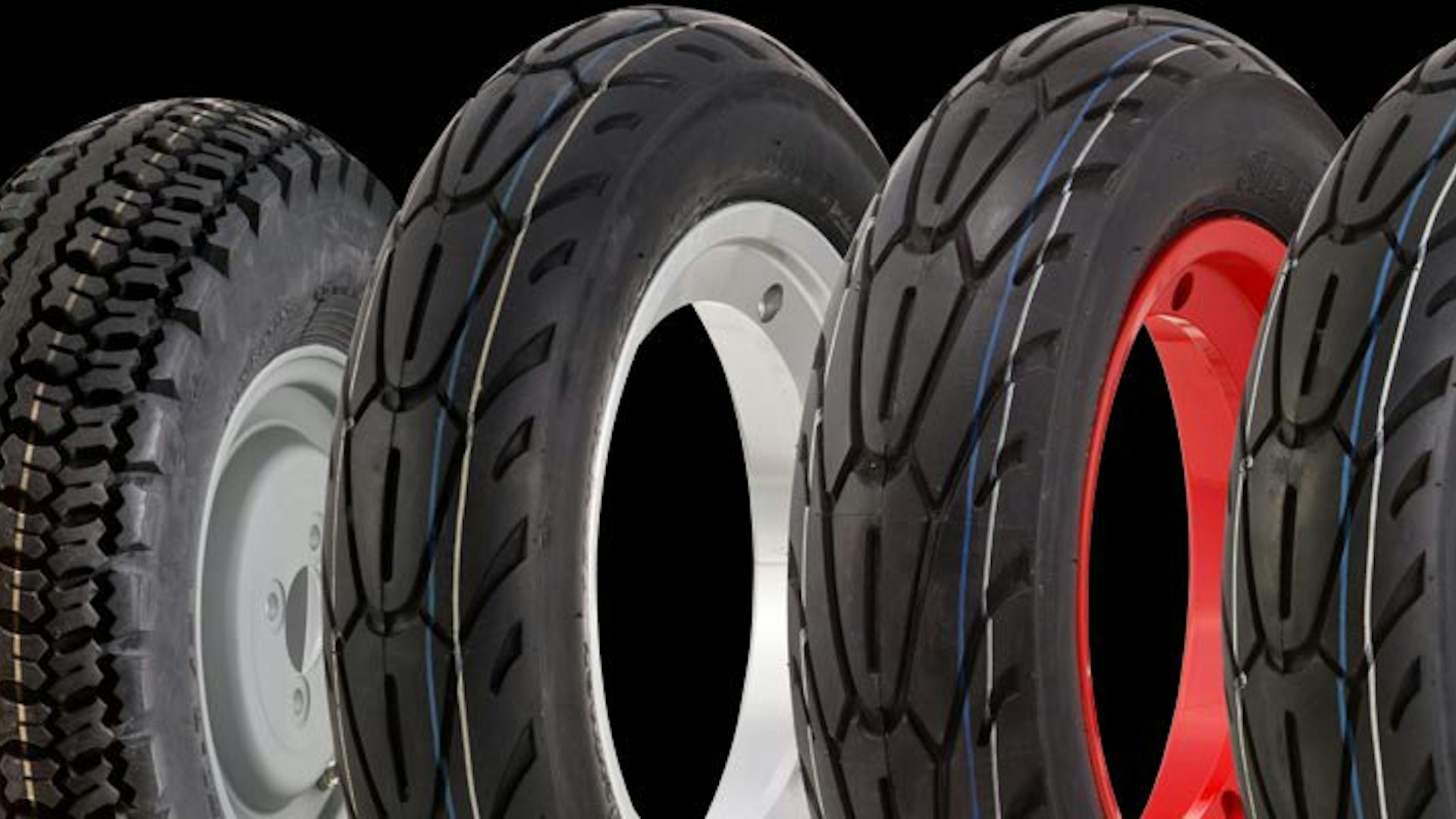 Tyres for Vespa & Lambretta at SIP Scootershop
The tyre always plays a decisive role, whether on the road, off-road or on the race track. There is the right tread or rubber compound for every stress. Our range of tyres includes all common sizes of scooter tyres for classic scooters. From the 8" tyres for the Vespa 98/125/150 models, to the rare 9" Smallframe tyres, to the 10" tyres for the latest Vespa PX models and Lambretta scooters. The choice is enormous. We carry tyres with classic tread for original equipment enthusiasts and slick tyres for racing. Winter tyres for cold days and sports tyres for the best cornering. We also have special tyres such as whitewall tyres or tyres with a high speed index. The general rule is: a tyre should not be older than three years and the minimum tread depth should not be less than 2mm.
Why order tyres from SIP Scootershop?
We offer almost 500 different tyres for Vespa and Lambretta scooters tyres. All types and sizes of tyres are represented. We also stock most manufacturers. We take great care to ensure that there is no tyre wish that cannot be fulfilled in our shop. Whether it's an 8-inch whitewall tyre or a special tyre for the drag strip, one click and your tyre will be on its way 6 days a week. No matter where you are in the world, within Germany it will reach you in 1-2 days, in Europe in 2-3 days and worldwide in 3-4 days. You can be sure that you will always receive first-class goods. Our tyres are stored professionally and shipped according to the First In - First Out system. This means that you will not receive old goods. The best thing is: If you want, we can even mount the tyre on your desired rim: simply order complete tyres.

A brief history of classic scooter tyres
The choice of the original tyre size of 8 inches for the Vespa reveals two things above all: 1. that Piaggio actually built aeroplanes that needed small tyres only for rolling straight and standing. And 2. that the Vespa was intended especially for the city or low speeds. At higher speeds, an 8 inch tyre Vespa becomes unsteady, it doesn't allow much lean in corners and even small potholes are painful experiences for both rider and vehicle.
The list of advantages of 8 inch tyres is short, but convincing: A Faro Basso or a VNA simply looks much better with the small wheels!
Early Lambretta models with shaft drive also used rims with an 8 inch diameter.
Similar to the competition from Pontedera, Milan also converted to 10-inch wheels as engine power increased.
At Vespa, the conversion initially took place with larger rims on the old brake drums. These rims can still be used today to convert 8-inch models to 10-inch tyres. However, today there are also technically more modern ways to upgrade to the larger diameter. Whether 8 or 9 inch tyres, there are now even conversion rims made of aluminium for tubeless tyres in the original SIP look. The advantages of the conversion are obvious:
More stable straight-line stability, improved lean angle, less sensitive to bumps in the road.
However, if you absolutely want to continue riding with 8-inch tyres, there are also a few alternatives:
There are 8 inch tyres in the dimensions 4.00x8. This puts the tyre circumference on a par with a 3.00x10 inch tyre, and the width is somewhat the same as a 110 tyre. Heidenau even offers the K75 in the dimension 120/70x8. This means an extremely small diameter with an impressive width of 120mm.
What size do I need?
The tyre size required for the vehicle is entered in the vehicle documents. Of course, you can also read the tyre mounted on the scooter from its sidewall. The following sizes were fitted to classic Vespa and Lambretta scooters:
Which type of tyre suits me?
There are scooter tyres for almost every area of use. We have tried to divide the different tyres into classes. We distinguish:
Classic tyres
Tyres in the classic look of the standard tyres of the 50s, 60s, 70s and even 80s. For many riders of manual scooters, the ideal choice in terms of appearance. The tread is small-size and available in many variants, depending on the manufacturer. The aim of this tread was to still provide sufficient grip on any surface in any weather. Safe driving characteristics on the way to work or shopping. The optimisation of lean angles was not in the specifications.
These profiles usually have a long history or are based on one. The stars, or classics, among the classics here are the MICHELIN S83the CONTINENTAL Classicthe PIRELLI SC30 and of course the SIP Classicwhich is unique in the segment with its approval for speeds of up to 150 km/h.
Whitewall tyres
For many oldie fans, the visual icing on the cake. Similar to the classic tyres, the whitewall tyres also Whitewall tyres contribute to the retro look of the scooter. Their sidewalls are coloured white on both sides, right up to the treads. The flair of the 50s and 60s is palpable here. Whitewall tyres are not only available with the classic tread, but some also have a sportier or all-weather tread. Only a few manufacturers have mastered the art of ensuring that a whitewall tyre does not turn yellow in the sun. CONTINENTAL is the leader in whitewall tyres. But KENDA, MITAS, SHINKO and CST are also popular here.

All-weather tyres
The ideal tyre for all-season riders who don't stop at bad weather. Who ride their scooter on the daily way to work as well as on the way to the supermarket on rainy autumn days. These tyres have been specially designed for all (except winter) seasons. Compared to the classic tyres, they have a more modern tread pattern. Sophisticated structures and rubber compounds. This gives them a good grip even in bad weather conditions. Our tip for everyday vehicles. Germans have experience with bad weather: HEIDENAU supplies the K58, the K47 and the K66, the most popular all-weather tyres alongside the MICHELIN City Grip.

Sports tyres
Tyres with a less detailed tread structure. Visually, they resemble tyres of sports or touring motorbikes. The smaller number of depressions results in a larger contact area of the rubber to the road. This is a great advantage for grip, especially on dry asphalt. In wet conditions or on unpaved roads, depending on the tread, less moisture or dirt can be wicked away and the grip level drops. The ideal choice in summer on an alpine pass. Many tyres with an increased speed index have a sporty tread. This is often mandatory, especially on tuned scooters. The most popular Sport tyres are the SIP Performance Tyres, the HEIDENAU K80 and the evergreen MICHELIN S1.

Racing tyres
In the segment Racing tyres there is also a large selection for 10 inch scooters. Slicks, semi-slicks, intermediates, rain tyres or tyres for acceleration races. As slick or with semi-slick tread, these tyres are ideal for races on dry tracks. Ideal for circuit racing. For quarter-mile use, there are tyres with a flat tread that guarantee maximum grip straight ahead, but make cornering seem safe only at walking pace. For rainy days, there are Racing-Rain tyres that allow you to cross even puddles on your knee. PMT has raised the technology in this area to a new level, as has the curve performance of the slick tyres. Of course, these are not homologated for normal road use. Semi-slicks are treaded, albeit very little. A large part of the tread is smooth, hence the name. The most popular models here are Dunlop TT or Mitas MC 35. Both may be used on the road and are also recommended for everyday use on the front wheel.
Winter tyres
For all those who cannot do without scooter rides even in winter, we have a wide range of Winter tyres from various manufacturers and in a wide range of sizes in stock.
Effective winter ty res have sipes and a rubber compound that maintains its flexibility even in cold conditions. With these features, a connection to the road can still be established even in snow and slush. HEIDENAU and IRC have a strong presence in this sector.

Cross tyres
As Cross tyres are tyres that are mainly used off the beaten track. They have coarse, long lugs that are widely spaced. This allows them to penetrate deep into soft ground and build up grip. Even on loose and uneven ground, they can create interlocking due to their coarse structure. Depending on the terrain, there are further gradations in the length and density of the lug arrangement. These tyres are usually ridden with relatively low air pressure to better compensate for unevenness. On asphalt roads, these tyres usually limit the riding pleasure considerably. They are specialists that are normally not permitted in the area of the StVO.
Wide tyres for scooters
Conversions to wide tyres are particularly popular in the customising scene.
Wide tyres are all tyres that are wider than the original tyres. How wide a tyre looks depends on the width of the rim on which it is mounted. Reasonable widths on 10 inch scooters are in the range of 75-130mm (tyres with a width of 3-4 inches are also within this range). Even if the latter are difficult to accommodate. Wide tyres start at 90mm. Up to 110mm they can still be ridden sensibly. Even wider tyres on classic scooters are just for looks. Original rims are available in 2.10 and 2.50 inch. Wider rims must be assembled from wide rim halves or adapted from other vehicles. We offer ready-made kits for such conversions.
One problem when converting to wider tyres is the track offset.
If the same rim or rim width is used for the front and rear, the vehicle will follow the toe line/track alignment.
When converting to wide tyres, the wheel contact point at the front and rear changes in relation to the centre line of the vehicle. If you use rims with the same rim width, the vehicle will still follow the toe line, but it will be off-centre.
Since there is no room for a 130 tyre at the front of the Vespa, the same wheel contact point of the front and rear wheel can only be maintained to a limited extent. This results in a wheel contact point offset.
We often hear the term "track offset " when the rear wheel is not on the same line as the front wheel. Here the correct technical term is wheel contact point offset. A toe offset is when the rear wheel is at a different angle to the front wheel.

On a Vespa, only slightly wider tyres than the original can be fitted without the tyre rubbing against the suspension. If, for example, a 110 tyre is to be fitted, the wheel must be offset. This creates a track offset. At the rear wheel, this can be compensated for up to approx. 1 cm by moving the engine. A slight track offset at the rear wheel has hardly any negative effect. At the front wheel it looks different. It is difficult to change the width of the fork. Here, the forks of the Cosa or the left-hinged automatic models offer a little more freedom. If the tyre does not keep exactly to the track, the scooter will pull to one side. Lambretta riders have fewer restrictions. When converting to a wider rim on the front wheel in combination with a disc brake, please note that not every rim can be fitted with every brake.
The conversion to wider tyres by using a rim with a larger diameter is particularly interesting. With the 11 inch rims from SIP Scootershop you can easily mount tyres of this dimension on all classic Vespa models. These are one-piece aluminium rims for mounting tubeless tyres. Here, too, a possible track offset must be taken into account. The result is visually and technically excellent. If this is still not enough, you can use the conversion kit for mounting 12 inch rims from the automatic range.

Complete wheels
The SIP Complete wheels are professionally pre-mounted tyres for your scooter. They are available with steel or SIP tubeless rims, for Vespa or Lambretta. The tyres are ready to ride and are also perfect as a spare wheel. The then extremely simple assembly is a matter of minutes.
Rims: split or tubeless?
Traditionally, classic Vespa and Lambretta models have centre-split rims. This makes it very easy to change tyres and inner tubes in limited space. With a simple open-end or socket spanner, the rim halves can be split and tyres and inner tubes can be changed. As practical as this design is, it necessitates the use of obsolete technology. Tyres with inner tubes are hardly ever used in modern vehicle construction. The combination is heavy, suspension and rolling comfort are not ideal, the valve can break off, the wheel does not hold the air pressure permanently and, if damaged, there can be a sudden total loss of air and the wheel abruptly loses all rolling characteristics.
Modern tyres are mounted on the rim without an inner tube. This requires one-piece rims. Tyres cannot be mounted on them as easily as on the two-piece rims of classic scooters and tyres are needed that are suitable for "TubeLess" (TL) use. In return, the tyre can flex better, its running characteristics and suspension comfort improve. The air pressure is maintained longer and the safety in case of damage is higher.
Since we at SIP Scootershop have taken up the cause, tubeless rims are also available for classic models. Even made of lightweight aluminium and with TÜV approval. Although the tyre can no longer be easily repaired on the side of the road, they offer all the advantages in terms of safety and handling that a modern rim offers. If you don't want to bother with mounting, you can order the rim and tyre ready-mounted as a Complete wheel order them from us.
Technique questions
What does the tyre labelling mean?
Example: 3.50-10 59P (by inch designation)
3.50

Tyre width in inches (1 inch = 25.4mm)
10 Rim diameter in inches
59 Load index
P Speed index

(150km/h

Example: 90'90-10 59J (by actual designation)

90 Tyre width in mm
90

percentage ratio of tyre width to cross-section
10 Rim diameter in inch
59

Load index
J

Speed index

(120km/h)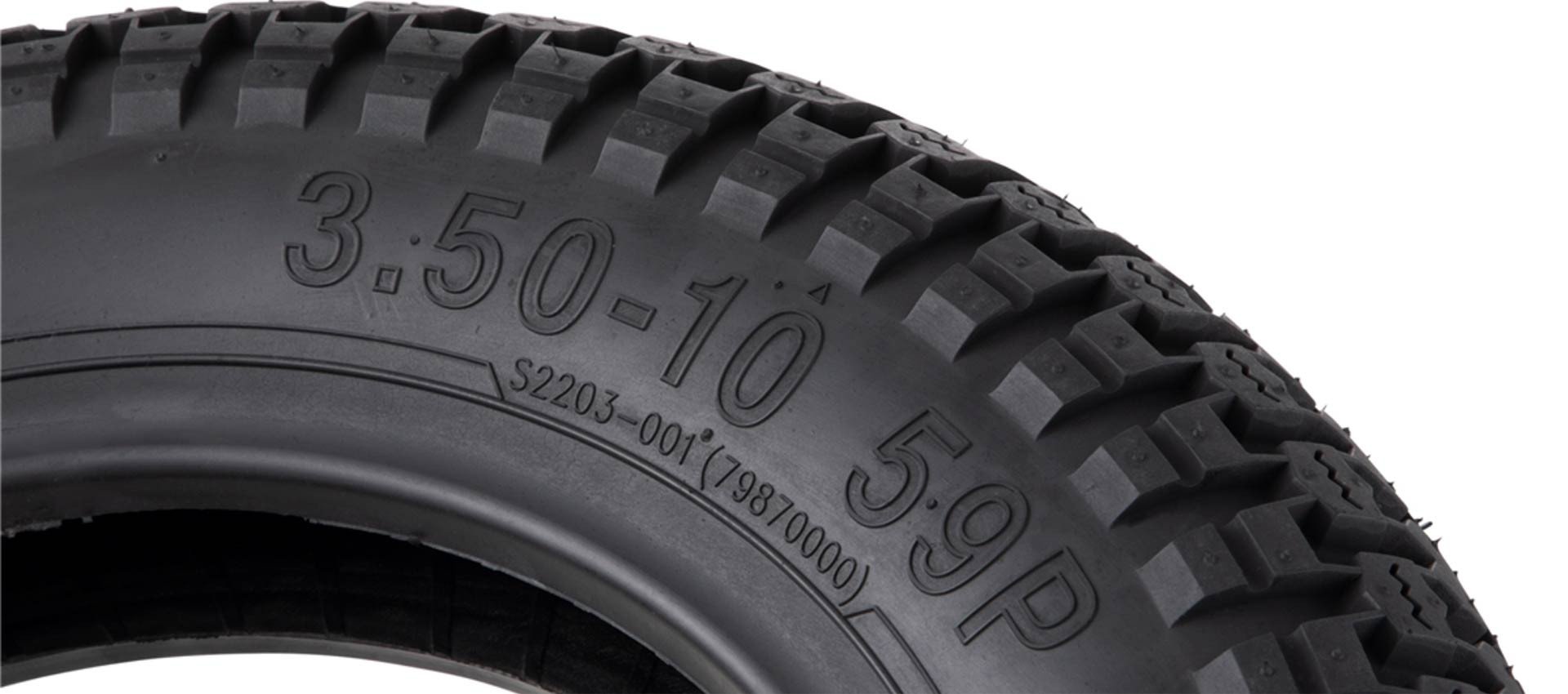 What do the additional indications on the tyre sidewalls mean?
Dot number: The last 4 digits indicate the production date. Thus, for example, 4520 means the 45th calendar week in 2020.
TL: Tubeless indicates use without an inner tube. However, this type of tyre can be used with an inner tube without any problems.
TT: This specifically indicates the use of an inner tube.
R, RF, XL or Extra load: Reinforced refers to tyres with reinforced carcasses and thus increased load capacity.
Bias and radial tyres
Since vehicles can be driven on air-filled rubber tyres, this has brought great progress in terms of ride comfort and handling characteristics. At the same time, work has since been done on technologies that give the tyre stability and durability.
Bias-ply tyres
This type of tyre gets its stability from diagonally wound cords. These carcasses cross each other in several layers and give sidewalls and treads a similar stiffness. This type of construction largely disappeared from the market in the 1960s and 1970s. Usually, the size designations were given in inches. The first number indicates the width, the second the diameter of the rim (e.g. 3.50-10). The aspect ratio was not specified.
Today, bias-ply tyres are still used in agriculture or off-road. There, where high loads are carried. Because its sidewalls are more stable or a flexible tread is needed. Radial tyres can also still be found in racing. However, their design has little in common with the old tyres of the 1950s.
With its stiff sidewalls, the bias-ply tyre is still well suited for two-wheelers with moderate engine power or moderate speed. This is why it is still strongly represented in the scooter sector.
Radial tyre
The radial tyre was developed by Michelin in 1948. From the 1960s onwards, it was also used by other manufacturers.
Its carcass consists of radial cord threads running across the tread. Under the tread there is an additional steel belt (this is why radial tyres are also called belted tyres). This leads to a functional separation of the reinforcement of the sidewall and tread.
The sidewall becomes softer and springs better. More driving comfort and better road contact are the result. The tread remains more dimensionally stable. This increases the width of the contact patch and the tyre keeps its shape even at high speeds. This not only made higher speeds possible, but also decisively improved the wear and durability of the tyres.
Tyre balancing
Every tyre and every rim has a centre of gravity. If this centre of gravity is not balanced with counterweights, an imbalance occurs and this leads to vibrations. For balancing, the fully assembled wheel is clamped onto a balancing machine and then set in rotation. Balancing weights are attached to the wheel opposite the centre of gravity. This process is repeated until the wheel no longer has a centre of gravity and runs evenly.
On classic scooters, the wheels were not balanced at the factory. The small wheels and the low top speed made the effort seem unnecessary. In addition, the separate construction of brake drum and rim was difficult to clamp into a machine. The wheels of modern automatic scooters are usually larger and there are models that reach speeds of well over 100 km/h as standard. These wheels are only supplied balanced.
Balancing is also becoming increasingly popular in the field of classic scooters. Thanks to modern tuning articles, old Vesps and Lambrettas are reaching ever higher speeds. A balanced tyre also brings a noticeable improvement here.
Yellow or red dot
A yellow or red dot is a special service provided by the tyre manufacturer, who subjects newly produced tyres directly to a balancing test and marks the lightest point of the tyre with a red dot.
Depending on the manufacturer, the meaning of the dots differs slightly. While a yellow dot usually just marks the lightest point of the tyre, it is a bit more complicated with red d ots. Sometimes it is simply the lightest point that is marked.
With some manufacturers it is more elaborate. The red point on the tyre sidewall is often referred to as the match point. When matching, the tyre is rotated on the rim to compare the centre of gravity of the tyre and the rim, which means that less balancing weight is required and optimum precautions are taken against vibration problems. Unfortunately, matching is very time-consuming and is usually only done in motor sports.
Tyre rolling circumference
The size designations of the tyres only inaccurately reflect the rolling circumference. This also differs greatly depending on the manufacturer and type. It is important for the transmission ratio and the setting of digital tachos. We have compiled a table with reference values that can give an approximate orientation. If you need the exact value, you have to measure it on your own vehicle.
| | | | |
| --- | --- | --- | --- |
| Tyres | Width | Circumference | % |
| 3.50-8 | 88.9 mm | 1154 mm | |
| 4.00-8 | 101.6 mm | 1241 mm | |
| 3.00-10 | 76.2 mm | 1235 mm | -6% |
| 3.50-10 | 88.9 mm | 1307 mm | 0% |
| 4.00-10 | 101.6 mm | 1394 mm | 7% |
| 90/85-10 | 90 mm | 1237 mm | -5% |
| 90/90-10 | 90 mm | 1265 mm | -3% |
| 100/80-10 | 100 mm | 1259 mm | -4% |
| 100/85-10 | 100 mm | 1289 mm | -1% |
| 100/90-10 | 100 mm | 1319 mm | 1% |
| 110/80-10 | 110 mm | 1307 mm | 0% |
| 110/90-10 | 110 mm | 1374 mm | 5% |
| 110/70-11 | 110 mm | 1322 mm | 1% |
| 120/90-10 | 120 mm | 1434 mm | 10% |
| 120/70-11 | 120 mm | 1365 mm | 4% |
| 130/70-10 | 130 mm | 1330 mm | 2% |
| 130/70-11 | 130 mm | 1407 mm | 8% |
TubeType/TubeLess tyres
A TT or TL marking indicates tyres that may be used with a tube (TT) or tubeless (TL). TT stands for "Tube Type" and TL for "TubeLess". A suitable rim is required for mounting without an inner tube. There are also tyres marked with both abbreviations. These are also suitable for both purposes.
Tyre pressure
The correct air pressure is a prerequisite for the tyre to function properly. It should be checked every fortnight when the tyres are cold. The manufacturer's specifications for classic scooters should be viewed critically, as there can be half a century between the development of the standard tyres and the development of the freshly mounted tyres. In case of doubt, it is advisable to ask the tyre manufacturer.
The original recommended values for classic Vespa and Lambretta models are between 1.8 bar at the front and 2.0 bar at the rear. In pillion mode, about 0.5 bar more at the rear.
Another problem with general air pressure specifications is the rider's weight. This can vary between 50 and 120 kg. In a modern car, this makes up about 5% of the vehicle weight. This is negligible for the correct pressure in the tyres. On a 100kg scooter, it accounts for between 50 and 110% of the vehicle weight. This makes it of decisive importance for the optimal air pressure.
Load/capacity index of the tyre
The load index (also load index, load index or LI value) indicates the maximum weight with which a tyre may be loaded.

Tyre speed index
The speed index (also speed index, speed category, speed class, SI value or GSY) indicates the maximum permissible speed of a tyre. Our new own brands tyres SIP PERFORMANCE and SIP CLASSIC have a very high speed index P up to 150km/h!

Tyre storage
Tyres must be stored clean, preferably in the dark, dry and with light ventilation. Humid storage conditions should be avoided. The temperature for tyre storage must not exceed 35°C and should preferably be below 25°C. Very low temperatures (well below freezing) can lead to brittleness; tyres stored in this way should be warmed carefully before use.
If tyres are stored outside, they should be covered by an opaque waterproof sheet, taking care that this does not create a build-up of heat or vapour. In this respect, sufficient air circulation must be ensured. If tyres are stored outside, this should not be done directly on the ground (but e.g. on a wooden pallet).
Store tyres in such a way that they cannot come into contact with wetness, mineral oils, fuels (petrol, diesel) or greases. Do not store tyres so that they are exposed to extreme temperatures, direct sunlight or artificial light with a high ultraviolet content. Incandescent bulbs are preferable to fluorescent tubes for room lighting. Never store tyres near battery chargers, ovens or open fires. Do not store tyres on dark asphalt or other heat-absorbing surfaces. Do not store tyres near highly reflective surfaces (e.g. sand or snow).
Store tyres so that they retain their original contour. Tyres mounted on rims should be inflated to a pressure of 1.0 bar.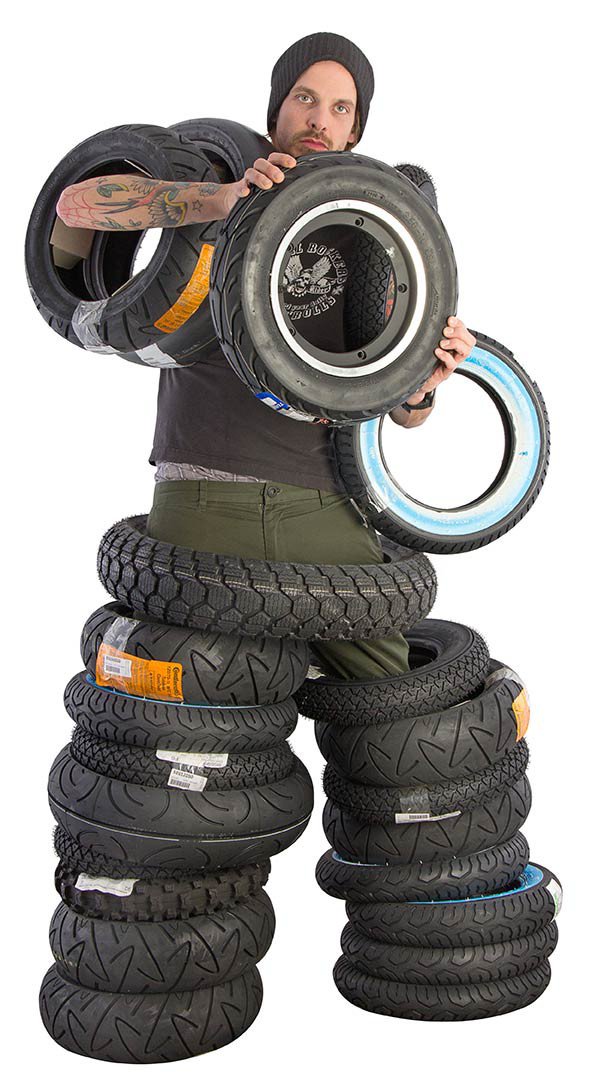 Directional arrow
Tyres with a running direction arrow must always be fitted in the direction of rotation indicated on the tyres, as otherwise the abrasion and driving behaviour may deteriorate or the tyre may be damaged under extreme operating conditions.
Which tyre manufacturers are there?
From the abundance of manufacturers and brands, we have built up a programme that in our opinion covers the best manufacturers, the most sizes and the widest range of use. The manufacturers are deliberately not the cheapest noname brands, but all companies whose scooter and motorbike experience comes into play in the development of the scooter tyres:

Our SIP Scootershop own brand tyres tyres are manufactured for us by well-known tyre manufacturers. The SIP Performertyre is now one of the best-selling sports tyres in the Vespa sector. The new SIP Performance tyres and also the SIP Classic tyres are approved for speeds of up to 150 km/h. A must for tuners and unique for 8 inch tyres.

The traditional German manufacturer CONTINENTAL ensures a price-performance ratio for scooter tyres of all models and sizes that is hard to beat. Its classic tyres (also available as whitewall tyres), the K62, are the most popular models alongside the Twist. Here are all the CONTINENTAL tyres in our range.

Made in Germany is the programme at Reifenwerke HEIDENAU! They have the highest standards of production and quality. Due to the wide range of sizes and classes, Heidenau tyres are probably the most widely represented in the scooter sector. HEIDENAU is particularly strong in all-weather tyres. Here are all HEIDENAU tyres in our range.
MICHELIN has a long history in scooter tyres. The S1 and the S83 are classics. The many years of experience in racing also benefit the modern scooter tyres from Michelin. Best examples are the City Grip and the City Grip Winter. Here are all MICHELIN tyres in our range.

PMT from Italy has been producing high-quality racing tyres for scooter racing for years. Despite the high price level, it becomes clear after the first ride at the latest why PMT tyres are worth every penny. They are an absolute must if you want to be at the front of the pack on the race track! Whether in lap races or on the quarter mile.Here are all the PMT tyres in our range.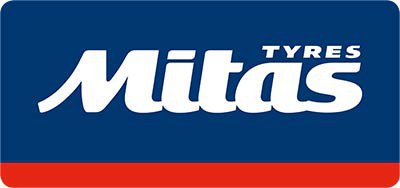 MITAS offers road tyres with a good price/performance ratio and, with the MC35, popular semislicks in various hardnesses.Here are all the MITAS tyres inour range.

PIRELLI is the classic tyre manufacturer and has been VESPA's original equipment supplier for decades. It has slimmed down its range in recent years, but offers a good alternative in the classic sector, for example with the SC 30.Here are all the PIRELLI tyres in our range.

One of the largest tyre manufacturers for over 120 years. Through constant research and new technologies, Dunlop is one of the most successful manufacturers in the scooter sector. The sporty TT series has been convincing on the racetrack for many years and can also be moved extremely sportily on the road.Here are all the DUNLOP tyres in our range.

With the Urban Snow, IRC Tyre was one of the first tyre manufacturers for winter tyres for scooters worldwide. The IRC URBAN SNOW with their special sipe technology are convincing and are our absolute recommendation for the winter.Here are all IRC URBAN SNOW tyres in our range.

SHINKO - KENDA - CST TYRES
SHINKO, KENDA and CST are affordable alternatives to the established brands. Among other things, they offer interesting alternatives for special tyres, such as the white wall models.Here are all SHINKO tyres in our range.