VESPA Road Trip Dolomites 2018 by SIP Scootershop
Our touring group has never been as colourful as it was this year, with participants from Austria, France, Italy, Thailand and Germany. A variety of cultures and types, but all with one little thing in common - the fascination we have for our beloved 2-stroke motorcycles appears to be in our blood. We all love the noise of the Vespas as they make their way leisurely along coastal roads and around mountain passes, we love the lavish curves of the classic models and that feeling when you kick on the starter and the engine starts straight away and you know your bike also wants to set out on a journey with like-minded travellers.
This time our journey took us over the Dolomites to Vicenza, along the western banks of Lake Garda to Merano, and back to Landsberg over the Passo del Rombo.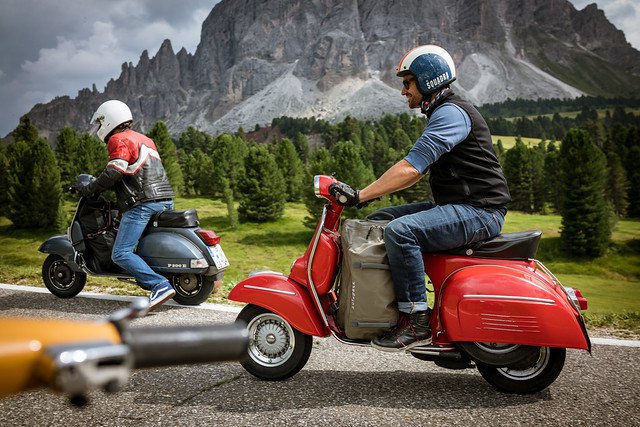 Day 1, Thursday 2nd August 2018
All kitted out and kitted up, the gang meets on Thursday morning at the headquarters of the SIP scootershop in Landsberg am Lech. Some sip a goodbye cappuccino in the Siperia, while others tinker away determinedly, making their final adjustments to their companion. A last group photo is taken, and at pleasant temperatures, we set off towards Garmisch on the B17, passing Innsbruck and heading for Brixen along the picturesque Würzjoch pass. Soon enough, it's time for a cold drink, and the landlord at the "Ütia de Börzt" gets a surprise group visit and the chance for some welcome takings.
https://goo.gl/maps/daHthCZacT82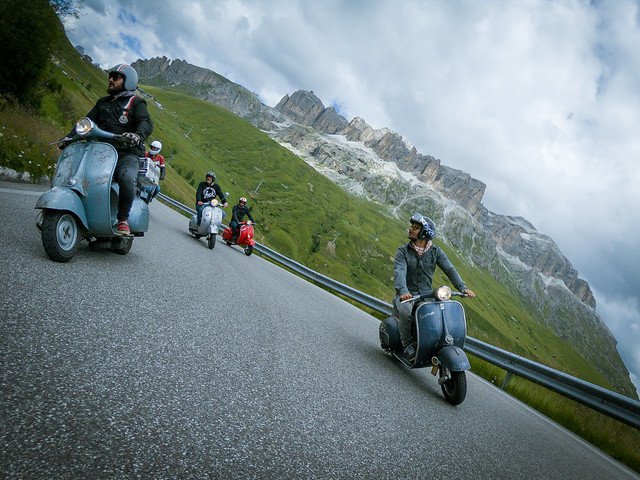 Day 2, Friday 3rd August
The rain has petered out and we cruise cheerfully along the Pordoijoch pass, the Passo San Pellegrino, the Passo Rolleand and the Bassano del Grappa pass to Vincenza. It's hot. Too hot even for the wind to cool us down as we drive - it takes an Aperol Spritz to do that. From inside, that is. We meet at La Terrazza della Basilica for an aperitif with members of the Vincenza Vespa Club, before setting off together with Tacho Karacho for an evening meal which, frustratingly, isn't served to us until just before midnight. Luckily, the spaghetti, pizzas and burgers are all great, though. We spend the night at the former Monte Berico monastery.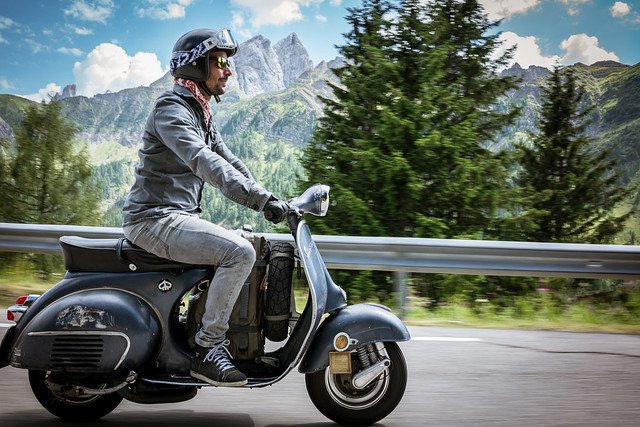 Day 3, Saturday 4th August
The weather isn't getting any cooler. It's already hot by the morning. We visit the headquarters of Fabrizio Caoduro's '70s Helmets, before cruising along a wild route through the beautiful Valpolicella and enjoying a superb Tagliatelle dinner at the Trattoria Caprini in Torbe. Our journey then takes us past Lake Garda and onto Garda itself. It's time for another stopover and a long-awaited dip in the lake, with our Asian companion learning his first swimming techniques. We knock back more than a few glasses of Spumante wine. Once again, it's midnight before we get to enjoy our anitpasti and meat fresh from the grill, and we sleep like logs.
http://www.trattoriacaprini.it
https://www.facebook.com/Trattoria-La-Val-637388756303475/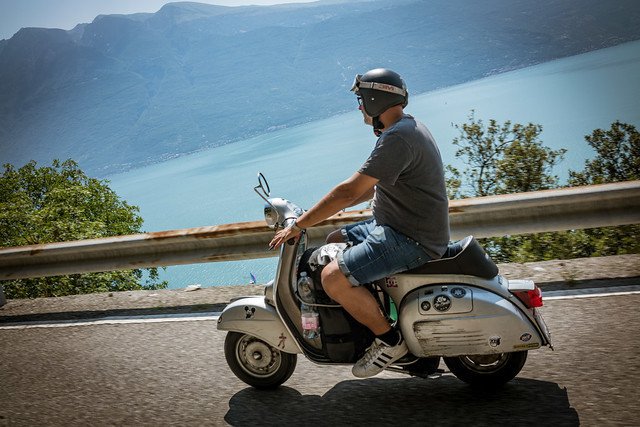 Day 4, Saturday 5th August
The second-to-last day of our very leisurely trip starts in chaos, something for which we only have ourselves to blame, as we have to make it in time for the 10.15 am ferry from Torri del Benaco on the western shores of the lake to Toscolano Maderno. We make it in style at the very last second. We wend our way through the mountains, through tunnels, along the lake, before making a flying visit to Montecastello and driving through lime groves. Passing Lake Tenno, we reach Merano in the early evening, where we meet with the friendly members of the local Vespa Club, before sitting down to a sensational dinner, including a Grappa tasting at the Pfefferlechner.
https://www.gardasee.de/ausflugsziele/madonna-di-montecastello
http://www.pfefferlechner.it/hausbrauerei.html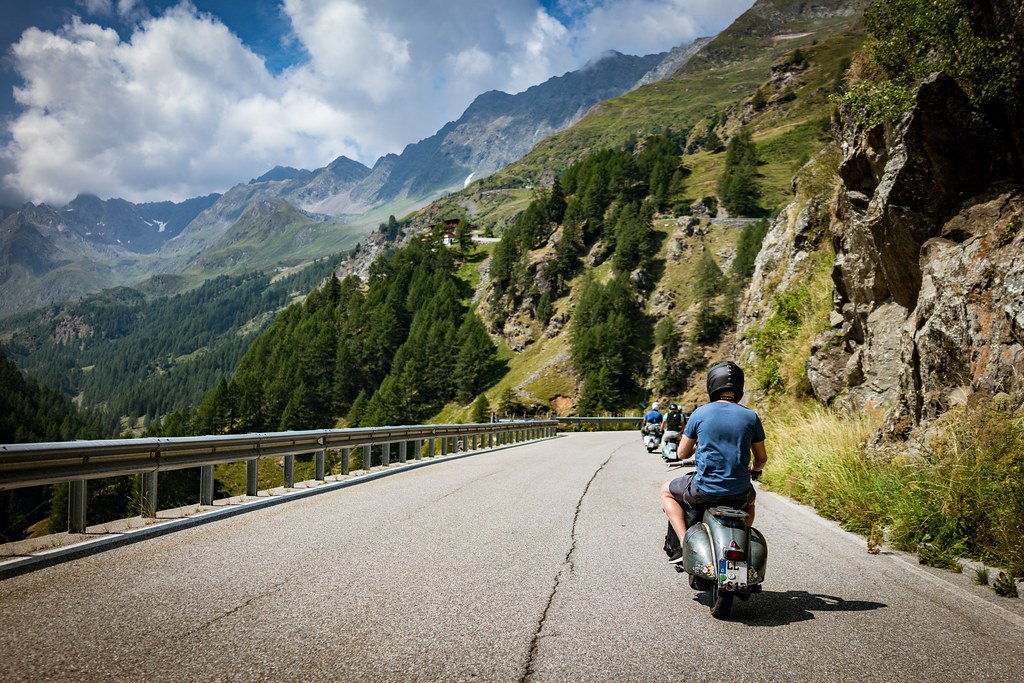 Day 5, Monday 6th August
It's the last day, and time to head home. Hitting the limits of our strength thanks to the 2,500 m. climb, we manage to make it over the Timmelsjoch pass (in Italian, the Passo del Rombo), before crossing the Ötztal valley, heading over the Fern pass through Reute and Füssen, and finally passing lake Forggensee and returning home to Lech.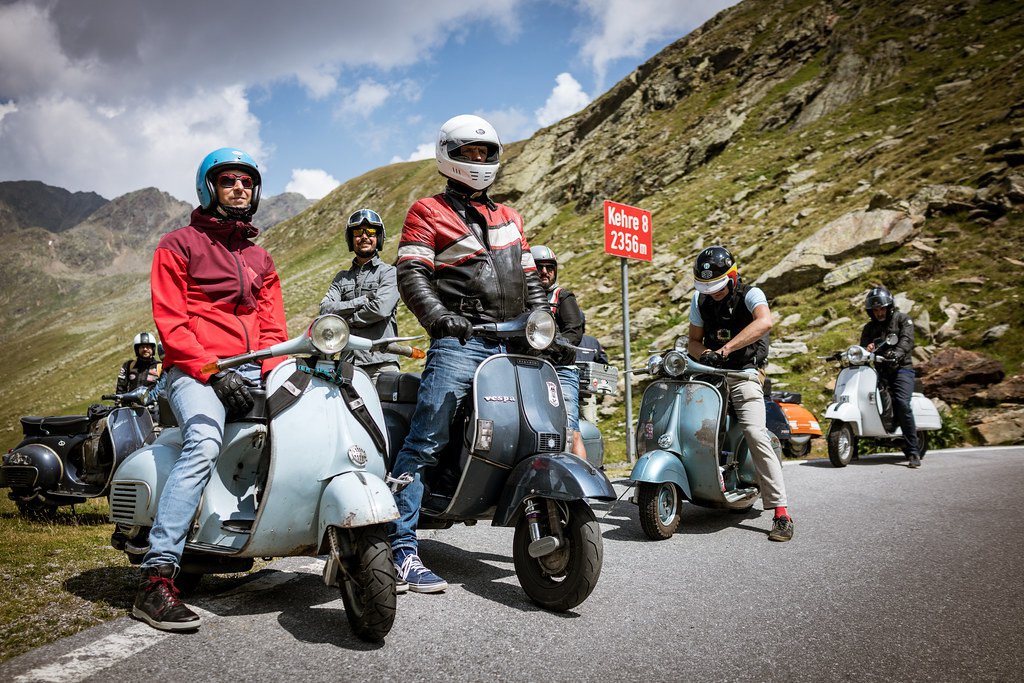 Please allow me to finish with some warm words by Jacques Mancuso from Avignon, who wrote the following in our WhatsApp group: 
 "I would like to thank all of you for all those moments shared together. For your opened Generosity, For the Glances in any Directions that helps everyone to look with wider Angles. For the Harmony you've been creating between the Engine Rhythm, the Sounds of so many Laughs, and the Wind that our Vespa create on each Side of our Helmets. It looks, sounds and smells like the real Friendship and Love Life should be Every day. May we share many other breathing Times like that. Even if it's not Alu´s Birthday next Time! But I guess it will always be at Beer Time... Kisses to Everyone and many thanks to all the Girlfriends who allowed that to be possible! Vi voglio bene a tutti cari amici!" 
We can't add to that!
#siptour #happybirthdayalu #fullsteamahead #nodinnerbeforemidnight #lapatate #forgetyourworriesbutneveryourluggage #siptour2019wherewegonnago #holidayonsteiss 
Christian, SIP Scootershop