Vespa & Lambretta Race at NÜRBURGRING July 2020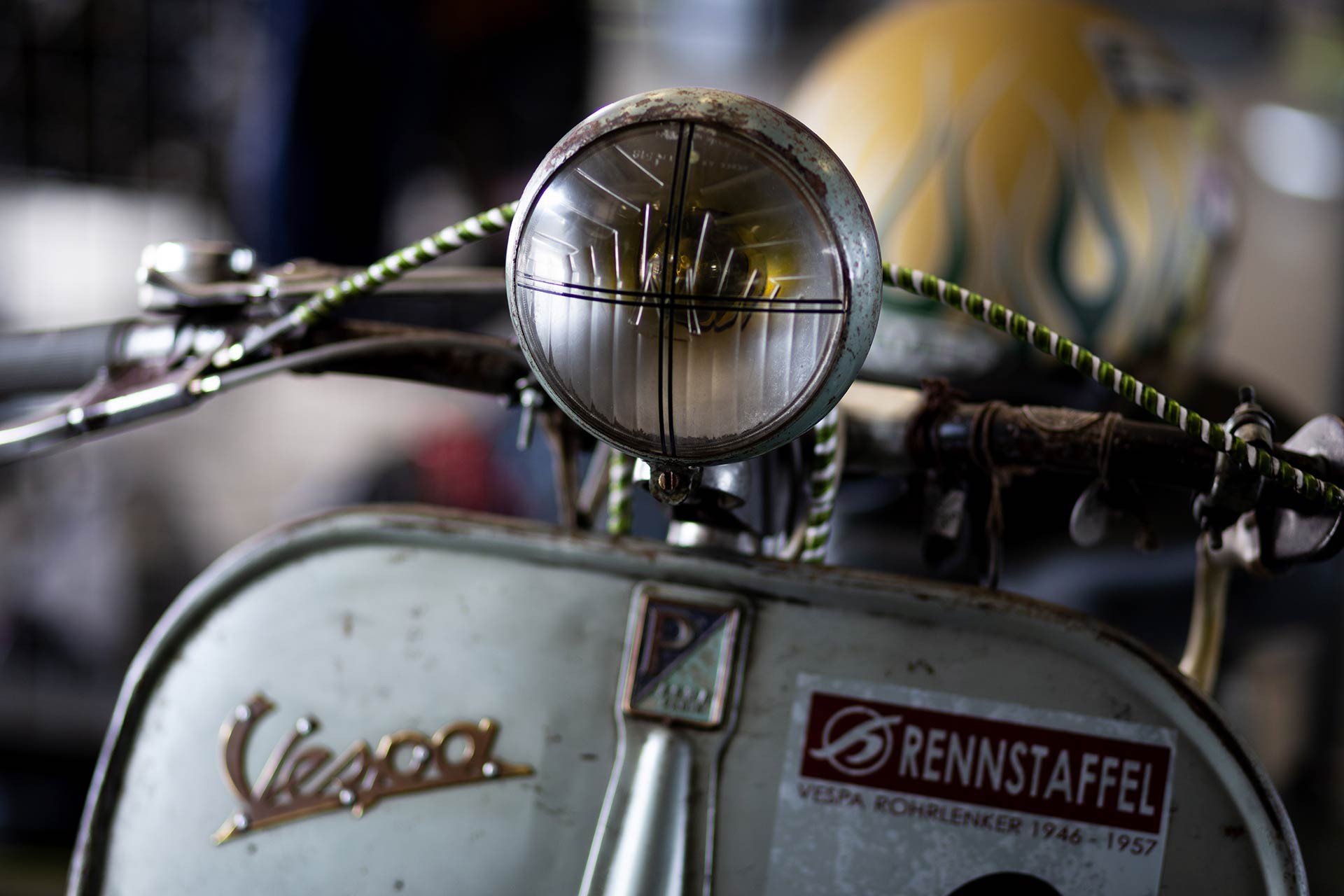 Le Mans, Spa-Francorchamps, Silverstone or Monza, these are names that give motorsport fans goose bumps. But if you had to choose a mecca for racing drivers from the many traditional circuits in the world, it would probably be the Nürburgring. Under a small castle ruin in the middle of the idyllic Eifel region beats the heart of the motorsport world, at least from a German point of view. Not only does it have one of the most legendary race tracks in the world, the Nordschleife, but also the GP circuit. A course of the most modern character with a wide track, optimum surface and wide run-off zones. Just the perfect conditions for driver and machine.
Unfortunately, on such an ideal race track you are only allowed to ride a scooter all too rarely. Such courses are too expensive and too tight with dates of different race series. All the better, if the opportunity arises to ride your scooter there. Despite the many cancellations of events this year there was such an opportunity on July 3rd. A separate class for scooters was allowed to go on the track for three training sessions and one race of 20 minutes each. Unfortunately, the race was only a uniformity classification, where the riders had to try to drive consistent lap times. For this the participation license was free.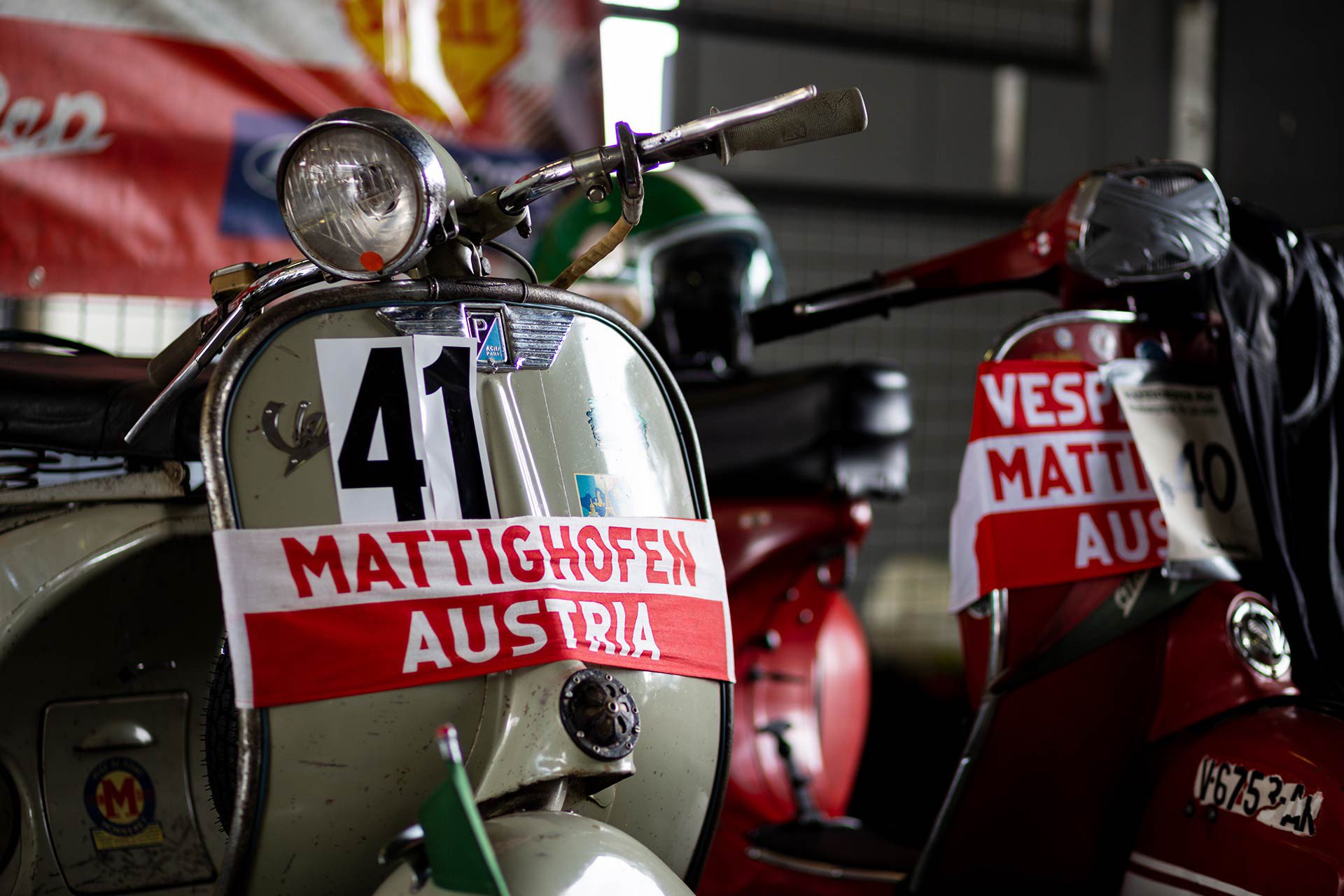 Ungefähr 30 Teilnehmer reisten aus dem gesamten Bundesgebiet und Österreich an. Dabei waren die verschiedensten Fahrzeuge und Fahrer mit unterschiedlichstem Niveau und Ansprüchen. Von der 52er Vespa bis zum 70ccm Automatikroller im Renntrimm. Fahrer, die zum ersten Mal auf einer Rennstrecke unterwegs waren, bis zum Champion aus der ESC Rennserie. Was auffiel waren die High-End Motoren, die überproportional vertreten waren. Lambretten mit Targa Twin, Casa Performance SSR 265 oder CNC/Simonini Motor. Vespa Smallframe mit Quattrini M200 Motor und natürlich der SIP-BFA 306 Motor, mit dem ich angereist war. Für solche Motoren gibt es keine schönere Spielwiese und auch kaum einen härteren Test auf Herz und Nieren. Die langen Vollgaspassagen entlarven schonungslos jede Schwäche. Der schnellste Fahrer an diesem Freitag war Robert Leibfahrt auf einer Vespa Smallframe, ausgestattet mit einem Falc Zylinder. Er schaffte es einen neuen Rekord für Roller aufzustellen: 2:44 Minuten für eine Runde, Gratulation!
Das Fahren auf dem Nürburgring war wieder ein Erlebnis, was wohl kein Rollerfahrer vergessen wird. Auch wenn in diesem Jahr das Rahmenprogramm etwas kurz kam. Die Veranstalter mussten ein strenges Hygienekonzept zur Bewältigung der Corona Kriese einhalten. Also gab es wenig Raum für gemeinsames Zusammensitzen oder Feiern. Aber wenn man auf dem Roller sitzt, das Visier schließt und die Flagge fällt, dann interessiert kein drumherum und kein Corona. Dann gibt es nur die nächste Kurve, den Moment, das Erlebnis und die Gänsehaut, die man noch nach Jahren fühlt, wenn man an den Nürburgring denkt.