Vespa Joyride Ammersee 2012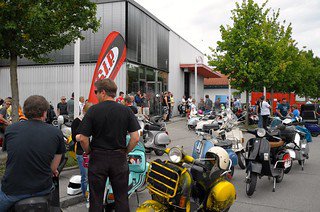 It's a tricky thing to host an outdoor event in our region. While friday had been lovely (33°, beach weather, Vespa feeling), it's drizzling, when I get up on Saturday morning. Shit. Fortunately, Armin from Greifenberg calls me right then: "We are setting up the bar. You're not wimps, right?". So, alright... It's decided: The Joyride will take place. And actually, right on time at 11 clock the sun slowly comes out - DEPARTURE! 
Later in Greifenberg I count an unbelievable total of 147 scooters which proves that a little rain won't suffice to scare off tough Vespa riders. Their courage is soon rewarded by a Bavarian sky right out of a picture book. Armin and his crew in Greifenberg have outdone themselves: Not only the totally cool vintage gas station, but also a lovingly prepared bar (incl. special cocktail "1:50") is waiting for us - great! Some more scooter riders (coming from as far away as Bregenz and Munich - respect!) are joining our rideout.
On we go around the lake and to the K68 bar. Klaus and his staff welcome us clapping and cheering. A beautiful reception. The smell of BBQ is in the air, the café-Ape is set up and the front of the cafe is completely filled with Vespa scooters. And then - it starts raining afterall. But who cares under the awning of K68? While some riders take the opportunity to equip themselves with suitable clothing, a few hesitant pilots give up hope and start their journey back home. The others wait for the rain to pause and quickly ride on to the beach in Uttingen. The location of Rappl is unique: A beautiful beer garden right at the lake overlooking the mountains and Andechs. When the sun comes out, it's suddenly hot again. Some go swimming and Leo is spinning his classic soul records - a dream!
Many thanks to all the riders and the many volunteers, Sven, Armin, Klaus, Ecki, Rappl, Robbie (stereo equipment) and so on.
Here you'll find a lot of pictures of the rideout: