SIP Scootershop Vespa Road Trip 2013 France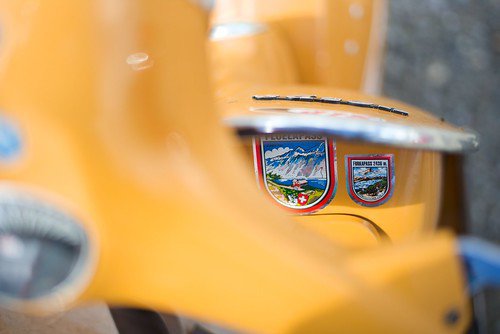 The Vespa cult enthuses and unites people not only in Europe but all over the world. No doubts about that. Some Vespisti even take it further... they board a plane in Asia und travel around the globe to join the SIP Scootershop squadron on their impressive/crazy journey. 
In bright sunshine 11 highly motivated riders departed from the SIP headquarters in Landsberg am Lech. After taking the direct highway route past Lake Constance towards Chur, they crossed the Oberalp and Furka (2436m) passes during heavy rain and wound up in Swiss Münster, where the day's trip came to an abrupt end. In his god given playful mood, a young dog jumped on the street in a tight bend and brought down one of the scooterists. After having been checked and x-rayed at a local surgery, the crash-pilot was able to continue the trip – terrified and with a bruised foot but thankfully without any major injuries. We rode on until we reached a little refuge (1700m absl) near Martigny in Valais, where we spent the night. Btw.: The animal lovers amongst you may breathe a sigh of relief as well: The dog remained uninjured.
The next morning surprised us with a beautiful view of the valley that had been hidden when we arrived in the dark. Well rested we continued to Rocco´s Vespastore in Martigny. While the crashed scooter was licked back into shape, we were able to visit Rocco's new Vespa Museum, where a model (in original paint) of almost every series that has ever been produced was on display. Crazy and absolutely worth a visit: http://www.vespastore.ch/
Although the Mont Blanc stayed hidden due to heavy fog, we continued through the Olympic city of Albertville. They have spectacular bumps there that will shake loose your plug connectors and make them crack like crisp bread. Riding on the highway is most fun at 40°C. In short trousers, shirts and flip-flops we're flying past Grenoble towards our destination. We are still not quite sure if it was our highly sensitive protective gear or the menacing fleet formation that inspired our on-the-road acquaintances with such strong emotions reaching from "piqued" to "honking in jubilation".
Once we had left the "Autoroute", we followed the trails of the Tour de France towards Mormoiron near Avignon. To the rally organised by the Scooter Club du Sud Est and to our friend Henry's vineyard where we were (once again) hospitably received and accommodated. Vive le President!
The two following days were very relaxed. We went to the rally, took part in the local Joyride, marveled at the skills of Nicola "l´Impennatore" Campobasso and relaxed at the pool. We especially enjoyed the obligatory wine tasting session with Henry's uncle Tonton. How nice it must be to have a winemaker in the family.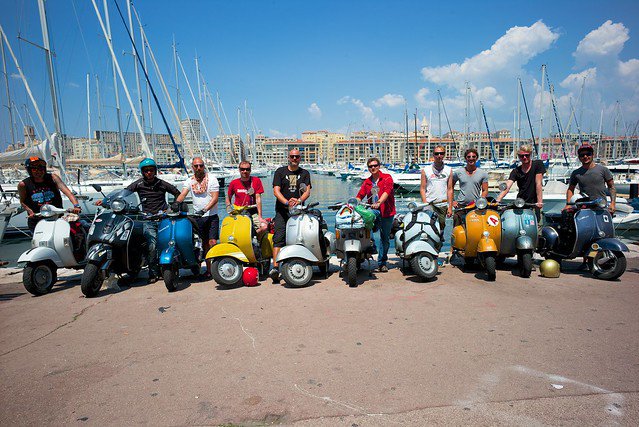 We spontaneously decided not to continue to Nice but to take the slightly longer route to the Côte d'Azur (more precisely to Marseille). Coffee at the harbor, on we went to Cassis. Cannonball into the sea and straight onwards along the fabulous costal road "Route des Cretes" (D141) to La Ciotat, where we had dinner at the finest place. By chance - or rather thanks to the overwhelming French hospitality - this last point on the day's agenda was especially pleasant. As I said before: Riding a Vespa unites people and Arnaud (the boat builder and windsurfer we had met in Mormoiron) and his wife were so kind as to offer us to spend the night at their place. Merci beaucoup, Arnaud!
The next day's tour was supposed to take us to Cannes, Nice, San Remo and Genova.  Unfortunately we didn't come any further than Menton near San Remo. A defective oil seal made one of the PXs draw false air and had… as it seemed… damaged the engine case beyond repair. We still tried to fix it and spent three busy hours at the roadside centre-punching, gluing and praying… then we were back on the road and on our way to San Remo where we spent the night.
Past Genova the beautiful country road SS45 led us towards Piacenza and along the Lago di Garda to the Speck Stube in Malcesine where we celebrated the successful day in the Winds-Bar. The rest of the trip was business as usual. We decided to avoid the A22 this time and take an alternative route from Trento to Bolzano through the Sarn valley across the Penser Joch to Sterzing. From there – in the pouring rain – via Innsbruck, Zirler Berg and Garmisch-Partenkirchen back to the SIP Scootershop headquarters in Landsberg am Lech, where the engines finally fell silent.  
Asked how you can voluntarily ride 2600 km in 7 days, crisscrossing Southern France and Northern Italy on 30 yr old scooters, the only thing I can think of is a question in return including an answer: why do people jump out of airplanes with small parachutes strapped on their back? Because it's awesome! 
Riding a Vespa unites people all around the world. It's really easy to find likeminded enthusiasts and no matter where you go, you will always meet someone who is living this myth. Racers, nostalgics and daily riders alike… we all love our sheet metal wasps. So load your scooter, fill it up, feel the fresh air in your face and let the adventure begin.
Keep on rollin´!
Christian Seidl, SIP Scootershop.
All pictures of this trip can be found here: 
While I'm writing these lines, we get the bitter message that the supposedly bruised foot was in fact complicatedly fractured: Immediate operation, 6 weeks plaster cast, 6 month rehab. By no means he would have travelled home by train!