Elvis has been training with us as a technical product designer since September. He is following in the footsteps of his father André, who is known at SIP Scootershop as a racer, product developer, screwdriver and video host. Elvis is currently learning how to use the sophisticated CAD software. But all theory is grey, so Elvis was allowed to visit our supplier Hemmerle Maschinenbau GmbH near Memmingen from 17 to 28 October to complete a two-week internship in metalworking and machining.
SIP Scootershop and Hemmerle: years of cooperation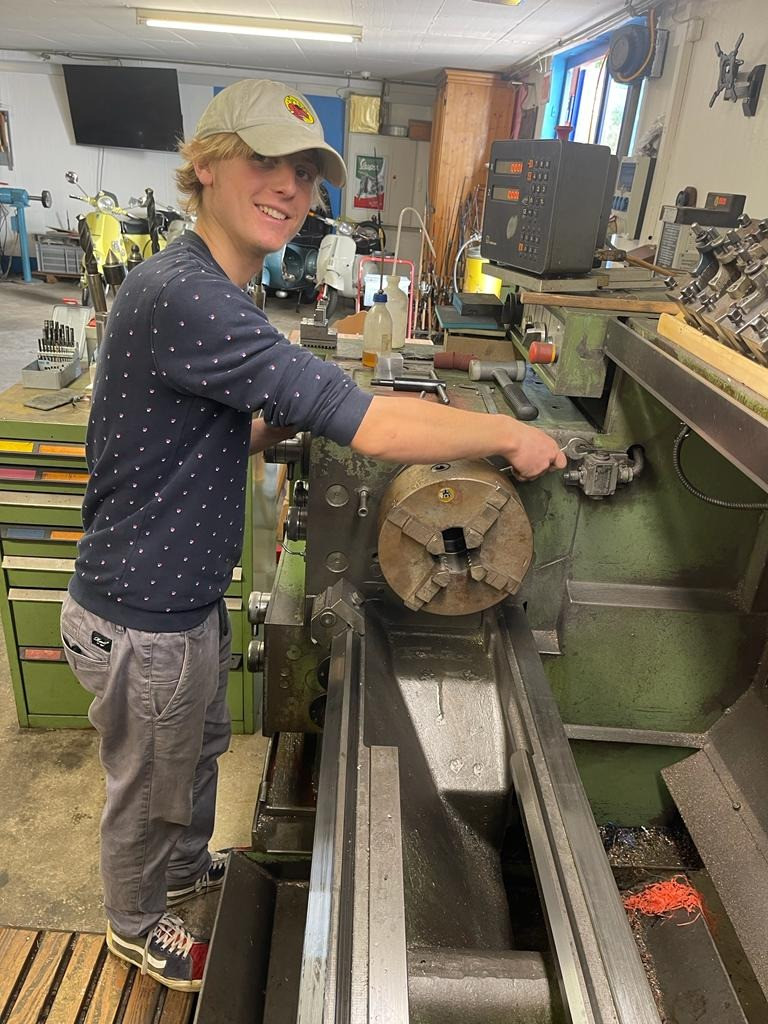 We have had a long business relationship with Hemmerle GmbH and the owner of the same name, Stefan. It all started with him modifying SIP engine cases for Vespa smallframes, for example, so that 56 mm crankshaftswould fit. (By the way, we also arrange this individual service for our customers from time to time when they are looking for a perfect spindle).
For SIP Scootershop, Stefan Hemmerle conjures up, for example, adapter discs for the SIP Performance ignition, high-performance diaphragm intake manifolds as well as exhaust manifolds in small series for extreme tuning.
If Stefan's mirror arm on his own Farobasso is too long, he mills a shorter CNC mirror arm without further ado and SIP Scootershop of course makes it available for its customers.
Prototypes and special metrological tasks round off Hemmerle's range of services and even when things get busy, as was the case with the construction of the custom Vespa Pordoi-GTS, we can always rely on the punctual delivery of the first swing arms.
Hemmerle still masters the production of the finest surfaces and extremely precise dimensions - it's no coincidence that the company is licensed for aviation.
From theory to practice
"I got to know working by hand on the conventional lathe. But I also saw how to operate a CNC mill," Elvis says of his intensive two weeks. "I now have a better understanding of metals and materials, and how they can be processed. I also know what to look for in my drawings so that the experts on site can work with them. It was an interesting further training that I wouldn't want to miss."
SIP Scootershop would like to thank Stefan Hemmerle and his team for allowing Elvis to gain important experience and insights for his future training.