SIP Outbound Trip in autumn 2019
Actually, we don't have a sales force. It's not easy to find someone who is familiar with products, the scene and people at the same time. Please send applications to [email protected] 😉 Sometimes we get the itch and go out ourselves. This time it was a small but nice tour via Nuremberg and Bamberg to Jena. On the way back, we stopped in Würzburg.
In Nuremberg we visited Frank at Blechrollerwerk . http://blechrollerwerk.de/
The Blechrollerwerk is located in the Ofenwerk, Nuremberg's centre for vintage cars. Friends of old Vespa and Lambretta scooters have been meeting here since 2009. The old vehicles are restored and repaired here. The Blechrollerwerk is also the place to go for performance upgrades. A large stock of spare parts and genuine enthusiasts' knowledge ensure that the old tin scooters are safely back on the road. It all started with a few friends. Together they looked for a place to work on their Vespas. Together they screwed, sweated and learned a lot from each other. Over the years, the reputation of the Blechrollerwerk has grown: more and more requests for vehicles, parts and repairs arrived there. More than could be handled "in their spare time". So without further ado, the company "Blechrollerwerk Nürnberg UG" was founded. The rooms in the Ofenwerk have become considerably larger, the tools more professional - but the love for the old Vespa and Lambretta scooters has remained.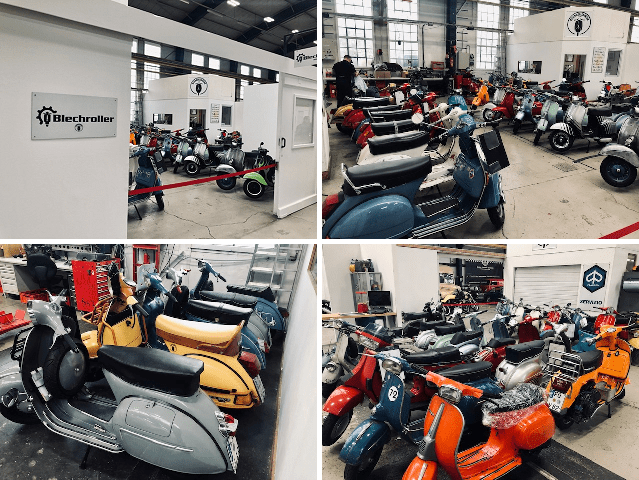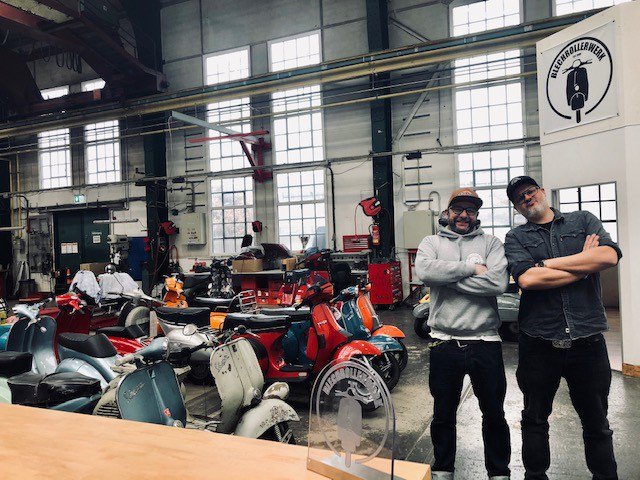 After that, our sat nav led us to Bamberg. There you will find the Schrauber-Zentrum. http://schraubverbindung-bamberg.de/
A workshop community for car and motorbike mechanics, painters and repairers, collectors and technology fans, old and youngtimer enthusiasts - with a café and restaurant in the centre of Bamberg. Here, the premises of a building contractor have been converted into a world of experience for men. You will look in vain for a nail salon or a ball pool. What you will find is style and expertise. If you have problems with your scooter, you can get expert advice or have your scooter repaired by the master craftsman himself. The specialists for conversions and tuning are official Piaggio dealers with a good stock of the latest Modern Vespa models. Soon, they will also have a demonstrator with SIP's own products installed. The Vespino is also an Italian restaurant and wine bar. There are small delicacies and excellent espresso. Directly adjacent is the Ölkännla, a trendy venue for events and large celebrations of all kinds. Whether classic filet, rib-eye, T-bone steak or bistecca alla Fiorentina, carpaccio, pasta and the most delicious stone-baked pizza in the most diverse variations, fish, scampi, calamari, bruschetta, tramezzini, Barolo or Tignanello - Vespa or Lambretta. Here you will find culinary delights as well as the latest Vespa, Lambretta and restored cult scooters of Italian design. So a visit to the Schrauber Centre is definitely worth the trip.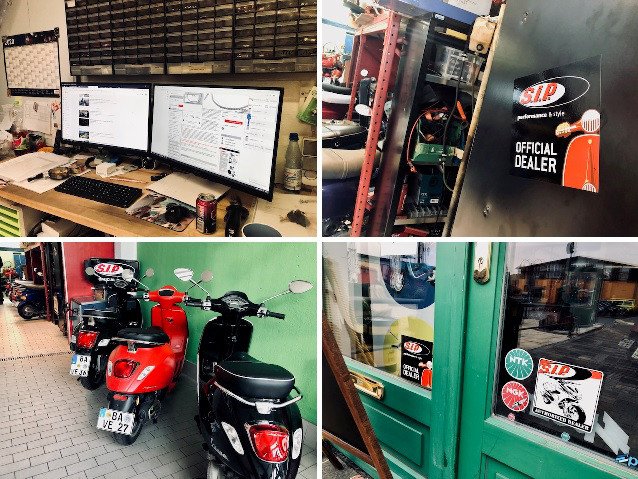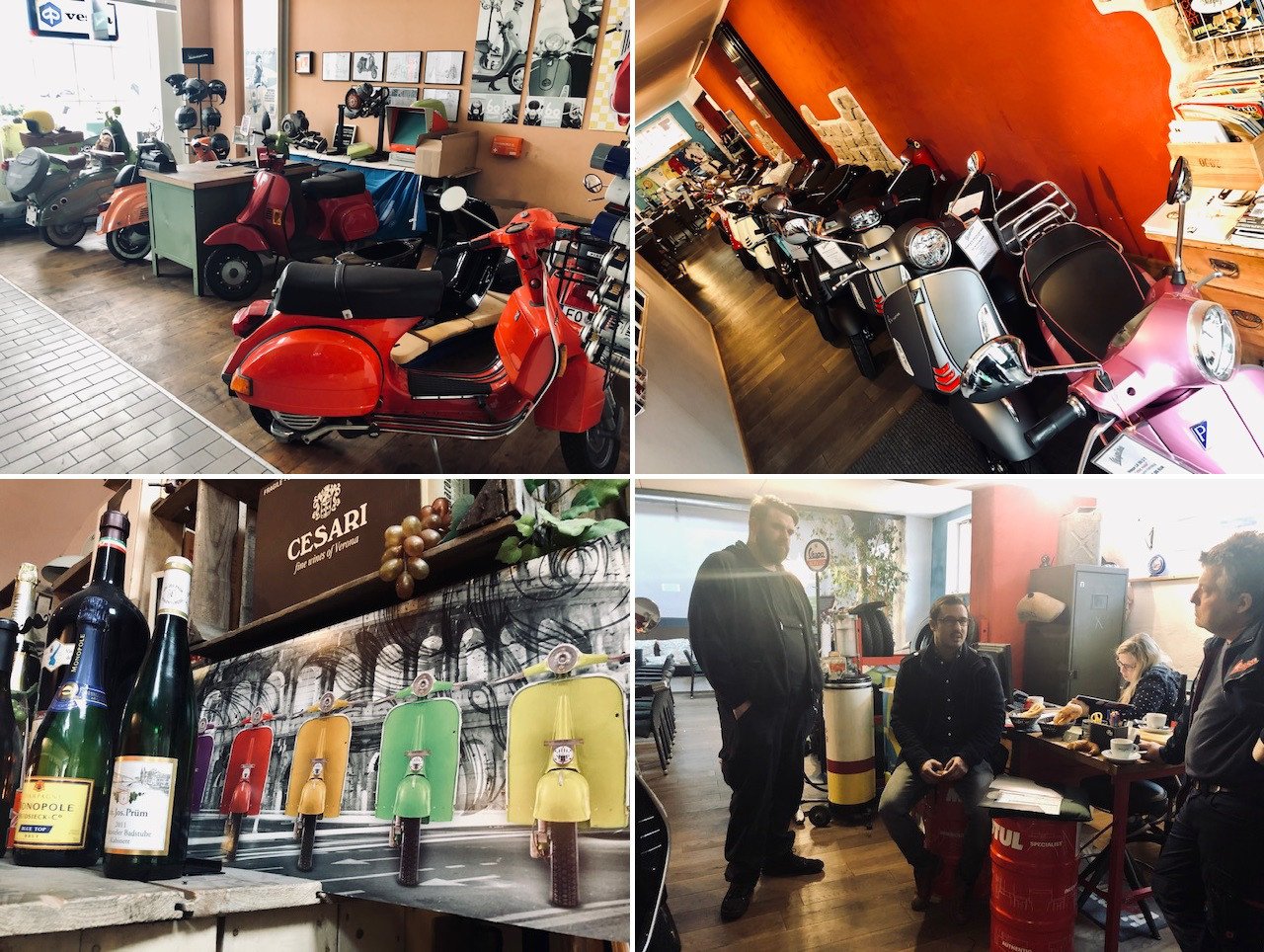 Stopover in Jena. As the German importer of the tuning forge Malossi, we have been working for many years with the guys from the Racing Planet together. Beyond our business relationship, we have also always had an interpersonal bond. We met at the Intermot 2014 bike show in Cologne and discovered that we were on identical wavelengths, so it was high time we visited them. The guys and girls are simply a cool bunch. We were allowed to visit the well-designed warehouse and afterwards we were able to strengthen our business and private relationships, first at the Christmas market and then over a glass of wine and a rib-eye steak at an Italian restaurant. Now the ball is back in Jena. We are looking forward to your visit with us 😉

On the way back, we paid a flying visit to our dear friend Ralph Leuschel from Motorini . https://goo.gl/maps/xqptAVZfssoC6CzJA
Ralph has already visited us several times in Landsberg on various occasions, and here, too, the return visit was not a day too soon. The man is an old-fashioned mechanic and knows Vespa engines like the back of his hand. No matter what, he has already repaired it a thousand times. There is nothing that could still shock him. So here's our clear recommendation: If you have problems with your bike, go to Ralph Leuschel in Würzburg, he'll bring light into the darkness and, by the way, he even has a pick-up and delivery service.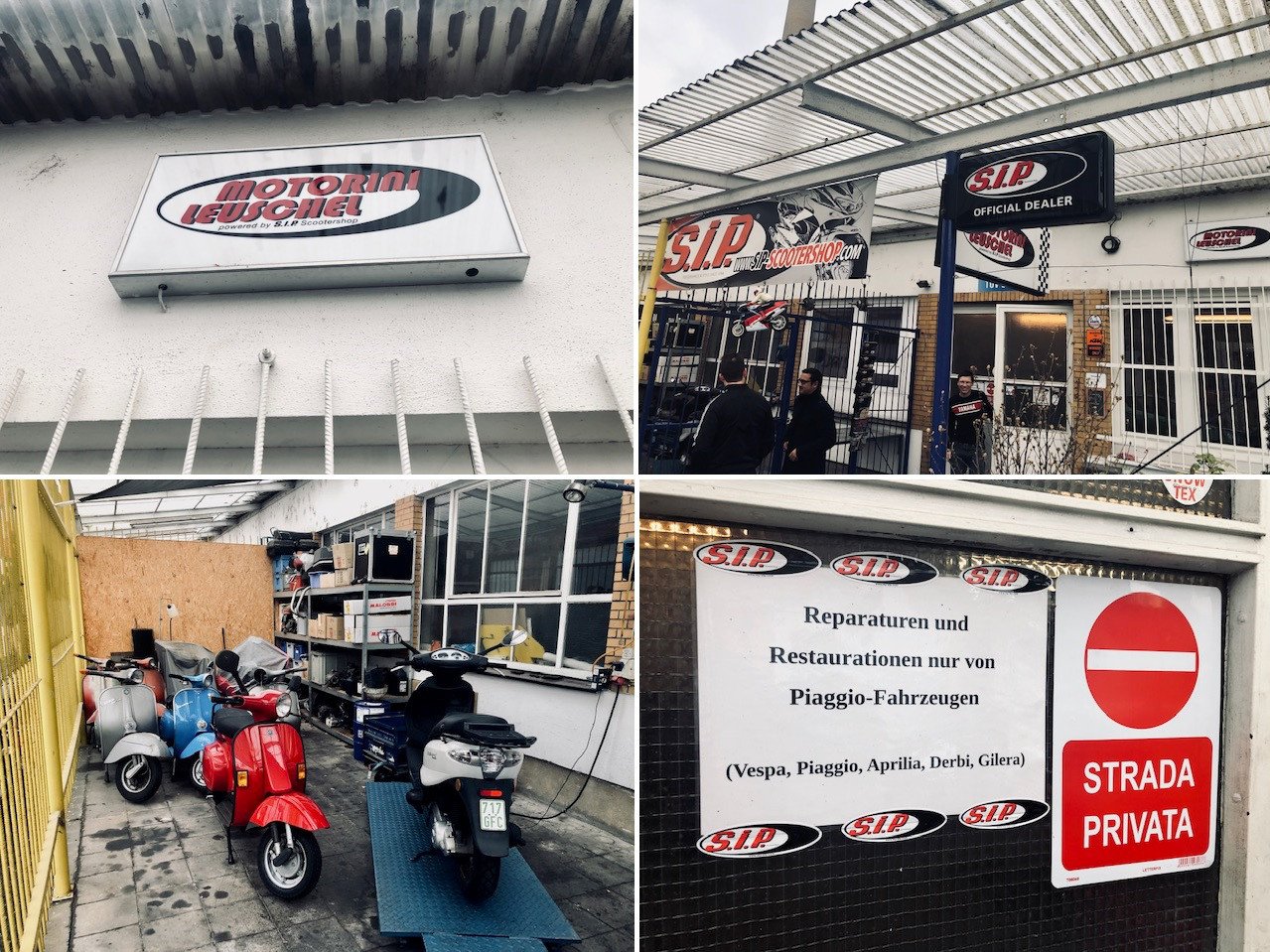 Your would-be sales representatives Stephan & Christian ;-)