SIP donates 15,000 medical masks to India
Of course, we first associate India with a very active scooter scene, even if the major manufacturer LML had to file for bankruptcy in 2018. But the rumor mill is already simmering again and perhaps a return of the brand can be expected. Until 1999, LML produced hundreds of thousands of Vespa scooters under license for the Asian market.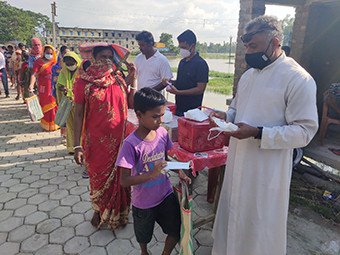 Far from being threatened by bankruptcy, Bajaj Auto has risen to become the world's fourth-largest manufacturer of two- and three-wheelers, and the company was valued at eleven billion euros in January 2021. From 1959 to 1974, Bajaj produced scooters under license from Piaggio. In 1972, the first Bajaj Chetak hit Indian roads, which was a replica of the Vespa 150 Sprint. Even when the cooperation with Piaggio ended, this Chetak was still built until 2009.
But at the moment we are very worried about our friends and customers in India. The country has been hit hard by the coronavirus and currently fears the third wave. As of 04 October 2021, 33.8 million cases of the novel coronavirus (SARS-CoV-2) have been officially confirmed. 450,000 people have lost their lives to the virus (as of 07/10/21), but that is just the reported number. Researchers from the U.S. think tank "Center for Global Development" rely on multiple sources and estimate an excess mortality of between 3.4 to 4.9 million. The Corona pandemic in India is "the worst human tragedy since independence". Yet India lacks many things. Although 660 million of the 1.38 billion inhabitants have now received the first vaccination, there is great need, especially in rural areas. There is a lack of oxygen, intensive care beds and masks.
SIP Scootershop CEO Alex has been in contact with Father Brian Fernandes from the parish community of Vilgertshofen-Stoffen for years. The chaplain comes from Goa in India and is a religious priest of the Society of St. Francis Xavier. This order was founded in 1887 in Agonda, Goa, and was transformed into a missionary one in 1939: "The Order of Pilar Priests" is an incorporated "Society" and officially registered. Today, about 450 missionaries work in four different provinces in India and take care of the poorest of the poor. They help lepers and bring education to the "untouchable" children. The order builds schools, youth hostels and rehabilitation centers.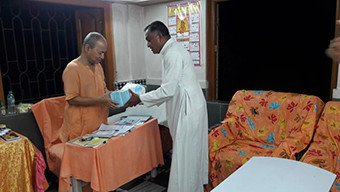 Of course, Father Brian still has a connection to his home country and is informed about the dramatic situation. When Alex heard about it, he didn't have to think about it for long, but immediately arranged for around 15,000 medical masks to be shipped from the SIP Scootershop to Calcutta. Quite unbureaucratically, the Dachser shipping company from Kaufbeuren accommodated us and took over not only part of the freight costs, but also the entire export handling.
The donation has meanwhile arrived on site and the FFP2, surgical and children's masks were handed over to the population and monks from the monastery "Bharat Sevashram Sangha". Father Brian reports: "The people in Calcutta are so poor that they can hardly afford anything to eat. Therefore, they have no money for masks. They try to make masks for themselves with leaves. In addition, a flood disaster has hit the area. We distribute food there from trucks. We were able to give out the masks to the poor people. No matter if Hindu, Muslim or Christian. Thanks to SIP Scootershop for this help."

We are very happy that we could help to alleviate the suffering in the pandemic a little bit.
You can find out more about our SIP Aid projects on our SIP Aid - Scooterists Help page.