SIP Digital Speedos for Vespa VNA/VNB and V30-33/VM
The SIP tachometers / speedometers have revolutionised the speedometer market since their first appearance back in 2010. Features that were previously only possible with many additional instruments have been integrated into one - and with maximum understatement. At first glance, these functional instruments look like the original speedometers.
Now the wishes of many customers have come true and they are available in 2 further versions for Vespa VNA-VNB vehicles as well as for Vespa Wideframes from V30 to VL. The latter design also fits many ACMA and, for example, Motovespa vehicles and the like.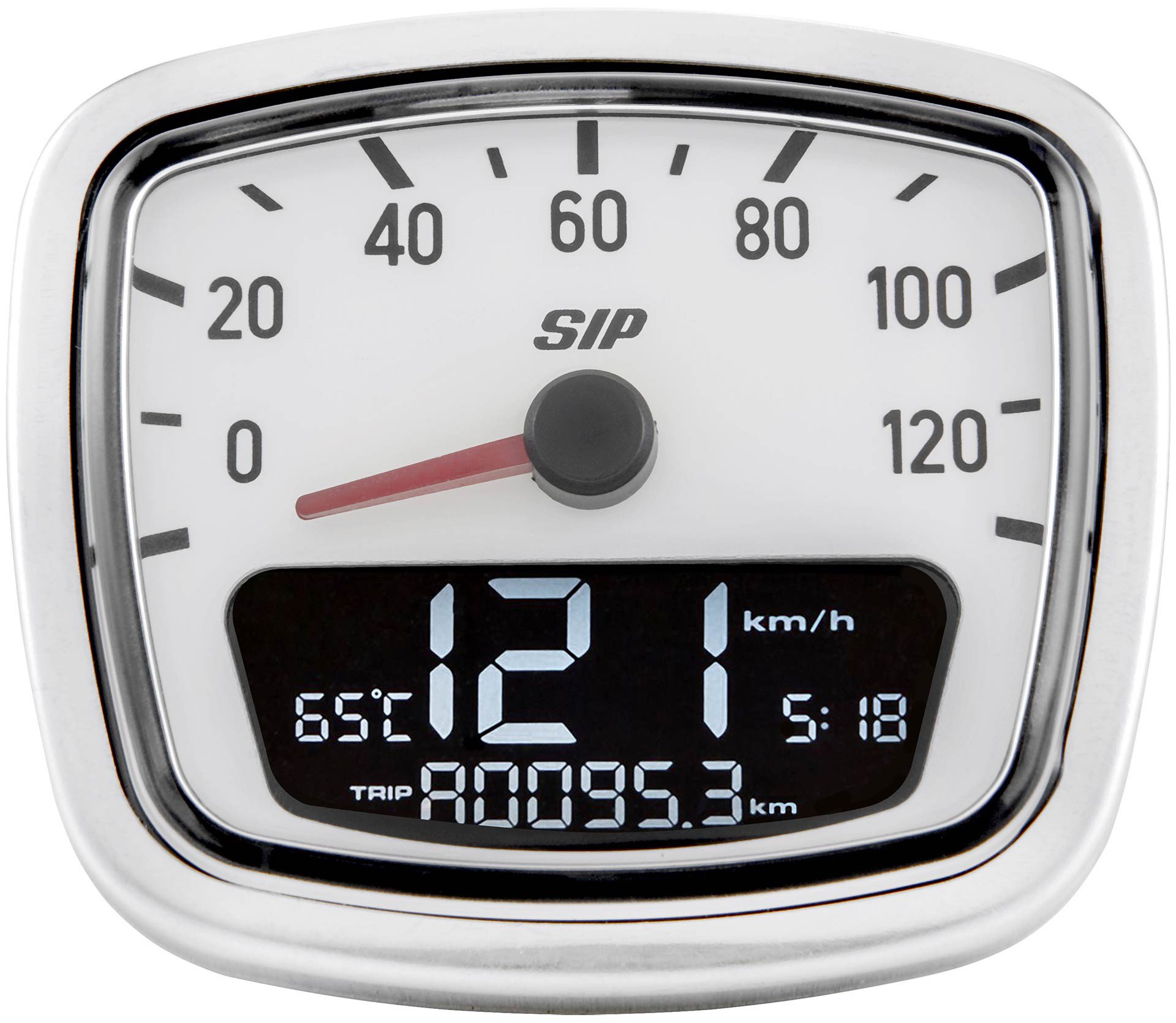 Despite the small outer form, they are internally revised and offer even more functions than the standard 2.0 SIP speedometers. New features include a self-learning gear indicator and the Speed-Test and Power-Test applications, which are otherwise only found in the large speedometers for the Modern Vespas. This is a timer that can be used to measure either the time from 0 to a previously entered speed or the duration for covering a previously programmed distance. For example, information such as "from 0 to 100 km/h in e.g. 6 seconds" can be measured or "150 m in e.g. 5.3 seconds" etc....
The speedometers require 12 V power supply, which these vehicles only provide after conversion to PX, Vespatronic or SIP Performance ignition. Those who want to stick to their original 6V on-board electrics can still operate the instruments using an external battery. For this purpose, a charge level indicator is available in the tachometers, which reminds the user to recharge the battery once an adjustable lower limit has been reached.
The speed is detected by an electronic rotary sensor on the front axle, which is included in the delivery. A mechanical speedometer cable cannot be connected. The reason for this is the extremely compact design of the speedometer.
All the tried and tested features of the SIP speedometers are included, such as a rev counter and temperature display, which effectively helps to prevent the engine from overheating on long journeys, for example. And also the more recent extensions, display of exhaust gas temperature (EGT, SIP art. no. 5001EGTJ) and the mixture composition rich/lean via lambda sensor (AF sensor, SIP art. no. 5001AFJ0) are also possible on these new speedometers.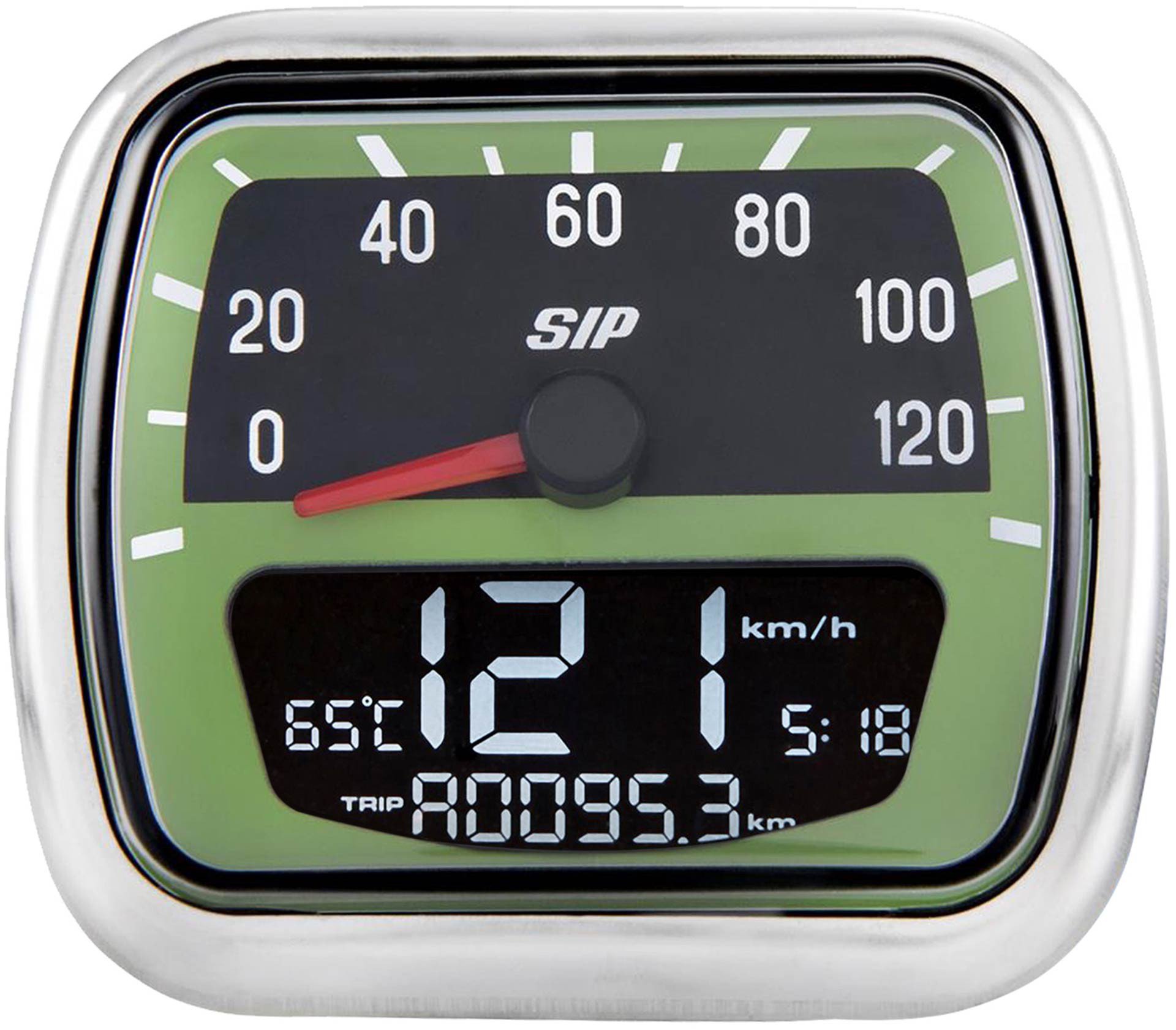 This is how the most modern technology also finds its way into the oldest Vespa models: Fenderlight, Faro-basso, Wideframe, ACMA, Motovespa, VNA, VNB and Co.
Note: The speed signal with DC electrics can be taken from the white cable of the SIP Performance ignition or with the additional filter SIP Art. No. KOBA0040
Overview functions of the SIP Speedometer 2.0 for VNA / VNB and Wideframes:
Speed analogue up to 12000 rpm

Speed digital up to 12,000 rpm

Display / storage of maximum speed

Speed analogue, up to 120 km/h / mph

Speed digital up to 199 km/h or 140 mph

Display / storage of maximum speed

Temperature display up to max. 250° or 32°-482° F, a temperature sensor and mounting material are included in delivery

Maximum temperature display

Total driving distance up to 99999 km / miles

Total driving distance adjustable (old speedometer reading transferable)

Trip meter A and B up to 9999.9 km/ miles

Driving time A and B up to 99.59 h

Average speed A and B up to 199 km/h or 140 mph

Brightness of the speedometer illumination can be adjusted 5 times

Reserve indicator (in combination with SIP Fastflow fuel tap / electric reserve indicator)

Operation with external battery possible (if vehicle electrical system cannot provide 12 V)

Self-learning digital gear indicator

Speed-test function (measurement of time until reaching an adjustable speed, e.g. 0 - 100 km/h)

Power-test function (measuring the time until a preset distance is covered, e.g. 150 m)

Exhaust gas temperature / EGT sensor connectable SIP Art. No. 5001EGTJ

Lambda sensor / AF sensor connectable SIP Art. No. 5001AFJ0

Shoplink: bit.ly/tachovna