SIP Aid: Food for Ukraine
It is not easy for the people in Ukraine at the moment, as they are increasingly forced to live without electricity, heat and water for days on end due to the continuous Russian bombardment of vital infrastructure. It is hard to imagine how difficult life is under these conditions in winter temperatures. Families with children in particular suffer severely and can desperately use all the help they can get. When the opportunity arose for SIP Scootershop to do something quickly and unbureaucratically, there was no need to think twice. And that's how it came about ...
#A different kind of anticipation
At the end of November, our friend Ruslan Gerber from the community of Hurlach in the district of Landsberg approached SIP Scootershop managing director Alex and made a rather unusual request:
"Alex, can you provide me with 100 boxes?"
"No problem, but what do you need so many boxes for?"
Ruslan explained that one of the things he does with his interdenominational missionary community,Youth With A Mission(YWAM), is to collect food for families in Ukraine and bring the packages across the border. In the past months, he and his team have already started many such campaigns and distributed relief goods in Ukraine. Ruslan himself has been living in Germany for 13 years, but his siblings are still there, know the situation first-hand and don't want to abandon their friends and families.
"We were impressed by this commitment, because we appreciate people who don't talk for a long time, but simply lend a hand," says Alex and spontaneously decided to double the next delivery and also made the SIP Sprinter available so that the help can arrive on site quickly. The people from ALDI Süd were also on their toes and put together a food delivery in no time, which was bought by SIP Scootershop for 3,000 euros. Redl Karton GmbH didn't need much convincing either, but immediately sent us an extra load of boxes. And already the whole team of SIP Scootershop, together with the team of Abgedreht, stood in the warehouse to pack the packages according to a precise list and specification in one morning: Pasta, rice, oil, tuna, canned meat, sugar, flour and other essentials. In addition, each employee signed a Christmas card with a very personal greeting.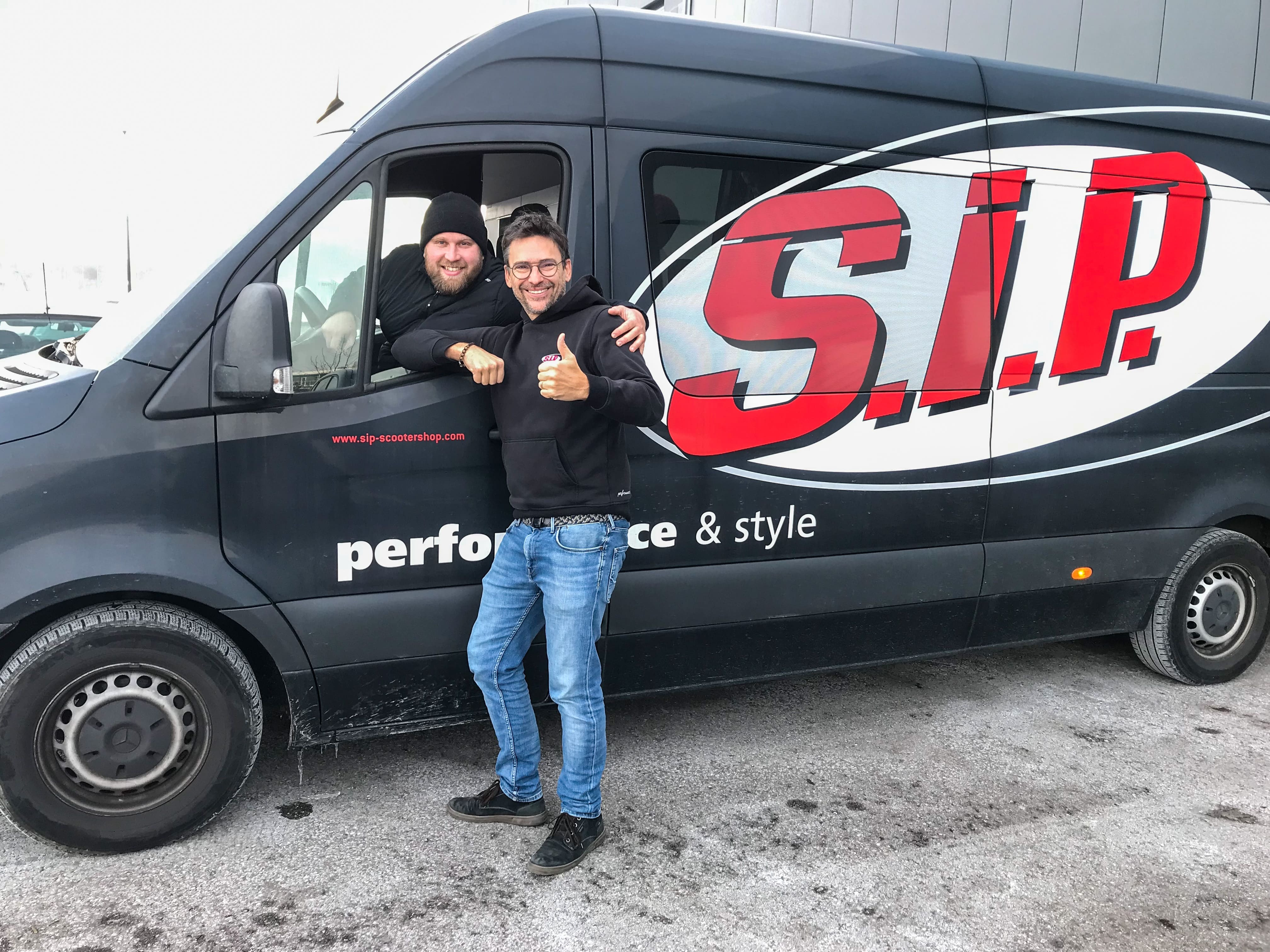 Eight hours of waiting at the border
On 14 December, a team of four from YWAM set off at the crack of dawn for the long journey east: Frank Bauer and his wife Heidi as well as Vladimir Garber and his wife Valentina. On board were 200 boxes of food, four electricity generators and warm insoles for shoes. The first 1,300 kilometres led via Dresden to the border crossing into Poland at Görlitz, then on and on along the E40 past Wroclaw, Katowice and Krakow to the Ukrainian border at Krakowez. The weather conditions were suboptimal, snow and ice were constant companions. At around 11:30 p.m., the SIP sprinter was on Ukrainian soil and fought its way through the winter landscape to Rivne, some 300 kilometres away. At Golgotha Church, they were joyfully welcomed in the early hours of 15 December and were able to unload a large part of the load, as Frank Bauer reports: "Half of the 200 boxes were packed into the church warehouse, and from there the parcels reach needy people. We spent a night in a hotel before my wife and I continued our journey the next day to Ternopil, where YWAM has a base. That was another three hours or so on icy roads."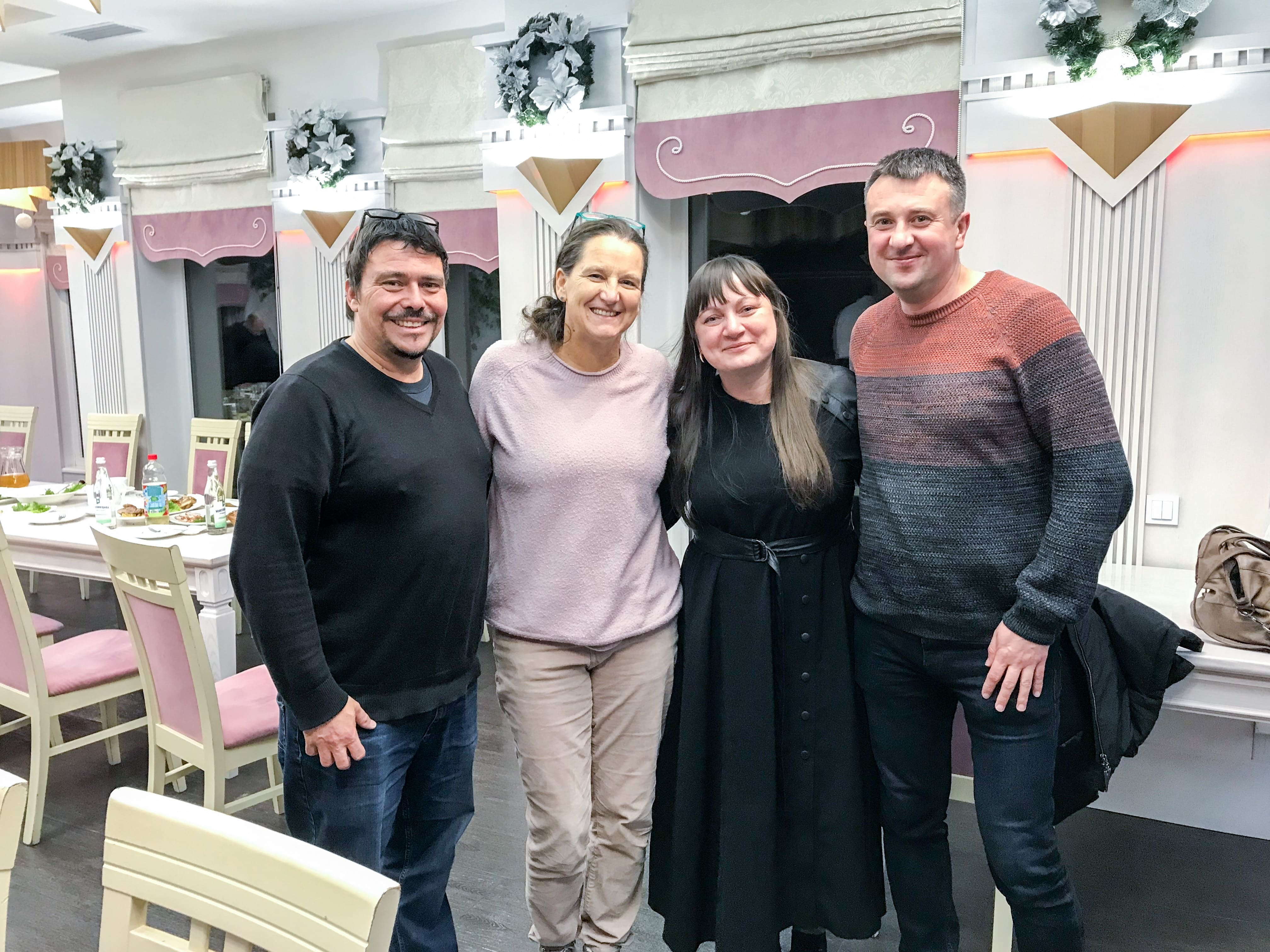 From Ternopil, food is brought by locals directly to Bachmut, a thousand kilometres away, where the front runs. For Frank and Heidi Bauer, on the other hand, it was back to Rivne to take part in the service at Golgotha Church on 18 December. After that, the arduous and, due to the weather conditions, dangerous return journey was on the agenda. Everything literally went smoothly, until at the Polish border it was no longer possible to continue. Frank Bauer remembers: "We arrived at the border at around 8 p.m. and the clearance took eight hours, because the Ukrainians check very strictly so that no young men leave the country or weapons are smuggled. We actually had to show every piece of luggage. Once we had that behind us, we were able to drive straight to Landsberg, where we arrived at half past six on 19 December."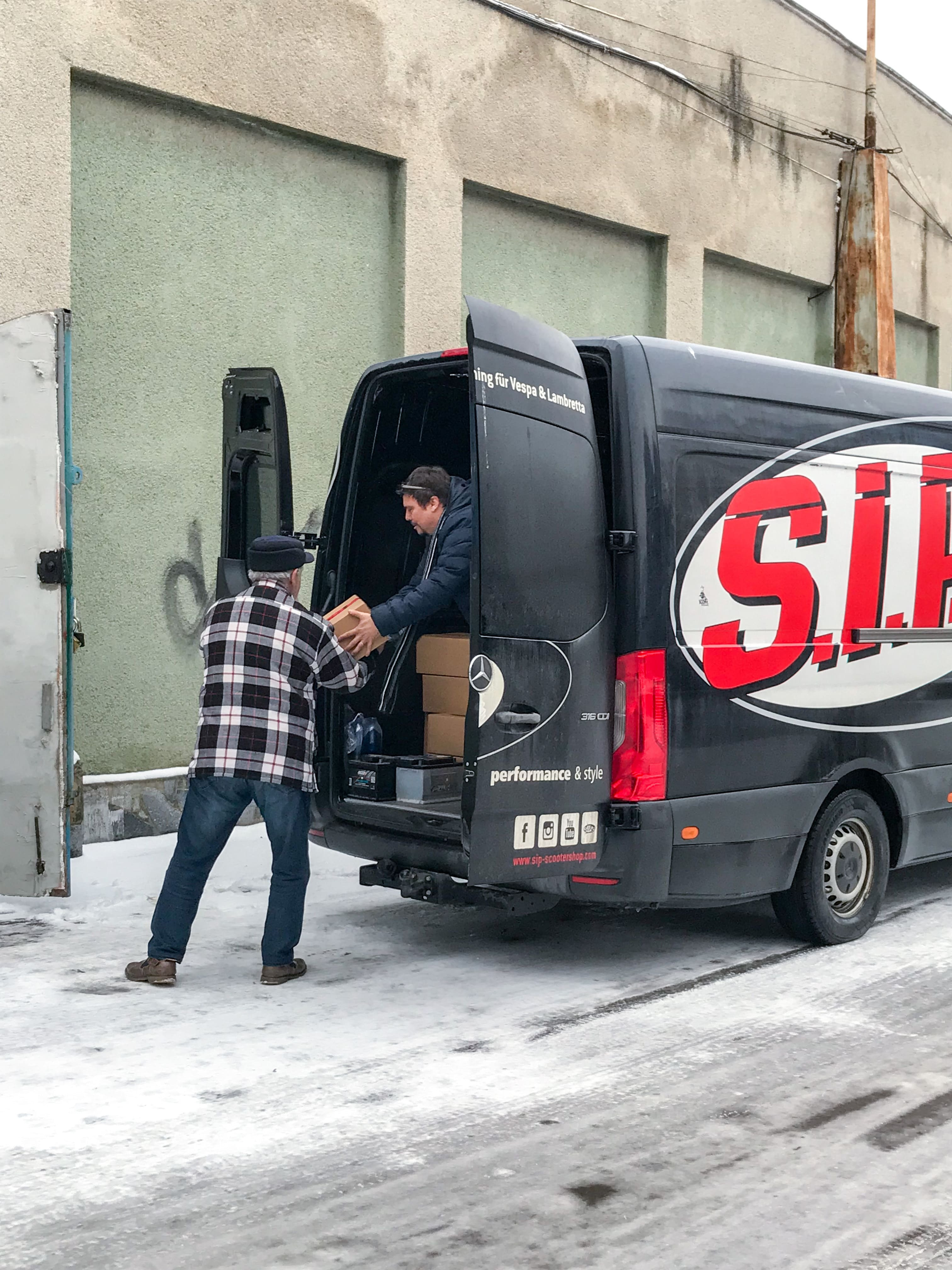 A journey that was worthwhile for everyone involved, as Frank Bauer confirms: "It was moving to see how people deal with this difficult situation in the war, stand together, don't lose hope and take care of their fellow human beings who are even worse off because they are on the run, for example. They are grateful for every little help that comes in from outside. And we could help to give them courage and hope that peace will return there."
Spouse Heidi describes her experiences: "I am simply impressed by the courage of every single person who goes to the front with the food without thinking twice. It almost put me to shame. It may have been an exhausting, long journey for us, but we are going to a relatively safe area. But these people go one step further."
Ruslan Gerber sums up the joint action with SIP Scootershop: "Alex directly agreed to deliver boxes and when he heard that our two buses were broken down, he immediately offered the Sprinter. That was a small miracle for us, because we had not expected that. We are very grateful for the collaboration with SIP."
In conclusion, Alex says: "We thank everyone who pitched in so energetically so that we could at least alleviate the hardship of the people in the war zone a little."
Picture gallery: SIP Aid packs food parcels for families in Ukraine
Video SIP Aid in Ukraine