Sexiest Vespa Workshops: Scooter & Service
In the new episode of our series about the "Sexiest Vespa Workshops", Jesco is once again allowed to travel a little further. It's about 750 kilometres from Landsberg to Bispingen near Hamburg, but no distance was too far for us to visit Wolfgang "Wolle" Riehn and his crew from "Scooter & Service". For more than 20 years, the workshop has stood for individual engine and chassis concepts, custom scooters and handmade special parts in small series. On more than 400 square metres, Wolle controls the work in the spare parts warehouse, the welding and bodywork workshop, on the performance test bench, and "Scooter & Service" also does painting. So there is a lot to see for Jesco and his team.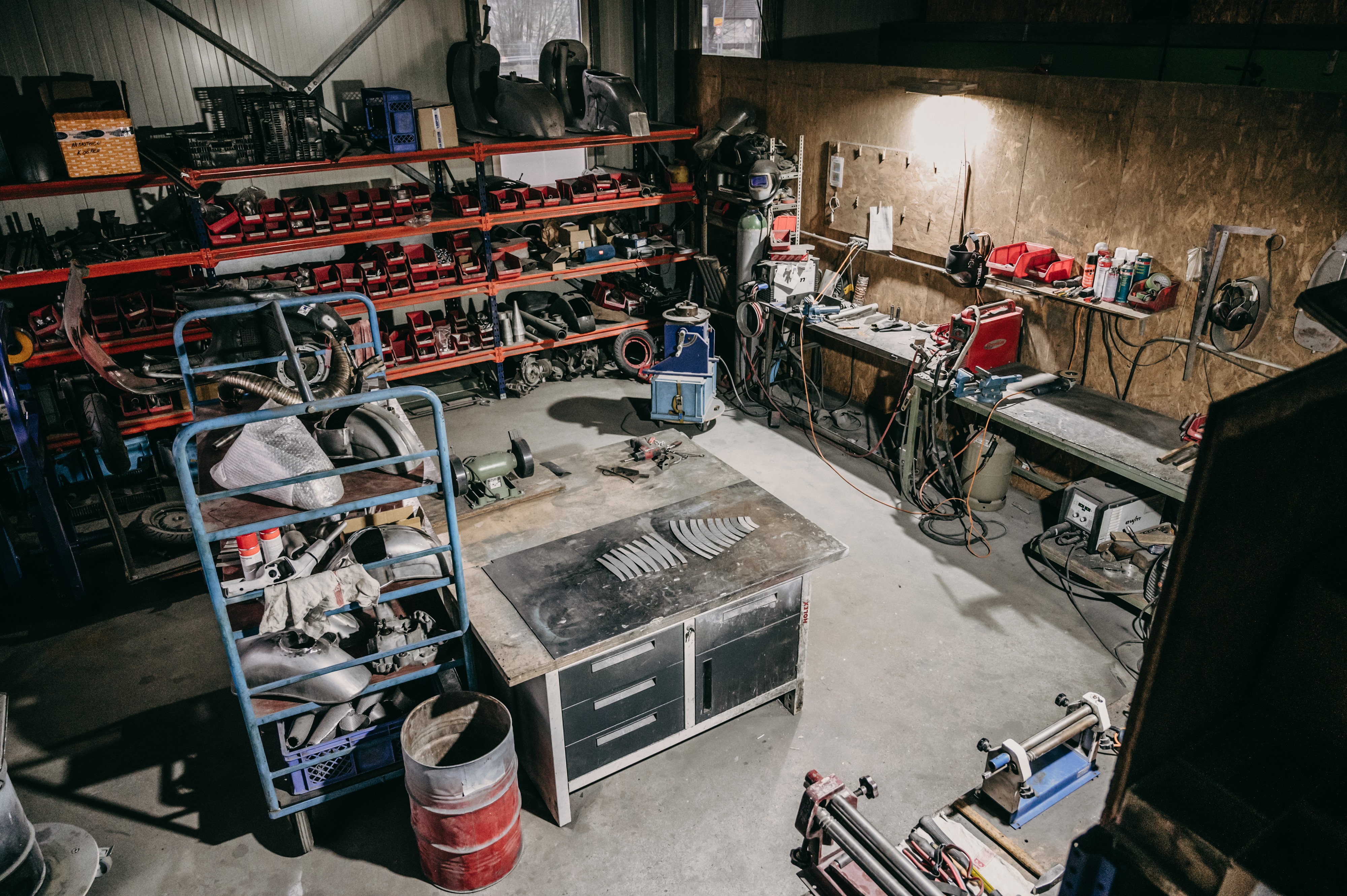 From musician to screwdriver
Wolle gives a friendly welcome and explains the changed business model. Since he left the big city five years ago, there are hardly any walk-in customers and small repairs, but "Scooter & Service" concentrates entirely on larger projects, which make up 95 percent of the business. The first big surprise comes in the office - Wolle has some of his guitars here, because before he dedicated himself to two-wheelers, he was a professional musician. "But today the music plays for us in the workshop," says Wolle, "and that's where we go."
And there are still a few musical instruments hanging here, but above all there are scooters, scooters and more scooters. All imaginable models in various states and colours. Employee Markus screws around and a dog trots leisurely between the Vespas. After Jesco has gained a general overview, Wolle explains the Superlow philosophy and the two experts discuss details and models.
"The sheet metal paradise is my living room," Wolle explains and shows the place where welding and hammering takes place. Jesco is amazed by a homemade exhaust consisting of 52 segments. It would take a whole week just to build it, the master of the house assures us, and the visitor raises his eyebrows meaningfully. More passion and love for detail are hard to imagine.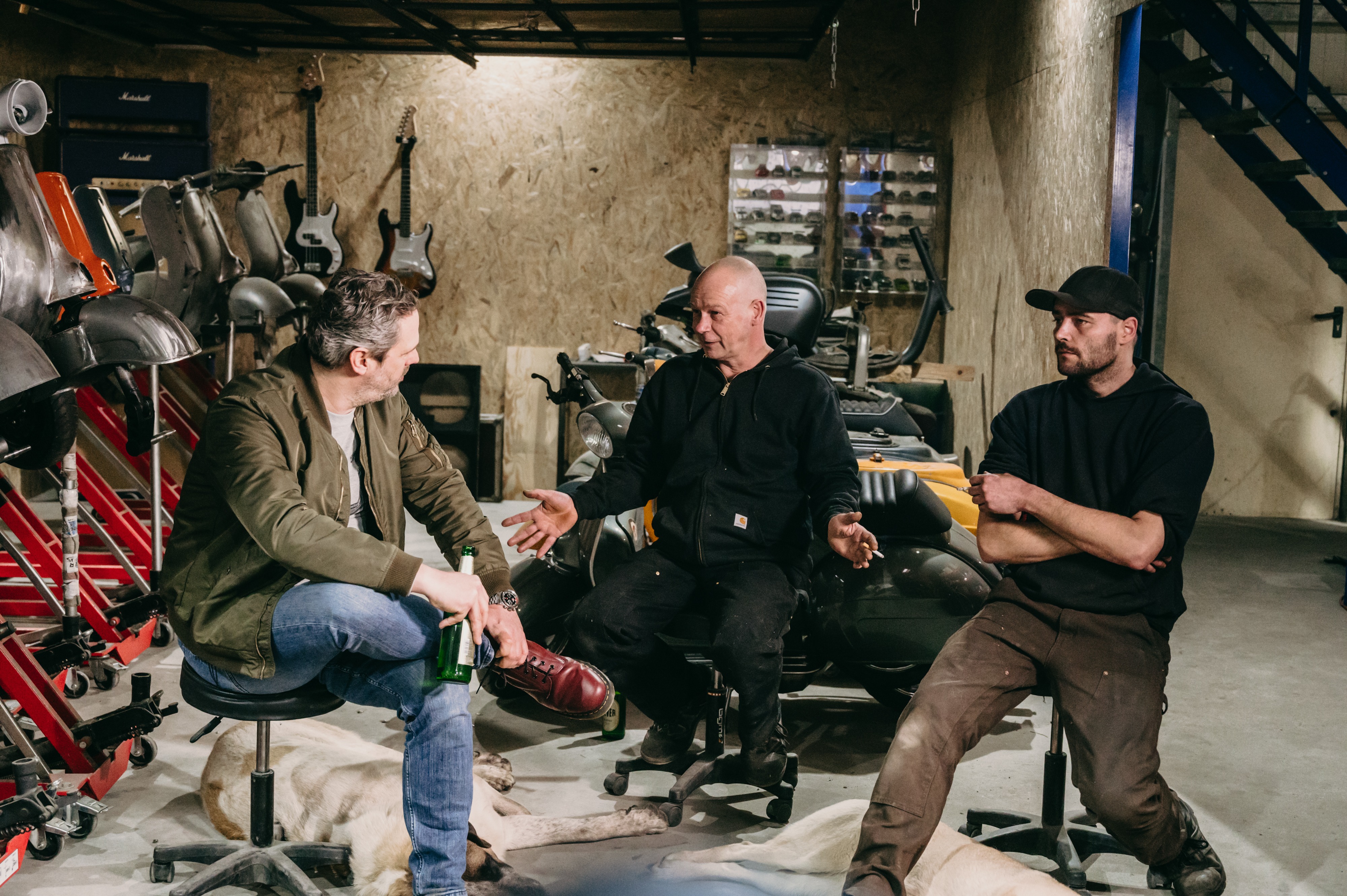 Manufacture for Vespa conversions
Next stop: paint shop. Wolle shows the very own vintage raw style that he likes to give the Vespas. "We have an overall concept where we can do everything from the first step, namely bodywork and sheet metal work, to painting and final assembly, all here in house. And that's probably the unique thing we do," Wolle enlightens Jesco, who can only listen devoutly. But what else there is to see in a tent on the premises cannot be described in words. Watch the video and let yourself be enchanted, excited and inspired by "Scooter & Service".
"I would like to remain a workshop with two or three mechanics and not get any bigger at all," Wolle concludes. "We see ourselves more as a manufactory."
Really sexy. We wish our customer Scooter & Service all the best in the future!
Would you also like to see the videos of the other workshops? You can find them here.
Video: A visit to "Scooter & Service
Picture gallery: A visit to "Scooter & Service