Scootering Magazine – The Oldest Scooter Publication in the World
Special offer for SIP customers!

Scootering remains the world's number one scooter magazine since its launch over 35 years ago! The best customised and restored scoots are showcased in glorious detail with owner interviews, tech specs and beautiful photographs that pick out every carefully crafted detail. Scootering Magazine, is designed to showcase all that's great about scooters in this colourful, informative and fun publication. Whether its customs and chrome, or touring or tuning, Scootering Magazine covers it all, every month, along with everything else which encompasses our amazing scene, and way of life.
Add in Buyers Guides, technical features, road tests, industry news, for sales and wanted section, or even the music reviews, there's plenty to get your teeth into. Beautifully photographed and meticulously researched, Scootering Magazine is the No1 choice for scooterists across ANY platform, still to this day, and with good reason too, as it also covers all the National Rallies, as well as many of the regional, and local scooter events up and down the country, and even overseas too! Not only that, Scootering Magazine is the number one destination for advertisers and scooter dealers throughout  the UK, Europe and even the world, so you the reader will always have plenty of resources at your fingertips for buying, selling, restoring, or finding parts and services for your beloved scooters.
Subscribers also get access to Scootering Extra. Scootering Extra is a place for our loyal magazine subscribers where they have private access to a complete world of online content, and 10 years' worth of digital back issues, that no one else is able to visit. This area is a unique hub for every one of our dedicated subscribers, and it's a place for us to give back to you.
For a special subscription deal, exclusive to SIP customers, please click here: Special offer!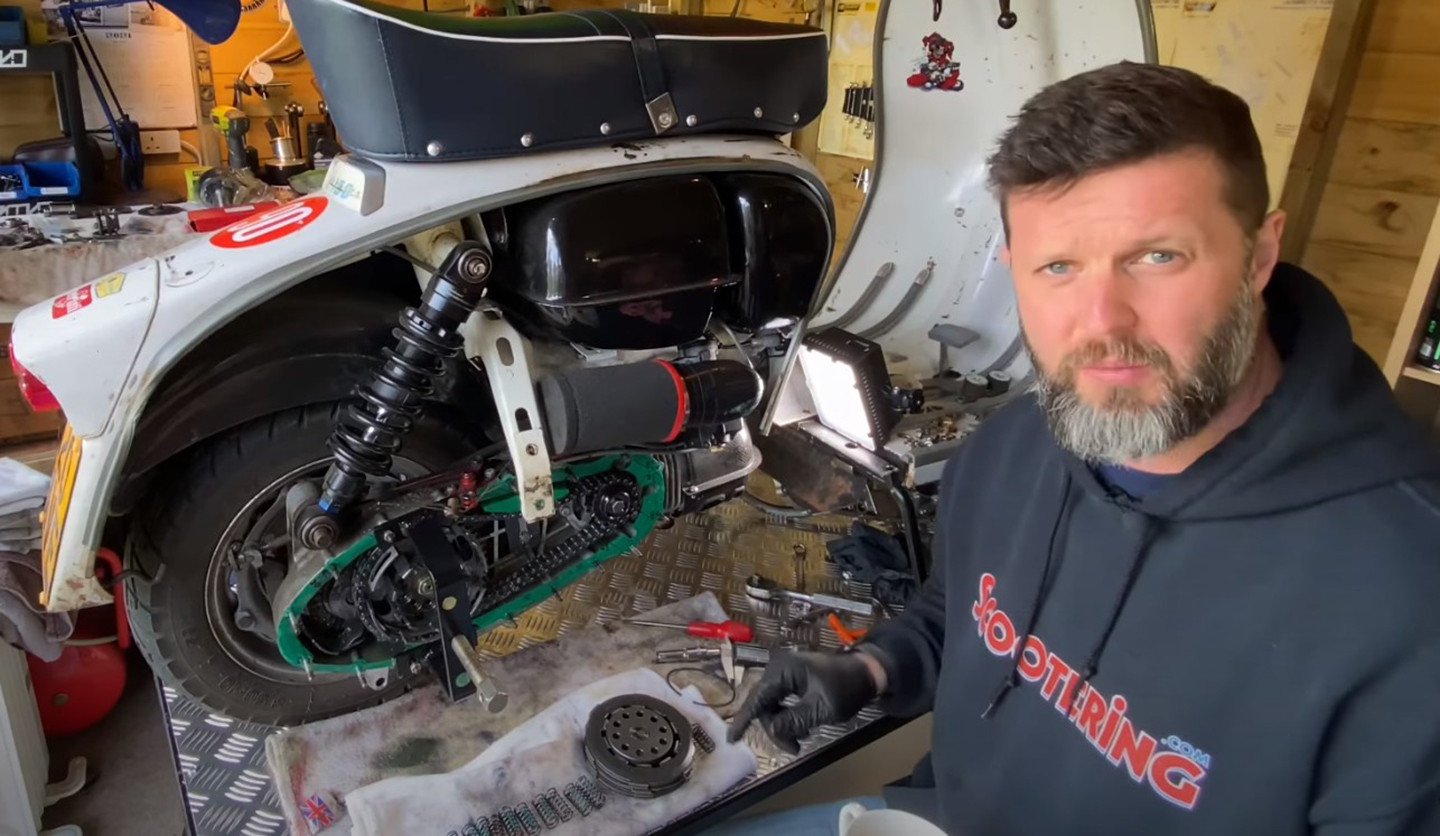 We used the opportunity and asked Dan, editor at Scootering Magazine, a few questions.
Since when do you work at Scootering and what do you love about your job?
Dan: I started as Editor at Scootering Magazine in February 2016, and 5 years later I still love it! Before that, I ran 'Scooterotica', a very successful scooter garage here in the UK, with a very popular web forum attached to it. Back then I used a lot of SIP parts on the scooter builds we did in the garage, and all these years on, I'm still a huge SIP fan. Getting to see all the latest ideas and achievements in the world of Scootering is such a reward, and so is getting to ride these fabulous machines for a living :)
How's the scene in the UK developing? Do you see a lot of young people ride scooters?
Dan: The scene in the UK is very strong, this year has been a challenge for the whole world with Covid, but the pent-up demand will be like a tidal wave once the lockdown is over. There was a time in the UK, when there were not enough young people coming through, but now we see the teenage children of the scooterists joining them on rallies more and more, before they were too young, but now we are seeing the youngsters coming through. Though owning a classic Vespa or Lambretta is not cheap anymore, so it's not always easy.
Do you have any restrictions for scooters in the inner cities like the Italians are trying to establish?
Dan: There are some restrictions in London, we have something called the ULEZ zone, but for the most part, the rest of the UK is free to ride what they like. I'm sure at some point in the future that it will become harder, but for now … let's just ride and enjoy!
What's your favorite ride these days and why?
Dan: I'd like to say my Lambretta, but it seems to spend more time in bits than it does on the road. I'm currently looking at buying a second scooter, definitely a Vespa, but cannot decide between the passion on a classic 2-stroke (so maybe a PX or T5) or the reassurance of a modern auto (so maybe a GTS300?). We will see …
Could you tell us a funny/crazy/dramatic episode from the life of an editor at Scootering?
Dan: Everyday is dramatic as the editor of a magazine, the publishing deadlines … like time and tide, wait for no man. But I do remember a funny event when we were photographing a guy's scooter, our photographer was deep in his work getting some great shots and asked the owner to now ride the scooter past a few times, so we can capture some nice action images. Instead, he just got on his scooter and rode off into the distance at full speed. We were left very confused, so we went to his house to check if everything was OK. We didn't know before, but his wife was pregnant and had just rung him to say, "come home now, we need to go to hospital!" Ha, ha. We wished them well.
What do you know about the scene in Germany?
I know that Vespa is dominant in Germany, I attended the SIP open day in 2016 and the ratio of Vespa to Lambretta was huge. I also know you have tight KBA approval system for parts, whereas in UK we can ride with anything. I also know that you have a VERY nice balance of lifestyle with scooters. I wrote about this in my report. The SIP open day had a very relaxed and cool atmosphere, lots of music, food, family, friend, and a very chilled vibe. Sometime the UK scene can be rather 'traditional' and fixed in a set routine, but we love it either way.
Dan, thank you very much for your time.