Report Vespa World Days 2016 Saint Tropez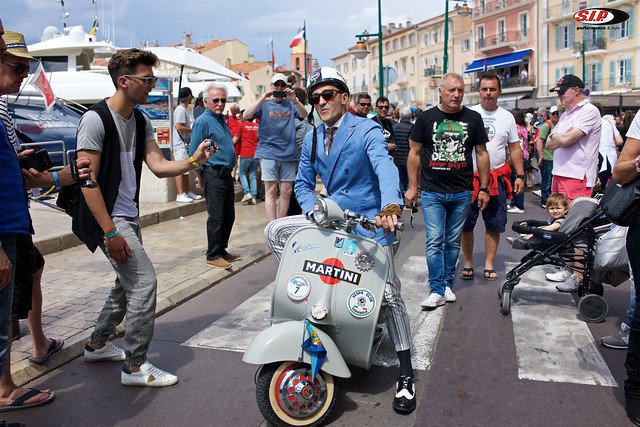 For the 70th elderly but quite jolly lady "VESPA" from Pontedera, the Vespa World Club has picked a very special corner to pop the champagne corks. Right on the idyllic Mediterranean coast in the country Var between Marseille and Nice, close to Saint Tropez, lies the charming town of Port-Grimaud. And just there last weekend about 5000 Vespa enthusiasts gathered from all over Europe.
Base camp for numerous Vespa pilots was the holiday village "Prairies de la mer" where also the Vespa Village has been located. The rideouts organized by Josette Honoré were a big hit. On scenic roads that cannot be found on any map Vespisti snaked along the beautiful Cote d´Azur coast. Whoever prefered a rest and brake from the journey, relaxing on the nearby sandy beach and enjoying the sun was a good alternative. The Vespa Village was well attended. Vespistis from all over the world crowded the space and came in contact. We have seen SIP customers from all parts of the planet, all Europe, Russia, China, Indonesia, USA just to list a few. Throughout the day various events took place, saturday evening live bands were playing and a VESPA PX was raffled. SIP Scootershop was on site with a booth in the village and has a few impressions for you here in our album of flickr.
A video from our friends from Vespassione will follow shortly.