Enrico Piaggio - An Italian Dream
Listening boom for the fiction TV, aired on November 12 on Rai Uno, entitled: "Enrico Piaggio an Italian dream." Another success for Rai Fiction, which joins many others.
Piaggio, a company specializing in the production of aircraft, found itself bombed after the war and without a future. Something had to change. Thanks to the genius of the owner, Enrico Piaggio (1905-1965). He attempted a conversion, using mechanical parts found in their warehouse. First of all, a two-stroke engine for 95 cc bombers with forks and wheels for war aircraft.
In the fiction, Alessio Boni plays the main character, Enrico Piaggio. The father of the Vespa: the most famous scooter in the world. It was Enrico Piaggio who understood the need to move for Italians. Creating an absolute novelty and his exclamation: It looks like a wasp! In Italian it stands for vespa.
The technical father of the new vehicle was Corradino D'Ascanio. A sort of Leonardo Da Vinci of mechanics. D'Ascanio hated motorcycles, and so, because of his dislike. He found a way to create a kind of car on two wheels. Also could be used by women.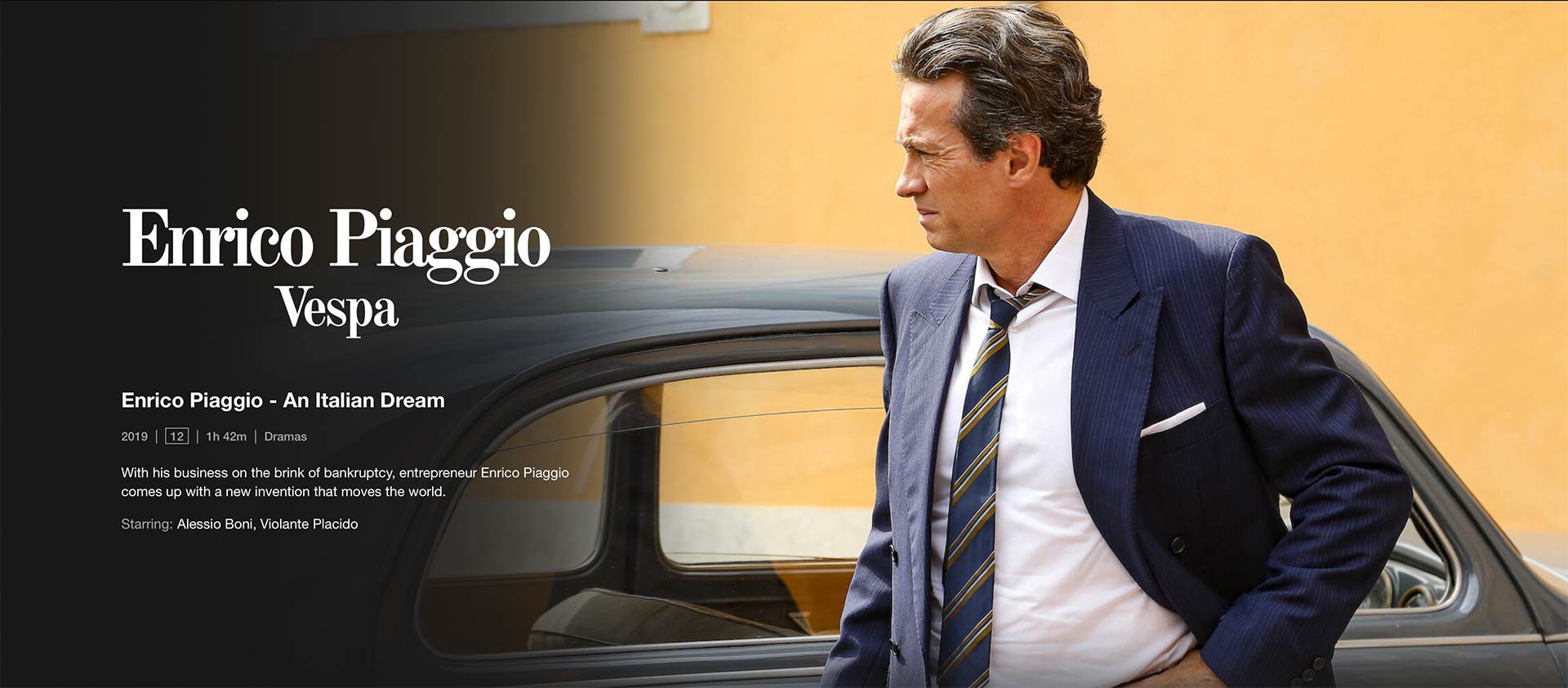 The story brought to the screen also traces Enrico Piaggio's personal events. For example, going back in time, when he was injured by a revolver's shot, on September 25, 1943. While trying to avoid the deportation of his workers to Germany. Also his love story with a war widow, Paola dei Conti Antonelli, played by the fascinating actress Enrica Pintore. Alessio Boni, an actor well known to the television audience, young but very experienced.
Of course, they also talk about the film "Roman Holidays" with Gregory Peck and Audrey Hepburn (alluding to Queen Elizabeth II…).  They happily roam the streets of the Eternal City on board a Vespa 125 model of 1952. An unforgettable scene from one of the most beautiful films in the history of cinema. Directed by William Wiler. And screened for the first time on August 27, 1953, in New York.
He won three Oscars for Best Actress, Best Subject and Best Costume. Which made it one of the most famous love films in the world. This film launched the Vespa as an iconic vehicle linked to the Bel Paese and Rome. The thing was not accidental. Also due to the intuition of Enrico Piaggio. He persuaded the American director not to use a coach pulled by a horse. He convinced him that the future was the vespa and not the horse.
The movie "Enrico Piaggio - an italian dream" now on NETFLIX. Enjoy!