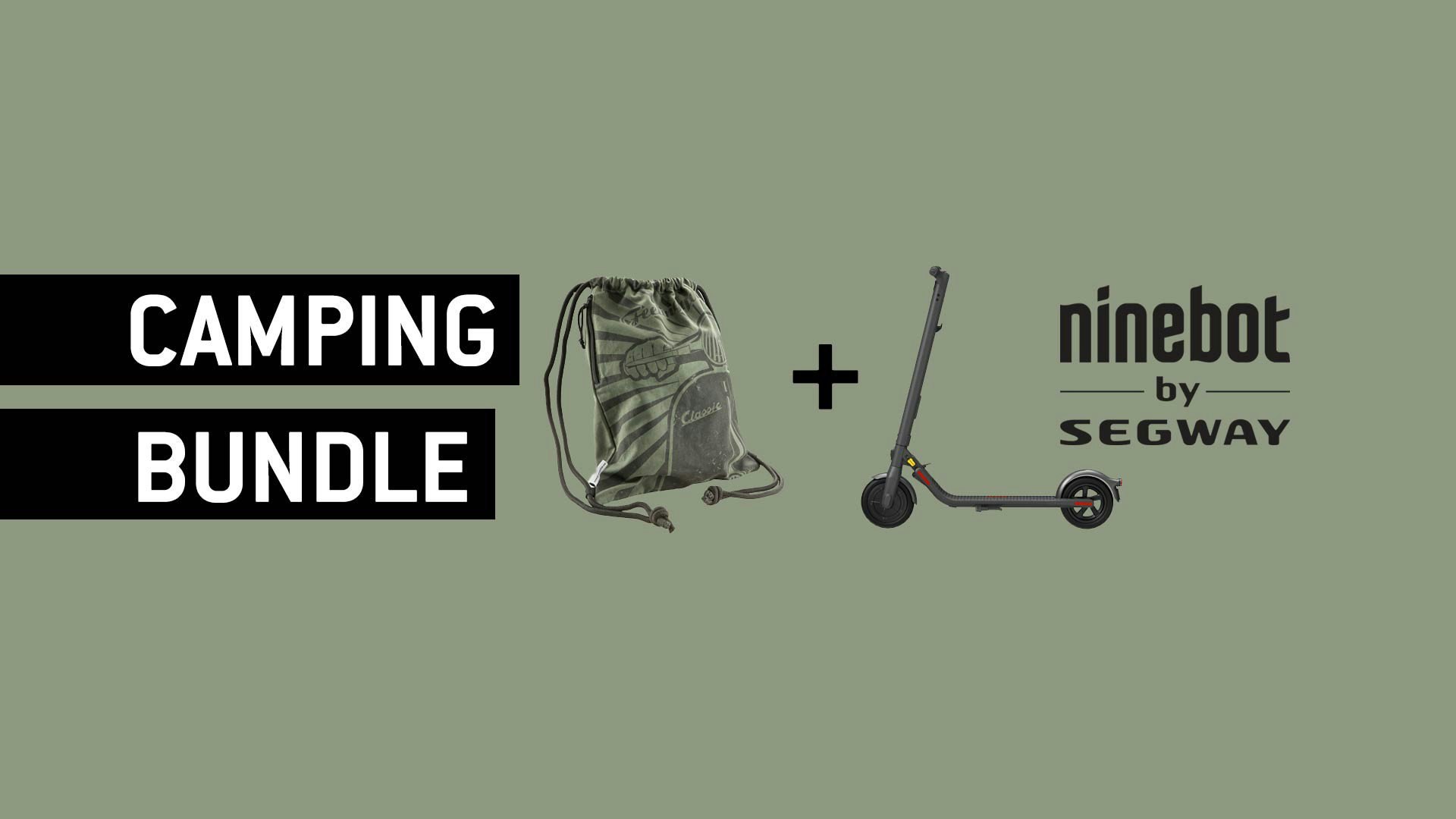 »E-Scooters are simply fun!«
Markus "Mühli" Mühlbauer is a car salesman by profession at the brand with the four rings. But whenever his time allows, he pursues his true passion: Camping. For almost thirty years, the 50-year-old has been traveling the world with his wife and dog. For eleven years now, his daughter has also been part of the party and, since a few weeks, two E-Kick-Scooters from Segway-Ninebot. He told us in a short interview why he acquired these scooters.
SIP: Mühli, you are a camper by conviction. How did that come about?

Mühli: It all started with buses, but for a few years now we've been using a motorhome. The travel radius is all of Europe: Greece, Sardinia, Croatia and Italy.

SIP: Do you always go to campsites or do you sometimes look for a "wild" spot?

Mühli: Both. Since the child is with us, we are increasingly heading for campsites. Sometimes we go wild for a few nights, but in the meantime it tends to be mainly campsites.

SIP: Now the campsites are getting bigger and the distances longer. And even if you have parked in a remote location, the mobility problem arises. How have you managed this so far?

Mühli: We've always had bicycles in our luggage, but for a few weeks now we've also been carrying e-scooters with road permits. The distances to the washroom are often long. These scooters are ideal for trips to the supermarket or the beach. Our daughter is also allowed to ride an e-scooter at the campsite, even though it is not actually permitted until the age of 14.

SIP: How many scooters have you bought?

Mühli: We bought two e-scooter bundles. They don't weigh much and that's good for the overall payload. They are stowed in the rear garage because they fold up quickly and the scooter itself weighs less than twenty kilos. We also have two e-mountain bikes with us if we ever want to go to the mountains on Lake Garda for example. But - such an e-bike quickly costs ten times as much as a scooter and if you leave it standing around somewhere, you're always worried about thieves. With an e-scooter, you're much less worried when it's waiting in front of the supermarket.

SIP: Of course, you need a practical container for shopping, because holding a bag in your hand or hanging it on the handlebars is rather bad, isn't it?

Mühli: A backpack is of course the best and also the safest, because that way you have both hands on the handlebars. The range of the scooters is also good enough. And if you ever want to go on by bus, you can take the scooters with you very easily. Fold them up, get on and put them between your legs. Nobody will complain.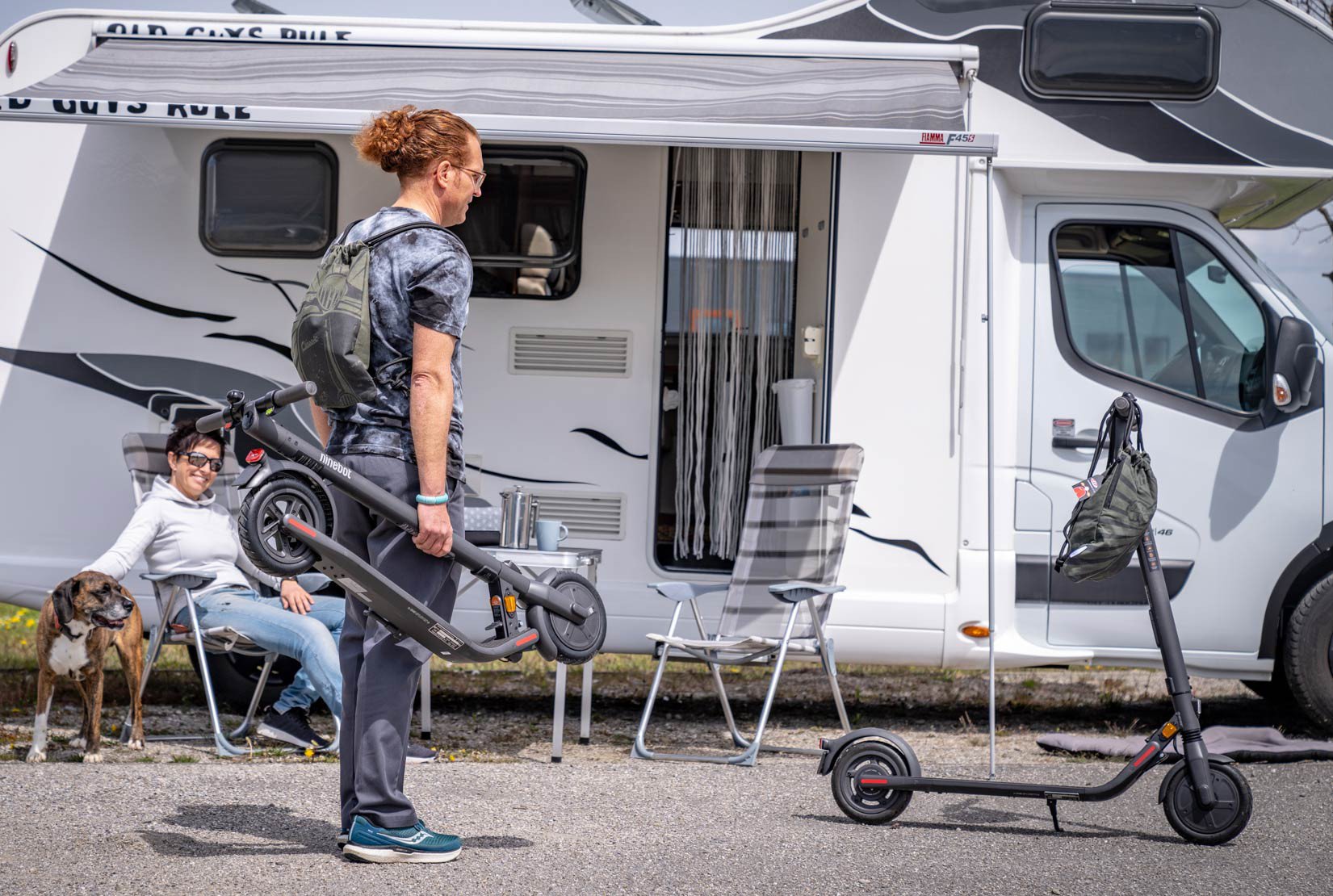 SIP: The paths on the campsite are not always paved, but sometimes bumpy or made of gravel. Are there any problems there?

Mühli: The e-scooters can easily cope with that. Even dirt roads are easy, because they have some suspension on the rear axle. These e-scooters are ideal for camping. I have to say, it's really fun to ride these things. Even if you have to do something quickly in the evening: get on the scooter. The campsites have become really big in the last 15 or 20 years. On foot, you can easily be on the road for half an hour if you forgot something at the supermarket. In the dark also no issue, because they have amazingly good headlights and even a brake light.

SIP: In summary, it can be said: You are simply more flexible.

Mühli: Exactly. They absolutely have their raison d'être. And when we're not camping, the e-scooters are of course also used when I want to make a quick trip to the bakery. Then there's the fact that we have a dog and I don't always feel like jogging. So the dog is happy when I ride the scooter and he can run along cheerfully. Otherwise, he gets bored, if you always go slowly for a walk. He wants to run!

SIP: So for you it was an investment that really paid off.

Mühli: Absolutely. And the car stays in the garage more often, which is a good thing. The things are simply fun and measured by the price, it's a fair deal. They are slowly gaining acceptance at campsites and you see more and more people with e-scooters. You're no longer an exotic with them.

SIP: Mühli, thank you for the enlightening interview and we wish you continued fun with your e-scooters.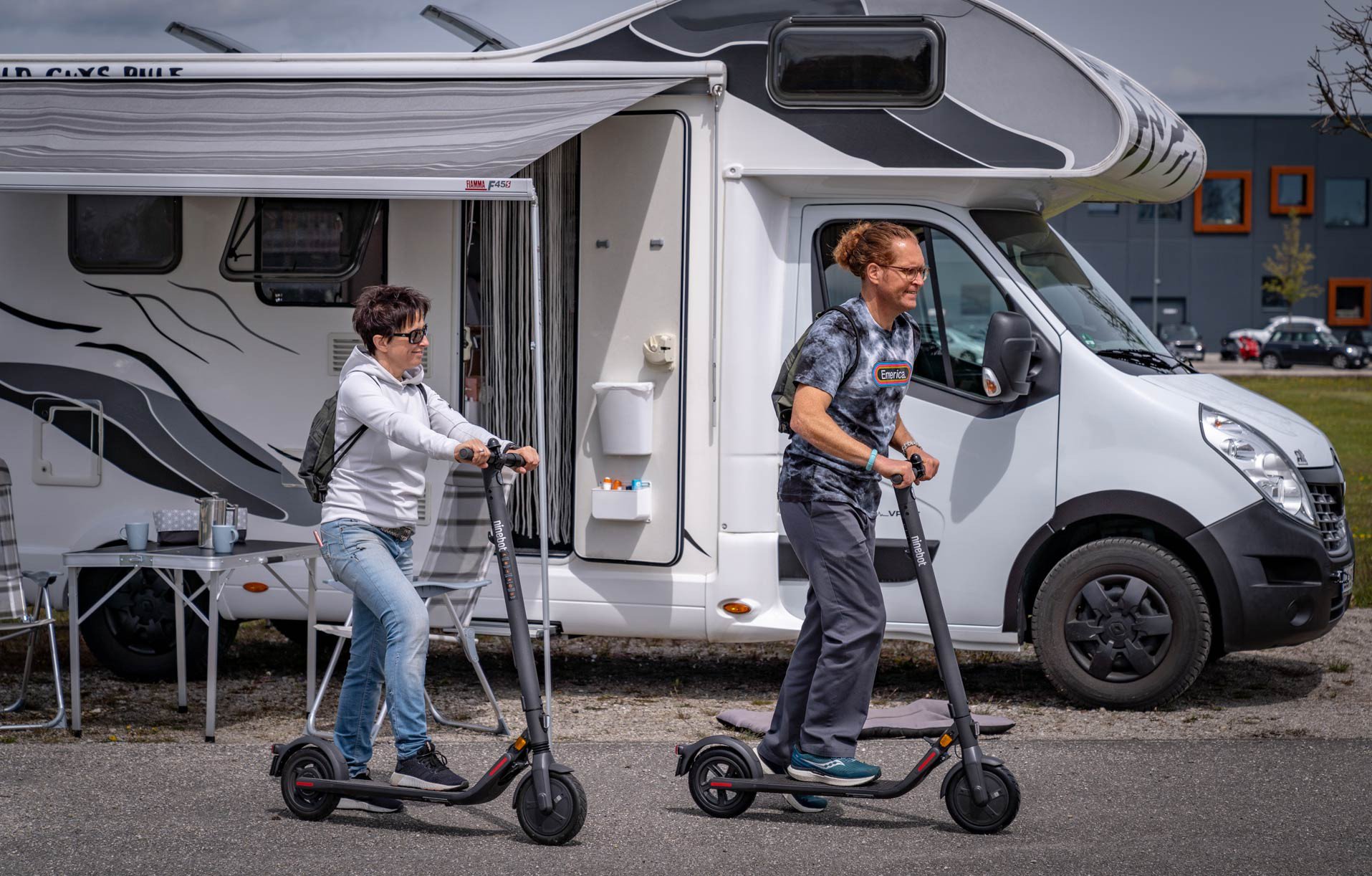 Buy the SEGWAY NINEBOT E22 E-Scooter Camping Bundle
Here you can buy the SEGWAY Ninebot E22 E-Scooter Camping Bundle for only 349 € - while stocks last. Shipping within Germany free of charge!