Amerivespa 2022 and 30 years of Vespa Club of America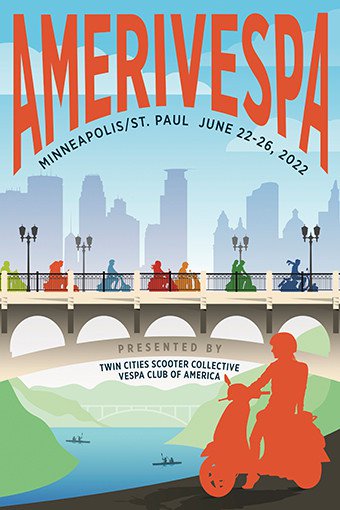 Amerivespa started in 1992 as a celebration of all things scooter in America. The first rally held in St Louis MO, was mostly Lambrettas and Heinkels and had about 30 attendees. 30 Years later Amerivespa is 500 Vespa Club of America members celebrating the Vespesti Life style for five days. Full of rides, friends, interesting venues, a banquet awards dinner, concourse show, seminars, and more rides. Amerivespa from June 22-26, 2022, is fun for the whole family and all Vespesti. Members travel from all over the country. Some ride, some trailer, some fly, just to take part in the celebrations. This year as we celebrate our 30th anniversary as a Vespa Club we will be having special events. With this years logo by SHAG we will have some cool collectibles that you can only get if you attend. The Amerivespa is presented by the Twin Cities Scooter Collective and the Vespa Club of America.
Schedule of Events
(All data are only provisional, i.e. without guarantee.)
Wednesday, June 22
Meet & Greet at Bauhaus Brew Labs
Thursday, June 23
10am: Half day and full day rides begin
7pm: Evening party
Friday, June 24
10am: Half day and full day rides begin
7pm: Evening party / Presidents Dinner
Saturday, June 25
8am: AGM Chapter and Member club meeting
11am-4pm: Gymkhana at Long Lake Pavilion / Concourse
6pm-9pm: Awards Banquet at Como Pavilion
9pm: After party
Sunday, June 26
12pm: Vespa Parade Day world record attempt at largest Vespa Parade
30 years Vespa Club of America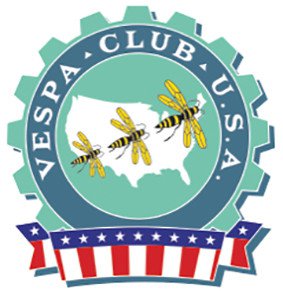 Josh Rogers, President: "The Vespa Club USA founded in 1992 was a reboot of a club from the 1950's. In the 60's most of the clubs in the USA disappeared until this club was formed. Keep in mind the US market didnt see new Vespas from 1980-2000 so it was the role of the clubs keeping the Vespesti life style alive. Today we offer our members much much more than four issues of American Scooterist magazine. We also have over 30 chapters of the club most of which have started in the last five years. So while there is a rich history we are looking toward the future to bring even more Vespesti together so we can all enjoy Vespa. We are looking forward to the next 30 Years and really embracing all those who ride Vespa, Vintage, Modern, Electric, Hoover! We are supporting Vespa in whatever forms it takes."
Vespa Club of America Member Magazine #1 from 1992
SIP TV Video of Amerivespa 2017 in Seattle